SkirmishCampaigns Norway!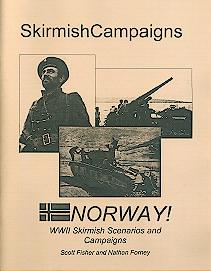 Scenario booklet covering the German invasion of Norway in 1940. Ten stand-alone scenarios are provided, including full instructions, maps, and variable orders of battle. Two campaign games (Southern and Narvik) allow the scenarios to be linked together.
The scenarios are provided in a generic format, with specific rules for using them with such popular rulesets as Battleground: WWII, BAPS, Overlord, Skirmish '90, Men of Frost, and Screaming GI's.
A sample scenario from the book is available online in PDF format.
| | |
| --- | --- |
| Period | the German invasion of Norway (1940) |
| Rules System | Generic, with translations given for use with Battleground: WWII, BAPS, Overlord, Skirmish '90, Men of Frost, and Screaming GI's. |
| Contents | 56-page booklet |
| Designers | Scott Fisher and Nathan Forney |
| Publisher | First edition published 1999 by J&D Publications |