(or 1745 – Maurice de Saxe on Mars
TMP link )
Hooked to 18th C. wargaming by C. Grant's 'The War Game' I also read much SF, so like to toy with ideas about combining both. Not 'high tech' Starship Trooper type SF, the technologies would be far too unbalanced. But *Barsoomian sword and planet*: cloudships and radium rifles notwithstanding John Carter (or Dray Prescott) live typical swashbuckling adventures, where swordplay is as prominent as in 'The 3 Musketeers' (to be perfectly honest, images of Dejah Thoris link may have be influential).

But I like Lace Wars tactics and mid-18th C. wargaming *as they are* and don't wish to end playing VSF or Weird World War I with figurines in tricorne: how to suppress any excessive butterfly effect?

For
traditional contraptions (steamtanks…)
, it suffices to keep them barely less inefficient than their historical models: Puckle's machine gun
en.wikipedia.org/wiki/Puckle_gun
, Cugnot's fardier
link
, Jouffroy's pyroscaphe
link
… (which does not prevent them to be fully efficient a century later, by early Victorian times). An enlightened ruler of the Age of Reason with a fascination for mechanics may have prototypes built, but if on the battlefield they turn more often than not to be expensive embarrassments they'll not widespread, leaving tabletop tactics and outcomes unaffected.

The difficulty is mostly with functional air vehicles, who would immediately change the nature of warfare, specially at sea or during sieges -not to speak of the impact at off-table level.
Aether ships allowing interplanetary travel but for some reason not functional within the atmosphere (requiring balloons to take-off, deflated and used as hang gliding 'wings' for re-entry ?) would not affect ground (or sea) warfare,

but on the other hand the image of eye-candy models of skyships with baroque rococo decoration is tempting. Thus a
'butterfly net'
is required.
A possibility is to have them functional on Mars but not on Earth? Suppose 'cosmic waves' -a fossil radiation from the center of the galaxy- with 'interesting' properties, but repulsed by the solar wind. Additionally several layers of the upper atmosphere (ozone layer, ionosphere ?), the Van Allen radiation belt… absorb them. But on Mars the solar winds are weaker (square of distance) and the structure of upper atmosphere and magnetosphere may be different, allowing the cosmic waves to reach the ground. Billions of years of bombardment by the cosmic waves transmuted part of an element (magnesium?) into *cavorium*, this odd metal the salts of which form cavorite. Cavorium absorbs the energy of the cosmic waves, gaining strong antigravitational properties; excess of absorbed energy is re-emitted in a form that with suitable techniques can be used as a source of power.
Now cavorite is nowhere abundant enough to be exploited as an ore, but fortunately there is the *Lightwood plant*. Requiring cavorium as a cofactor for some essential enzymatic reactions it grows only on soil (relatively) rich in cavorite, but its main interest is that it accumulates cavorium in its lignified cell walls, just like some plants accumulate selenium and many grasses accumulate silicium. The habit of the plant is quite peculiar, with high trunks, thick primary and secondary branches and a multitude of long, thin tertiary branches and stalks looking like lianes standing upright without support; very numerous but small leaves, not to catch the wind too much.. Only the trunk and major branches can be worked into planks, but the thinner ramifications can be worked into a laminated plywood with similar properties. The thinnest parts can be macerated like flax, then the fibers spun into thread. These singles can be combined in yarn: with specific surface treatment such string conducts the energy of the cosmic waves, naked and winded around solenoid fashion an already moving piece it transmits to it this power (thus 4 – 6 'oarsmen' are enough to power a large airship). It can also, mixed with other threads, be woven into a cosmic waves-absorbing fabric, used for balloons envelopes.
Thus on Mars we can have those magnificent *cloudships* link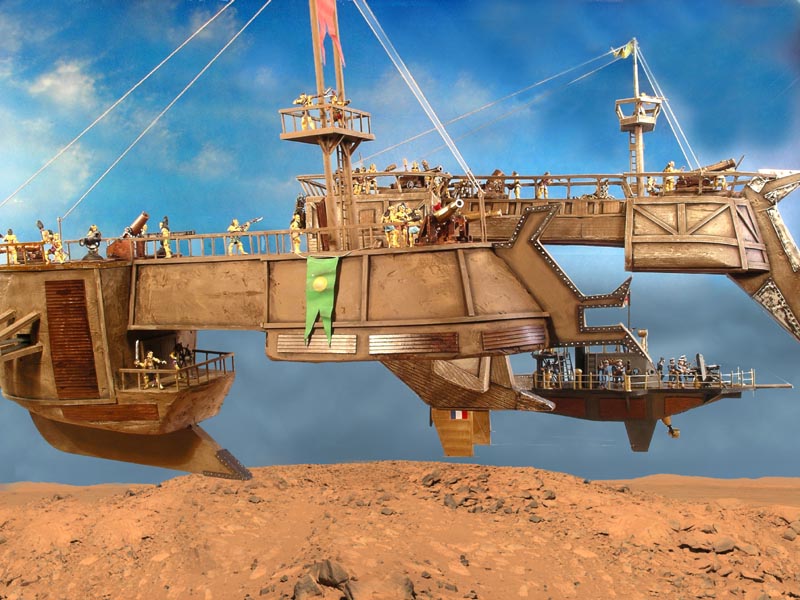 -though to make them looking more '18th C. compatible' I'd prefer to have a balloon(s) complementing the antigrav effect of the hull:
from
link
or
from
link
rather than simply
from
link
To increase their 'alien' look the planks of the hull and desk could be of irregular shape, jigsaw puzzle pieces-like or at least as stones in Aztecs walls.
Note that, without keel and efficient rudder, to change direction an airship needs two (sets of) propellers working at different speed (and the sails of sky galleons are a mechanical silliness).
Once on Mars Earthlings will start using lightwood technology, but so far would have built only rather modest aircrafts,

gunboat-sized at most. Hull gondola-shaped (from the side) with rococo decoration (from 1/44 or smaller models of 17th C. ships or galleys?), the balloon closer in shape to a sphere than on the Martian models. Maybe using the Da Vinci airscrew
for a change?

Thus your Lace Wars expeditionary forces can meet Martians.

Given the weird Barsoomian biology, several sentient humanoid species can coexist, the almost perfectly human Martians of John Carter (Bronze Age, Tin Man, some Raging Heroes… miniatures, as well as 'classical' ersatz, e.g. converted Elves
TMP link
or Tékuméli
TMP link
) and the (Not?)S1889 Martians of Parroom Station and (less inspirational imho) RAFM, and possible ersatz such as Privateer Press Skorne
link
and (highly converted) Reaper Andromedans
link
. And also the even less 'human' Martians of Red Planet Miniatures:
link
supposing an extreme sexual dimorphism
link
as in Burroughs' Opar
link
, the equally hooved Raging Heroes Preying Mantis
link
could be added as their female warriors.

But, is interplanetary travel absolutely needed for such a Lace Wars Barsoomian campaign?
Not at all.
And here 'Pirates' gamers may be interested.
YouTube link
Before the expeditions of Cook and La Perouse much of the Pacific Ocean were still unexplored, leaving ample room for a small continent to be discovered (btw Pellucidar-like continents 'at the Earth's core' raise too many difficult questions about temperature, ventilation and chiefly photosynthesis). Right above it a geostationary (actually, anchored in a tectonic plate by some geomagnetic phenomenon and following any drift) "hole" in the ozone layer, ionosphere, Van Allen radiation belt… The (part of) this 7th continent just below the hole receives the same cosmic waves bombardment as the surface of Mars (almost, but anyway we did not quantify it, did we?): thus here also there is cavorite, a type of Lightwood plant… The 'cloudships' technology exists and is functional here -and here only, everywhere else on Earth cavorium does not receive enough cosmic waves, lightwood does not even balance its own weight. A nice 'butterfly net'!

The setting will offer the same possibilities as Barsoom, with only visual differences.
The examples of Australia and the most remote islands in the Pacific Ocean show that no part of Earth is biologically isolated: hence, even if the cosmic waves have some mutagenic effects, inputs from the 'general biosphere' have prevented the weird Barsoomian evolution, the emergence of vertebrates with 3, 4 or more pairs of limbs for instance (btw, why are the 'human' Martians the only vertebrates with only 2 pairs of limbs? Odd….). Instead, as in any 'Lost World', coexists a sampling of paleofaunas from the Jurassic to the Pleistocene, with dinosaurs from various periods, great flightless birds and giant 'therium' mammals from the Cenozoic, sabretooth tigers, woolly mammoths and rhinos… Also, if wished, local races of modern species, diminutive (1/72) or giant (1/43) forms of elephant, '1.5 humps' camels (like african x bactrian hybrids), primitive ponies (zebras painted with an uniform coat color?)…. Now, being tetrapods, Banthas link (with less tale-telling riders) are acceptable -more than on Barsoom, actually- as would other 'fantasy' vertebrates with only two pairs of limbs

(
link
).
potentially including tamed warbeasts
link
[but, while manticores are tetrapods, traditional dragons, just like angels, demons, succubi, centaurs… are hexapods and would be ruled out]
Then while tetrapods Godzilla or even King Kong are probably too… fatal encounters.
Giants worms on the other hand, of 'Tremors' if not 'Dune' size, cannot be excluded.
In the same way, sentient humanoids are likely to be (early isolated, at most) members of Homo sapiens. The only 'Martian' figurines fitting the description are the 'Barsoomian' ones -the intimate difference between them, because of their Monotreme nature en.wikipedia.org/wiki/Monotreme , and 'true' humans never appear on 28mm miniatures!). On the other hand any 'Lost World' worthy of the name is the home of cave girls in fur bikinis cavegirlwargaming.blogspot.fr , a golden excuse to field warbands of Shadowforge 'Tribals'
link

and
Maidenhead 'Babes that time forgot'
link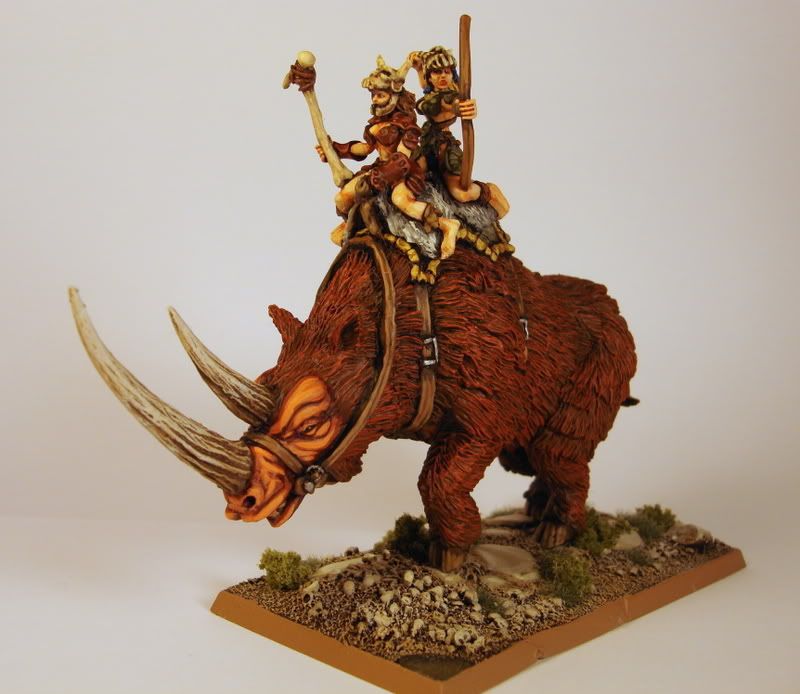 (though anyone having watched at cat- or dogfight knowns a rider would be the very first victim of the encounter…)
and Black Amazons
TMP link
who here may well have an orange skin…
For sure the galant 18th C. French soldiery would like to meet, and ally with, them!