VOR the Maelstrom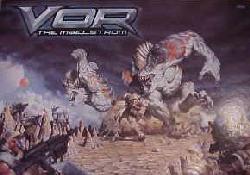 Website from the game's designer. Background, news, photos.
Primordia
This site is about the savage race of creatures known as Growlers. Primordia is their home world; a primeval jungle planet. Primordia will feature a gallery of painted Growler miniatures, ideas for color schemes & patterns, people's custom Growler breeds, named models, homegrown Growler rules & abilities, and a Growler tips n' tactics section.
Chamber of Ages
Dedicated to the Shard, written by one of the game's authors.
The Pharon Tome
Devoted to the Pharon race. Tactics, fiction, and miniatures gallery.
The Beacon
Tactics, fiction, battle reports, house rules, gallery.
The Black Mountain
Website devoted to the Neo-Soviets. Tactics, fiction, gallery.
Vor Mailing List
"This is the place to discuss everything VOR-related, from combat tactics to miniature painting to upcoming products. Meet other players, compare notes, and prepare for battle on the harsh worlds of VOR: the Maelstrom."

Know of a good link?