Following the work on a large Peter Pig ships painting commission taken (some results of which already shown at theminiaturespage.com/boards/msg.mv?id=486141 and theminiaturespage.com/boards/msg.mv?id=487850), now it was the turn of some fiery small warships: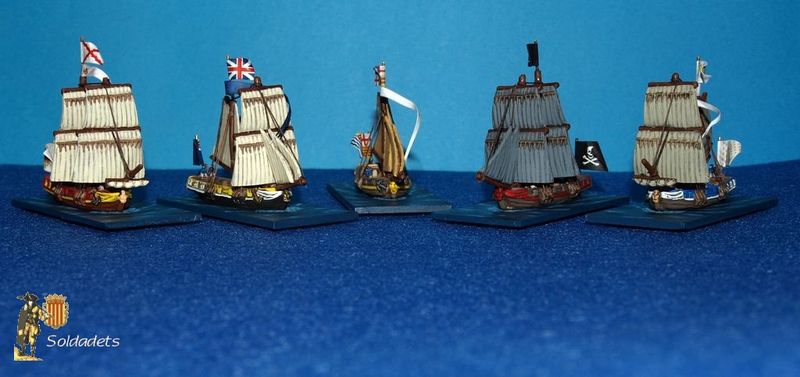 Once again I've toyed a bit with their riggings, by exchanging masts or even a stern part among them; so that not two of the ships are identical to each other. As a result, some of them have become now closer to a brigantine, or even a brig, than to a schooner.
Accordingly to customer's wishes, three of the ships have been decorated as escort warships, as you can see below: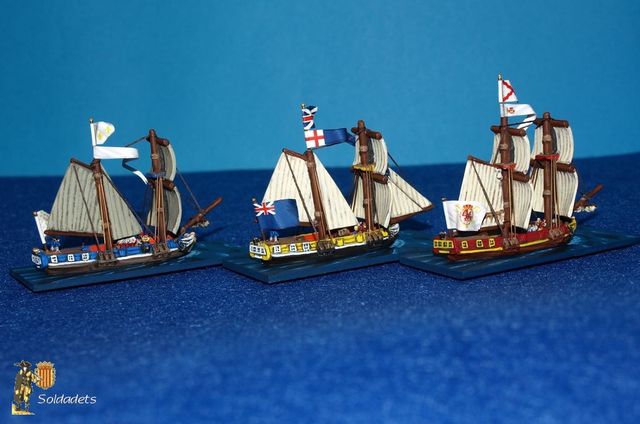 Flags given to each belong to French, British (blue squadron) and Spanish navies, respectively.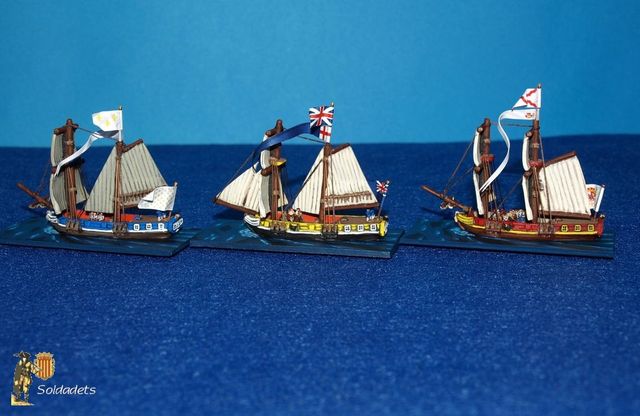 Given their nature, I couldn't resist the temptation to add a commission pennant on top of their mainmasts.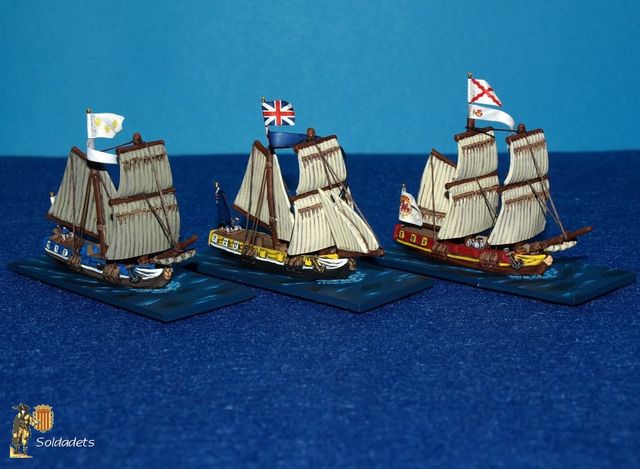 A fourth ship has been painted as a pirate, so flying a non-descript jolly roger as ensign: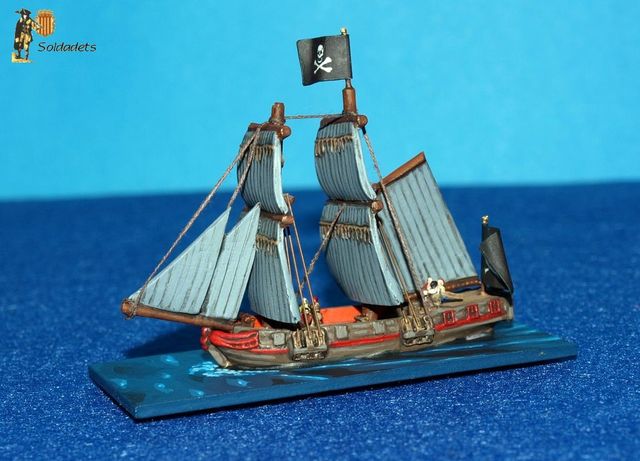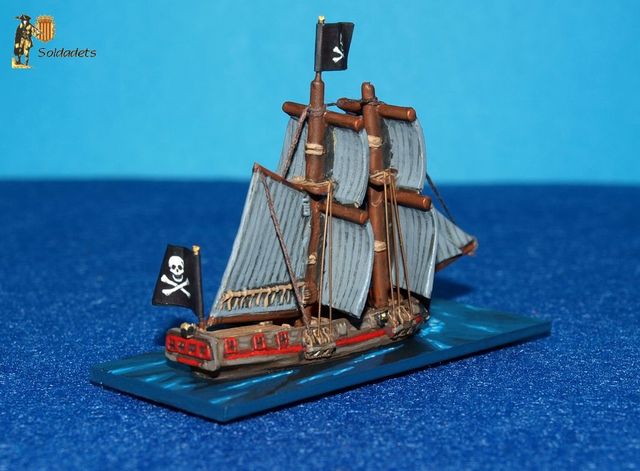 And the fifth, smaller ship in this batch has been finished with the purpose to serve a some kind of joker, able to brigade with either the pirates or the 'good guys' depending on the particular game setting, or the players' whishes (thanks to the customer for granting me permission to do it!):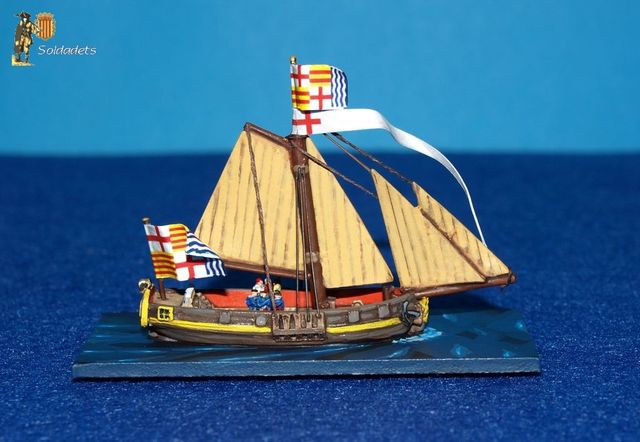 …so it has been given a colourful set of Catalan privateering flags.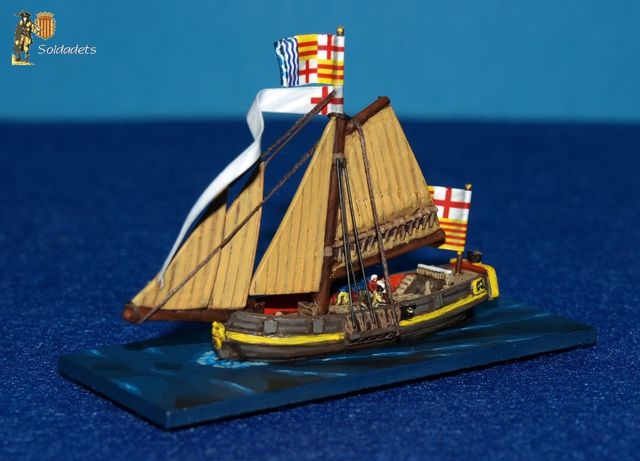 In use for merchant fleets since Middle Age, these flags are a bit outdated for the golden age of piracy around 1700-1725; for at some point of 17th century, Catalan ships seemingly switched to white flags with a coat of arms, like those shown in a previous post; it's not unlikely that such pattern was kept even during the War of Spanish Succession, despite the obvious confusion that might arise with the Two Crowns' ships…
But those I've actually used are quite more colourful, if not strictly accurate!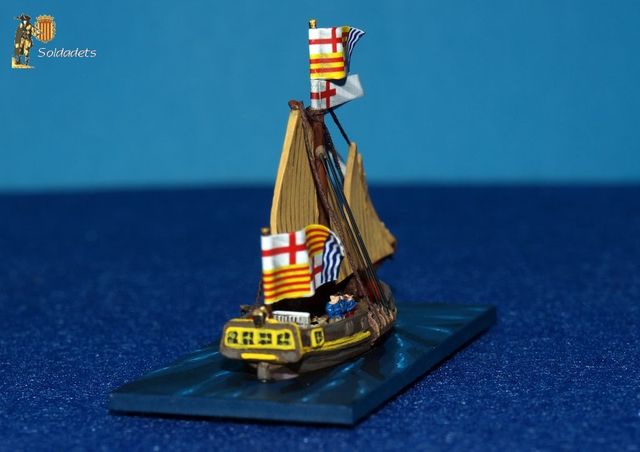 Work on this commission is nearly over now, for there are left only a few casualty and boat markers. I've enjoyed it so much.
Lluís
www.minairons.eu