Now I'm about to finish the painting commission I told you about in a previous thread.

This time I've painted all the galleons in my customer's collection--along with a smaller ship for myself. As already done with other ships before, each of them shows slight differences with the rest (either by replacing the stern part, bowsprit, or masts, with those from either my spares stock or the commission itself). All this, with the aim to make each ship unique.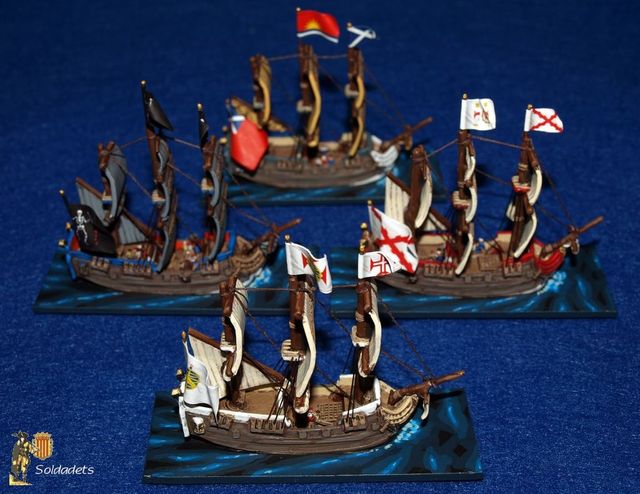 Also, even keeping a common colour pattern for hulls and masts, I've given to each one a colour schema of its own for sails, outer and inner rails, or bow and stern. Following customer's instructions, every merchantman has been given a different set of flags. From left to right: Portugal, Scotland and Spain. On its side, the pirate galleon has been crowned with the flags commonly attributed to Edward 'Blackbeard' Teach.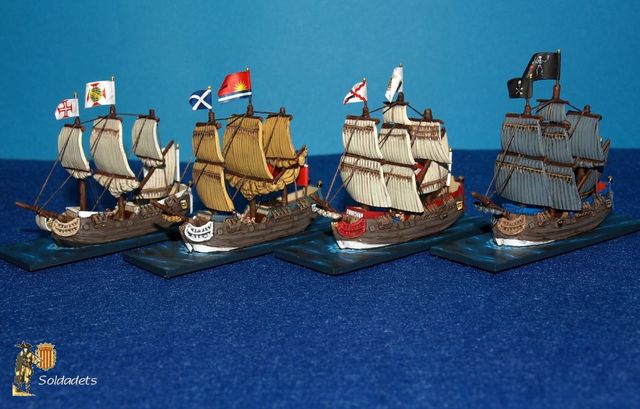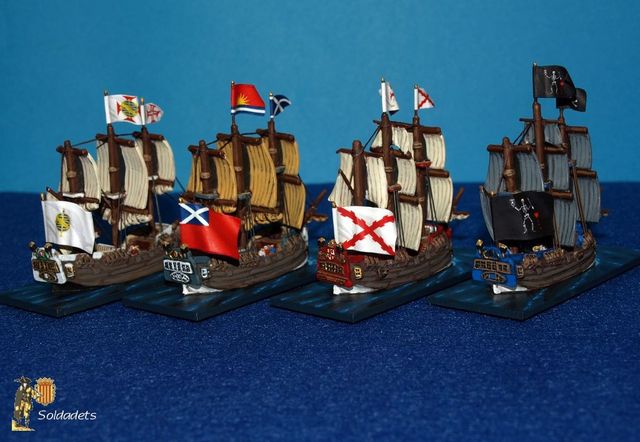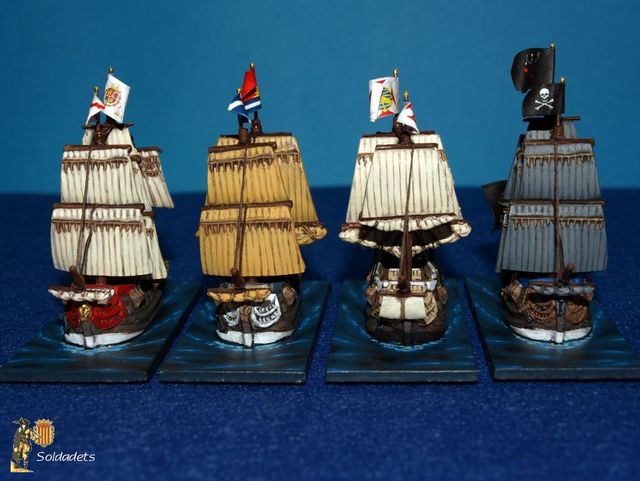 As said above, I've taken advantage of the work on these galleons for painting a fifth ship, this one for my own collection. It intends to be a Catalan privateering sagetia in times of the War of Spanish Succession ('saettia' in Italian, link).
Sageties were rigged like a xebec, with three lateen sailed masts and no bowsprit; but unlike this latter, a sagetia does not show the slender, galley-looking profile usual to xebecs. This way, I've chosen to build it on a Peter Pig schooner hull, using plastic card for sails and metal or wooden parts for masts and yards.
There is little, if any, information on Austro-Catalan naval flags of the War of Spanish Succession, so I've had to speculate a bit using flags from the 1670s. One famous Catalan privateer of that time, Miquel Montserrat, commanded one such sageties in either blockade running or naval depot storming missions; it was armed with 12 guns, with a 150 men crew.