Brief Description


Popular rules for giant robot ("battlemech" or just "mech") combat, playable as both a boardgame or miniatures game. The Currently available as two primary products: the Battletech 4th edition boxed set, which includes basic rules, maps, and cardboard playing pieces; and the Battletech Master Rules, which provides more rules but without the maps and pieces. (There is also a role-playing game, Mechwarrior, a collectible card game, an arcade game system, and several lines of computer games.)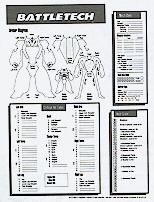 The game centers around battlemechs, which may be designed from scratch or selected from any of several supplements (set in different time periods and factions). At the start of each turn, the players dice for initiative, and then take turns (one mech at a time) through a series of phases: movement, reaction (torso twisting), weapons combat, physical combat, and miscellaneous. Actions such as movement and combat generate heat, and if this surpasses the mech's ability to dissipate heat, gradual overheating occurs resulting in progressive loss of systems.
Weapons are mounted on different parts of the body, resulting in varying arcs of fire. To score a hit, a "to hit" roll is made, modified by speed of target and attacker, weapon range, terrain, and other factors. If a hit is made, a second dieroll determines the hit location (head, leg, arm, or various torso locations). Damage first removes armor, then does internal damage (with a chance of critical hits).
Pilots ("mechwarriors") can improve their skills over time. Additional rules (some provided in supplements) add tanks, aircraft, and infantry to the game system, as well as allow for extra-terrestrial combat environments.