Chronopia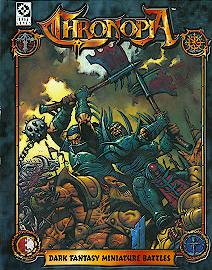 #2202
Land of the Two Rivers
96-page full-color, soft-bound book. Introduces a major new race, an ancient quasi-Egyptian lizard race known as the Stygians. Explains how the One King awakens the Stygians in a desert wasteland known as the Land of the Two Rivers, and how all the major powers are now involved there. Provides new rules for the desert. New units and spells for all of the existing races, plus the complete army list for the Stygians. New markers and templates.
#2203
The Firstborn Watchtower
Boxed set. Includes a cardboard watchtower (to be constructed from eight cardsheets), two exclusive miniatures - the Enlightened of the Firstborn, and the Stalker from the Devout. Rules for fighting in and around buildings. A scenario.
#2204
Sons of Kronos
96-page soft-bound, full-color book. Includes a detailed history and background of the lands of the Untamed, army lists for three tribes of the Sons of Kronos, new rules for fighting in the Frozen Wastes and the Great Pine Forest, a new time-line (illustrated with all the major events in the lands of the Untamed), and new weapon templates and counters.
#2205
Dwarf Talon Gates
Boxed set includes a full-color cardstock model of a Dwarven Talon Gate, and two exclusive miniatures - the Stygian Hammerhead and the Dwarven Vulture Clan Talon Lord. A 32-page booklet provides rules for fighting indoors and underground, plus a complete scenario.
#2206
Fallen Land
88-page soft-bound book includes rules for fighting in jungles, a new army (the Swamp Goblins), and new units for existing races (including a Goblin Ripper Beast Chariot and a flying Elven Dragonbane).
#2207
The Dwarven Labyrinth
96-page full-color, soft-bound book includes new rules for fighting underground and in buildings, cards and rules for simulating the unpredicable nature of the underworld, new counters and templates, and new units for the Dwarves, Devout, Stygians, and the Firstborn.