Battlesystem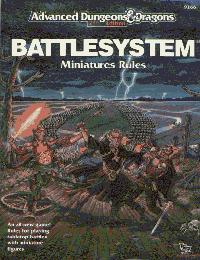 Battlesystem Skirmishes
This product was not a supplement for Battlesystem, but rather a complementary system for fighting smaller-level battles (1 figure = 1 man).
---
Strictly speaking, this is not a Battlesystem supplement. However, this campaign setting for Advanced Dungeons & Dragons includes rules involving characters in kingdom politics - and that's one way to generate battles to be resolved with Battlesystem.
---
Castles 3-D Set
Included rules additions, additional spells, scenarios and a campaign game. Boxed set, product #1056.
---
The Castle Guide
Included siege rules for Battlesystem.
---
Cities of Mystery
Similar to Strongholds, but with houses instead of fortifications.
---
This Dark Sun campaign accessory book also includes Battlesystem stats.
---
Strongholds
This product consisted of 3-D cardboard cutouts of fortifications for 25mm scale.
---
Swords of the Iron Legion
Scenario anthology for first-edition Battlesystem. I14, product #9226.
---
Dragon Magazine #179
This issue contained a list of magic items for Battlesystem.