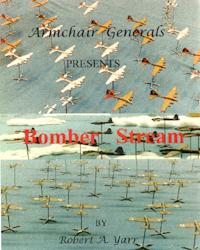 ---
Brief Description
Fast-playing rules with an emphasis on large-scale fighters vs. bombers encounters. The game is played in two dimensions (no altitudes). Each turn consists of four tactical phases (move/shoot), followed by a navigational phase (declare new speeds). A Damage Location system determines the results of combat hits. Stats are provided for 175+ aircraft, for all major and many minor combatants in WWII. No rules are provided for bombing and other ground attacks (but see Supplements, below). Optional rules cover night, sun, clouds, deflection shots, parachutes, pilot quality, wounds, etc. Twelve scenarios are included, plus a "politically incorrect" 13th (joke) scenario.
Period
Second World War, all theatres
Scale
Tactical. Each turn represents 1-2 minutes of actual combat. No "ground scale" is stated. Each figure represents an individual aircraft. Designed for use with 1/285 scale planes.
Basing
Individual (no altitude marking is necessary)
Contents
Deluxe Edition binder contains:
18 pages of rules (in plastic sheet protectors)
turn track (in sheet protector)
flight log sheet
50 bomber display sheets
37 fighter (small aircraft) display sheets
plastic ziploc pencil holder
china marker
calculator (used to calculate fractional speeds per tactical phase)
protractor (for use with optional deflection shot rule)
6 additional sheet protectors (for use with aircraft display sheets)
Designer
Robert A. Yarr
Publisher
First edition published 1997 by Armchair Generals
---
If you would like to add your opinion to this webpage, use the following form or send email to the editor.
---
Bomber Stream Expansion Set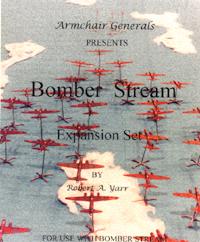 The original game provides stats for more planes than it provides display sheets. This binder contains display sheets for 24 additional Allied fighters, 40 additional Axis fighters, and 1 additional Axis bomber. Includes 20 plastic sheet protectors.
The publisher reminds us: "Remember, if you are using miniatures (and not the charts as pieces), you can use any similar chart to keep track of aircraft damage. Example: Any single-engined Allied fighter could use a particular Allied chart - that's why there is a space for "Type" on each chart. Or, any Ju 88 could use the "A-4" chart included, by adding or crossing out armaments pictured on the chart from the Data Tables or any military type publication with statistics for field modifications. Actually, a good example are the B-25Js used in my Surrender Flight scenario - they are field-modified Js with extra machine guns added in the nose (345th Bomb Group "Air Apaches"). (Look for some close-up pix of the cool nose art they had at our webpage.)"
First Watch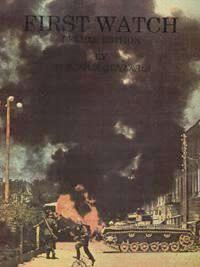 Bomber Stream is designed to be compatible with the publisher's microarmor rules, First Watch. The air-to-ground combat rules from that game can be used with this game. In addition, the rules can be merged to allow for games in which tanks and planes are in simultaneous combat.
---
The publisher's website for rules updates and changes.
If you know of other resources for this game, please let us know by sending email to the editor. If you have material you would like to make available to the Net, also let us know.
---