Brief Description
Shock Force combines an all-purpose set of rules with an (optional) futuristic background.
During the turn, players alternate "activating" units (a group of figures or a single vehicle). Activated units may move and/or fire all of its weapons, or fire may be reserved for later. Figures beyond command radius of their squad leaders suffer dieroll penalties, and are more likely to fail morale. Combat is resolved by comparing offensive and defensive dierolls, with modifiers applying due to cover and whether or not the figure has moved. "Hit" figures are removed from play, as are figures which fail their rout test (required when a unit loses a leader, or loses a member while depleted).
Rules are provided for designing your own army (although you can simply use one of the pre-designed armies in the book). Using a point system, a basic troop type is purchased, stats can be modified (movement, defense, mental), and then advantages/disadvantages can be purchased (such as Trigger Happy or Lucky Bastard). Lastly, there is a system for designing new weapons, based on functionality.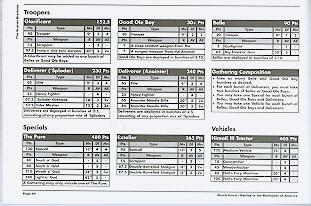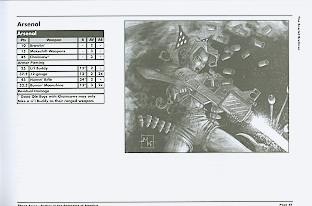 The optional background (which complements the figures produced by Demonblade) is set in a future toxic United States. The rulebook details several factions, providing a description, army list, and short piece of fiction for each. The armies provided are:
Shock Force - Private armies used by the Megacoms to control their Consumers.
The Organization - Mafia-like group, whose mutated members are known as "Orgs."
The Mutants - Hordes originating from the polluted Great Lakes, led by a Dominator/Dominatrix.
The Scarlet Brethren - Southern theological faction devoted to preserving "pure strain" humanity.
The Gothrats - Mutated rats from beneath New York City, now bipedal and organized as Broods.
DeadTech Systems - An insane CEO has created this megacom, uniting cybernetics and the dead.
The Vengequan - Mystic, mutated Indians with backing by the French.