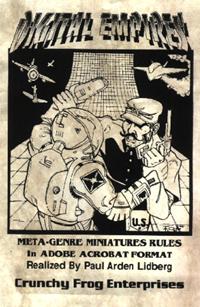 ---
Crunchy Frog makes its first foray into professional electronic publishing with Digital Empires.
This product is a comprehensive meta-genre miniatures game which includes rules for all time periods (from Cavemen to the Far Flung Future, from 25mm man-to-man to 1/300 scale mass combat). It even includes complete ship-to-ship and giant robot combat rules, and a selection of army lists and scenarios.
Digital Empires comes in PDF format, which means that you'll need an Adobe Acrobat reader in order to use it.
As an introduction, the company has produced a Freeware Version of the game (enough of the rules to get started). For information on downloading both the Freeware Version and an Acrobat reader, see the Digital Empires webpage.
---