---
From Golan To Sinai is not a stand-alone game -- you must have the publisher's WWII miniatures rules, Clash of Armor, in order to benefit from this rules supplement.
---
According to the designers:
The result of adapting the original rules for the duels in the Middle East produced more than simply a variation of the World War II game with new equipment and nationalities. Rather, as you play the scenarios, you will find yourself encountering an entirely new experience.
This new experience is partly the result of the new rules (7 pages in the manual), covering:
| | |
| --- | --- |
| New Terrain | Two new terrain features, the crest (representing sand dunes, ridges, and stony outcrops) and soft sand |
| Anti-Tank Missiles | Each stand with missiles is rated for the number of shots it can make per fire action. A dieroll is made for each missile fired, with the odds of success determined solely by range to target. If the missile hits, the target receives 1 cohesion hit. Missiles only affect vehicles. |
| Response Actions | A unit fired on by a missile may attempt to activate. If the unit successfully activates and returns fire, it can fire on the missile unit before the missile fire is resolved. This will always reduce the chances of the missile hitting, and might eliminate the threat entirely. |
| Mounted Combat | Armored Personnel Carriers no longer leave play once they have dropped off their passengers, as they do in the WWII rules. APCs instead function as support weapons for the associated infantry. Infantry can fire while mounted. New rules allow infantry to bailout (a quicker form of dismount). |
| Anti-Aircraft Fire | The SA-3 and SA-6 surface-to-air missiles may engage air targets before they enter play. |
| Air-To-Ground Attacks | Several of the Israeli aircraft have the option of making a single large attack or two separate attacks. |
| Helicopters | Rules are given for movement and combat involving choppers. Helicopters have an advantage when scouting for enemy units. |
There has also been a minor change to the anti-tank rules (a simplification), and a new wrinkle as pertains to Soviet-manufactured tanks in hull-down positions.

Optional Rules. Two special rules are presented for Israeli armor units:
Israeli tank units have high activation ratings, due partially to the practice of tank commanders staying "unbuttoned." Recognizing this situation, an optional rule allows enemy infantry to make suppression attacks against Israeli tanks.
During certain periods, the role of Israeli tanks was considered to be anti-armor. An optional rule lowers the effectiveness of HE fire from Israeli tanks, reflecting an ammunition load which favored anti-armor rounds.
---
Four pages of the booklet provide sample organization tables:
1956

EGYPT

1st Armored Brigade
Infantry Brigade

ISRAEL

Infantry Brigade
Mechanized Brigade
7th Armored Brigade

1967

EGYPT

Armored Brigade
Armored Division
Infantry Brigade
7th Infantry Division

JORDAN

Infantry Brigade
Armored Brigade

ISRAEL

Infantry Brigade
Parachute Brigade
Mechanized Brigade
Armored Brigade

1973

EGYPT

Independent Armored Brigade
Armored Division
Infantry Brigade
Infantry Division
Mechanized Brigade
Mechanized Division

JORDAN

(same as for 1967)

SYRIA

Tank Units
Infantry Brigade
Mechanized Brigade
Infantry Division

ISRAEL

Infantry Brigade
Parachute Brigade
Armored Brigade
Armored Division
As a general rule, missiles are assigned to infantry platoons or to dedicated anti-tank vehicles. The rules provide loose guidelines for assigning missile loads to infantry platoons.
Troop Ratings. The designers contend that while both the Israeli and Arab armies were composed of well-motivated troops, the Arab forces had an inferior command structure. Therefore, the rules provide these guidelines for rating each army:
Israeli units typically have excellent activation ratings, high morale, and the full spectrum of experience levels. The commanders generally have excellent ratings.
Arab units have low activation ratings in the early period (1948), improving steadily over time. Morale and experience vary considerably. The commanders' ratings also vary, though they should usually be associated with the morale of the unit.
---
One of the methods by which From Golan To Sinai has achieved a different feel from the original rules is by subtle changes in the data.
One of the reasons this was necessary was due to the change in armor organizations. Each stand still represents a platoon of tanks, but a WWII platoon consisted of 5 vehicles, while a 3-vehicle platoon was common in the period of these rules.
One of the consequences of this approach, however, is that data from the WWII and Arab-Israeli War rulesets are not interchangeable. In fact, those weapons which are present in both rules systems may have different ratings in each.
The general changes include:
higher penetration factors
higher infantry anti-tank factors
lower high-explosive direct fire values
lower anti-aircraft hit values
The rulebook includes 6 pages of data charts, covering 36 types of fighting vehicles, 24 varieties of anti-tank guns, 14 varieties of infantry, 11 jet aircraft, 3 helicopters, and 11 anti-aircraft weapons.
Note that the data strictly covers only those weapons and units which fought in the Arab-Israeli Wars of 1956-1973. (Weapons not present include the U.S. M1 Abrams and Soviet T-72 tanks.)
---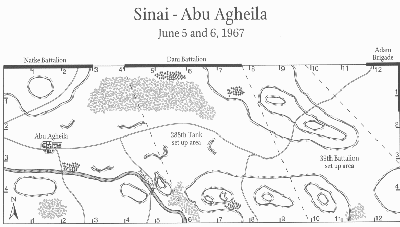 Thirty-six pages of From Golan To Sinai are dedicated to presenting six sample scenarios:
El Al, October 7th, 1973
In the southern Golan, newly arriving units of the Israeli Peled Division (Shermans, Patturions, and M113-mounted infantry) counter-attack lead elements of the 5th Syrian Infantry Division (T-55s and BTR-60-mounted infantry). The Arab forces have already taken a town and the adjacent orchard.
Recommended Table Size
4' x 8'
Approximate Forces
40 stands (Israel), 60 stands (Syria)
Botzer, October 17th, 1973
Along the banks of the Great Bitter Lake, the Egyptian 25th Tank Brigade (T-62's, BMP-mounted infantry) runs into a "box" of Israeli armor and TOW's (Natke's Tank Brigade). The Egyptians must break through in order to strike at the Israeli bridgehead over the canal (off map).
Recommended Table Size
5' x 10'
Approximate Forces
14 stands (Israel), 50 stands (Egypt)
Abu Agheila, October 31st, 1956
The dug-in Egyptian 6th Infantry Brigade (infantry units) must hold off a second Israeli attack, taking advantage of defensive positions along hills, behind soft sand, and a stream. However, the Israelis (chiefly infantry units) have a surprise -- a task force (Shermans) behind Egyptian lines, ready to make a flanking attack. The Israelis also have three Ouragan fighter-bombers in support.
Recommended Table Size
5' x 13'
Approximate Forces
50 stands (Israel), 45 stands (Egypt)
Abu Agheila, June 5th and 6th, 1967
Same battlefield, new war. An Egyptian infantry battalion and a tank battalion (T-34/85's) are well dug in. The Israelis are attacking with an infantry brigade, but they again have a surprise -- tanks (Centurians and Shermans) and parachute infantry have crossed "impenetrable" sand and are ready to make a flanking attack.
Recommended Table Size
5' x 13'
Approximate Forces
75 stands (Israel), 45 stands (Egypt)
Chinese Farm, October 16th, 1973
Israeli forces (M60's, M48's, and parachute infantry) are attempting to break through to the canal. Defending in this area is a large Egyptian force, including three infantry battalions (equipped with RPG-7's) and four tank battalions (T-55's and T-10M's).
Recommended Table Size
6' x 10'
Approximate Forces
40 stands (Israel), 70 stands (Egypt)
Quneitra, October 7th, 1973
The Syrian 7th Infantry Division (T-62's, T-55's, and dismounted infantry) is attempting to penetrate Israeli defences in the Golan. The Israelis (Centurians, Patturions, M113-mounted infantry, and a Cobra gunship) are on the hill tops, behind anti-tank ditches and minefields, and have one unit in fortifications.
Recommended Table Size
5' x 9'
Approximate Forces
35 stands (Israel), 55 stands (Syria)
Each scenario includes a large map, an historical description, a list of miniatures required (organized by piece, and independant from the organization charts -- a nice touch), and special sets of game charts with only the information needed to play each scenario (again, a very nice touch -- for instance, there is a Penetration Values chart listing only the guns found in that particular battle).
---