Armies of Arcana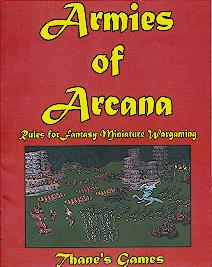 Fantasy army rules designed to be quick playing (15 minutes per turn) for small- to medium-size armies. A point system allows players to build armies from a dozen army lists. Forces comprise troop units, characters, and monsters. Rules include magic and morale.
Period
Fantasy
Scale

Ground Scale
"Roughly 1 cm = 1 meter"
Time Scale
1 turn = 15-25 seconds (15mm scale)
1 turn = 2-20 minutes (15mm, "large battle")
1 turn = 8 seconds (25mm scale)
Figure Scale
"A single figure represents one person"
(Guidelines are also given for large battles using 1 figure = several men)
Miniature Scales
"Best played with 15mm figures"
(Guidelines are given for using 25mm scale as well)

Basing

SUGGESTED BASING FOR 15MM SCALE
(1 model per stand)
Very Small
10mm x 10mm
Man-Sized
15mm x 15mm
Cavalry
15mm x 30mm
Monsters/
War Machines
"according to the size of the model"

However, "...the game works with any consistently sized bases."

Contents
78-page soft-cover rulesbook:

with reference summary on back cover


with one page of color templates (must be cut apart)


Designer
Thane Morgan (thane@thanesgames.com)
Publisher
Thane's Games. Third printing 1999. Second printing 1998.