"What are the strengths and weakness of the rule set?" Topic
---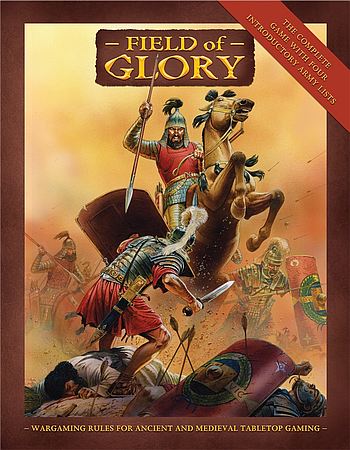 6 Posts
All members in good standing are free to post here. Opinions expressed here are solely those of the posters, and have not been cleared with nor are they endorsed by The Miniatures Page.
For more information, see the TMP FAQ.
---
Back to the Field of Glory Rules Board
---
---
Zookie
04 Mar 2017 5:11 p.m. PST

I want to start playing an ancients game in 6mm. I am curious about FOG. I was wondering what the strengths and weakness of the rule set are. Also I wanted to know how well it plays at 6mm.

Timotheous
05 Mar 2017 2:28 p.m. PST

Field of Glory would work just as well with 6mm as with 15 or 28mm, so long as they are mounted the same way. The strength of the rule set, IMHO, is the level of detail allowing the wide variety of ancient and medieval troop types. These are rated by adjectives describing their unique characteristics, rather than arbitrary letter or number grades. For example, Roman Triarii are Superior, Drilled, Armored, Offensive Spearmen.

The game also distinguishes between the initial clash (the impact phase) and the subsequent rounds of melee as the fight drags on (the melee phase). This, and the way battlegroup morale can deteriorate gradually, while leaders attempt to bolster morale before it's too late, convey the feel of tough, grinding combats.

The weaknesses include: no provision for weather, chart heavy, and some match-ups can be terribly lopsided. Don't play barbarian armies against Romans, for example.

Shardik
05 Mar 2017 9:39 p.m. PST

Weakness (to me) is that melee, especially multi-unit combats, is incredibly tedious

Lascaris
06 Mar 2017 8:28 p.m. PST

Like Timotheous I like the differentiation between initial impact and the grinding melee. It "feels" right to me that melees tend to have fairly low casualties until someone breaks and then it gets brutal.
I also like that although the percentages are weighted towards expected results you can still have some fights that don't go the way you think they will. An example would be Indian bowmen stalemating Seleucid phalangites until the battle was decided elsewhere.
I also like how leaders are portrayed in that they can help morale by being in the back ranks or, at a not inconsiderable risk, help the fighting ability of a unit by moving to the front rank.

I'm sort of ok with no weather provision when fighting ancient battles. I don't recall any reference to weather being a factor in Polybius, Livy etc. I wish there were weather provisions for the medieval and renaissance periods as weather was a documented factor (like Agincourt.)

I find that, for us anyway, combat goes very quickly and we can roll through a combat in just a few seconds although it helps to have some rosters printed beforehand with the army compositions on them to minimize searching through the books.

All in all, these are our current ancient rules of choice.

Dexter Ward
07 Mar 2017 3:35 a.m. PST

It's a good set of rules, but:
Melee really slows down when you have units not aligned with one another – you have to work out casualties by file and keep track of how many hits each unit did to each other.
When you have two long line which clash with the units unaligned this gets very tedious and error prone.

Perris0707
05 Apr 2017 12:35 p.m. PST

I dislike the fact that they don't allow for troops that used bow AND lance in combat. I get their logic. I just don't care for it.