"What are the strengths and weakness of the rule set?" Topic
---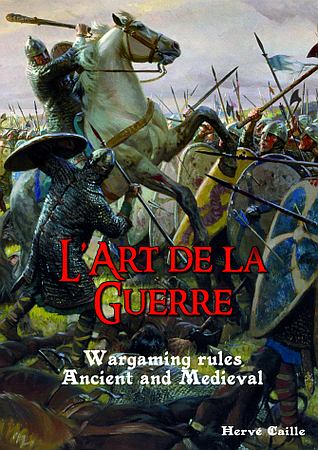 4 Posts
All members in good standing are free to post here. Opinions expressed here are solely those of the posters, and have not been cleared with nor are they endorsed by The Miniatures Page.
Please use the Complaint button (!) to report problems on the forums.
For more information, see the TMP FAQ.
---
Back to the ADLG (l'Art de la Guerre) Rules Board
---
Areas of Interest
Ancients
Medieval
---
Featured Hobby News Article
---
Featured Recent Link
---
Featured Ruleset
---
Featured Showcase Article
---
Featured Workbench Article
---







Please sign in to your membership account, or, if you are not yet a member, please sign up for your free membership account.
Zookie
04 Mar 2017 4:04 p.m. PST

I want to start playing an ancients game in 6mm. I am curious about ADLG. I was wondering what the strengths and weakness of the rule set are. Also I wanted to know how well it plays at 6mm.

mikeguth
17 Mar 2017 6:42 a.m. PST

My review is biased because I really don't like the game. Strength: 1. Lots of people play this, it is now the number one rules set at HMGS east competitions, is played heavily in Europe, and is becoming THE rule set in the UK. Although I see that they did get 20 players for a Too the Strongest UK event. Not bad.
2. Somewhat familiar mechanisms: A stand is a unit. Units form commands. Units in a command can move as group. Roll dice, move groups. Combat is stand versus stand. IGOUGO.
3. Units last awhile: Frustrated in DBA when 6-1 result leads to a cascade of defeat? In ADLG heavy foot take 4 hits, medium foot take 3 hits, cavalry takes 3 hits. So, you can hold the line in one area even at a disadvantage while turning a flank or winning someplace else.
5. You don't need too many stands; except that infantry is on double width stands compared to most rules. Its like a BBDBA or 36 element army each side.So, not too expensvie or heavy.Should play well with 6mm figures mounted on 15mm size bases; 40mm base width.

mikeguth
17 Mar 2017 7:03 a.m. PST

Disadvantages of ADLG:
1. To play the game really takes almost 3 hours. Tournaments often give 2 to 2.5 hours. So, you see a lot of 'nul' results on the French ADLG site; and lots of angry opponents at conventions because of your 'slow play.;
2. Commands don't have break points, they fight to the last man. This lengthens the game compared to DBA, where 1/3 of a command dieing triggers a failed command.
3.There are gimmicks. The game allows groups to move and 'slide' over a base width. Surprise! My elements on either end of your line have moved up and slid behind you, YOU LOSE. And no, it never happened to me.
4. There are players at conventions who won't warn you about this type of gimmick because they are prks, who are desperate to get tournament points on the ADLG website and be world champions or whatever. Contrast to the rules Triumph where the authors still are holding 16 hour teaching marathons to try to really teach the game to players before 'tournaments.'
5. A 6-1 will still often kill a unit, just like in DBA.
6. There are way more pages of rules than in DBA or Triumph. Many derive from the old DBM issue of having impetuous, a sort of irregular troop.
7. Example of slow play mechanics: No command break point, already mentioned. Shooting: In DBX rules you shoot simultaneously. In ADLG I shoot, you roll defense dice. THEN you shoot, and I roll defense dice. twice as long. Nul result.
8. Table size versus game size seems off. Most tournament games are 200 points. The board is HUGE and the games don't look like Ancient Battles with flanks secured on terrain. Favors mobile armies against foot armies.
9. Point system: DBA; no point system, here are your troops, loose order belong in bad going, close formation the open. Figure out how best to use these troops on this particular battlefield. Commands and Colors Ancients: Scenario based. Play, switch sides, play again. ADLG: figure out how to game the point system. True to all point system games.A Roman infantry unit gets costed out the same as a stand of heavy cavalry with bow. Guess what, the Roman infantry will never catch the cavalry and eventually gets shot up. Two cavalry versus two Roman infantry; ditto, or worse since the cavalry gets in the first flank attack. Oh, since a flank attack is a killer in ADLG, find a way to shave a point or two off your infantry compared to opponent, and then get 3 infantry versus 2 for the win.

FINALLY: This set of rules still requires you to actually measure, which is corrupting. Will I be precise, extra honest and move short, or a bit dishonest and wheel a bit extra because its not a 'big deal'. So retro.
Contrast with 'To the Strongest' or Commands and Colors Ancients. Wish DBX had gone this route, ditto for Triumph. What is it, afraid of being accused of being a boardgamer because you don't haul out a wheel stick and a ruler? Son, you became a boardgamer the minute you mounted 3 figures on a stand.

madaxeman
07 Apr 2019 7:11 a.m. PST

ADLG would play fine using 6mm figures – you'd really only need to decide if you were adopting the 15mm or 25mm basing convention (aka 40mm frontages or 60mm frontages).

Most people seem to think of it as a better-written, less cheesy-exploitable, more highly evolved DBx based ruleset. If you like the core DBx mechanisms therefore its very likely you will get along just fine with ADLG.

I've genuinely never heard any ADLG player ever say the balance between foot and mounted armies favours mounted too heavily – if anything mounted armies seem to take a bit more experience to use well, and the balance between the two is pretty solid. Heck, I won a tourney with Galatians a few weeks ago – that would be impossible in most of the other rulesets I've played before!

The points system is on its third iteration (the previous 2 versions were published in French only) so again most people who do play often express the view that its better balanced than most other points-based rulesets, with no killer armies and barely any dogs either in the lists.