"More Army Lists Needed?" Topic
---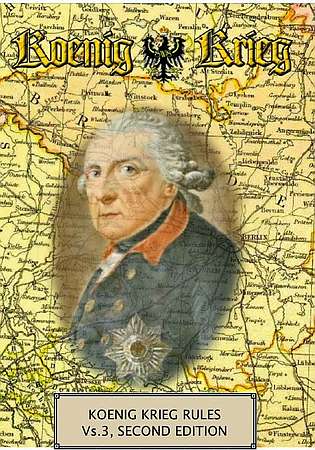 4 Posts
All members in good standing are free to post here. Opinions expressed here are solely those of the posters, and have not been cleared with nor are they endorsed by The Miniatures Page.
For more information, see the TMP FAQ.
---
Back to the Koenig Krieg Rules Board
---
Areas of Interest
Renaissance
18th Century
---
Featured Hobby News Article
---
Featured Ruleset
---
Featured Showcase Article
---
Featured Profile Article
---
Featured Link
---
Editor in Chief Bill
20 Feb 2017 8:11 p.m. PST

Are you waiting for more army lists to be made available, or do the current lists cover all the armies you are interested in?

langobard
26 Feb 2017 2:33 a.m. PST

For myself, the current lists (Austrian, British, French, Prussian and Russian) are fine, as I tend to stick to Austrian vs Prussian and British vs French.

That said, can you ever really have enough lists? Especially in an age of such beautiful uniforms and wonderfully inefficient states, can you really have enough lists? Certainly the Austrian list makes passing reference to things such as Bavarian, Wurttemberg and Saxon contingents, but it would be nice to see these silly little armies more fully dealt with.

But that is just me, I guess :)

von Schwartz
05 Apr 2019 5:05 p.m. PST

Well, I have two copies of the rules and they seem to cover nearly every conceivable nation that might be involved in the SYW, Sweden, Denmark, Portugal, Ottomans just to name a few of the more obscure.

von Schwartz
05 Apr 2019 5:20 p.m. PST

I need to ask a question. Is the fire of battalion guns factored into the fire tables or is all artillery fire factored separately? Specifically, should I have separate models or bases for the separate battalion/regimental guns?
I currently have bases, 2 figures 1 gun model, representing 4 guns, for each regiment. I even have a few bases with 1 figure, to represent 2 guns, for some regiments/battalions and to use with larger 12-18 pdrs to make 10 gun batteries, i.e. 2-4gun bases and 1-2 gun base.