"Koenig Krieg AAR at my blog" Topic
---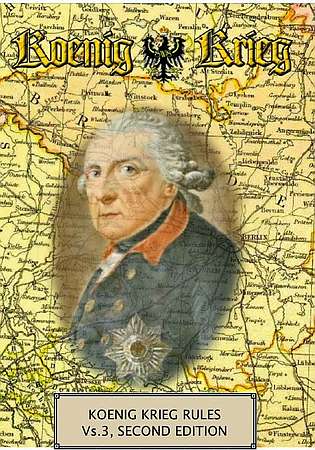 6 Posts
All members in good standing are free to post here. Opinions expressed here are solely those of the posters, and have not been cleared with nor are they endorsed by The Miniatures Page.
For more information, see the TMP FAQ.
---
Back to the Koenig Krieg Rules Board
---
Areas of Interest
Renaissance
18th Century
---
Featured Hobby News Article
---
Featured Ruleset
---
Featured Showcase Article
---
Featured Profile Article
---
Featured Link
---
The Membership System will be closing for maintenance in 11 minutes. Please finish anything that will involve the membership system, including membership changes or posting of messages.
lebooge
08 Jun 2009 8:10 a.m. PST

I've posted a tongue-in-cheek AAR of a 15mm SYW battle played last weekend in the Minneapolis/St. Paul Minesota area.

The battle used historical armies in ahistoric alliances based on the troops that were available. Rules used were the old 1st/2nd editions of Koenig Krieg.

Enjoy!

bavoisSYW
09 Jun 2009 6:32 p.m. PST

Great battle reports. Very amusing re the Neapolitans. Wow you guys did the pre battle maneuvre and everything. Very impressed. Just waiting on my new Version 3 Koenig Krieg rulebook and tokens etc to arrive. Then I can start playing games, maybe not as bug as yours…..

COL Scott home
10 Jun 2009 12:19 p.m. PST

Very funny indeed. More so when actually using the Doofensmirtz accent.

lebooge
11 Jun 2009 2:34 a.m. PST

Cheers!

I have small kids at home, so I find my inspiration in weird places sometimes.

The pre-battle manuvering with dummy brigades made things a bit more interesting, especially since the Austro-Prussians were outnumbered 4:3. Both sides knew this, but the dummy brigades kept both sides guessing as to which end of the table the Prussians would choose to contest. We figured a Prussian brigade would stand a better chance being isolated and outnumbered, so I was picked as the sacrificial lamb. It's just more fun to write it up as an outrage.

Regarding the "Neapolitan column," there is a strange rule where infantry in column have a better chance of fending off cavalry for some reason. We found this by accident when an Austrian cavalry unit broke through the main Neapolitan line and caught a second-line unit marching up in column. We were all confounded when it bounced. No idea if this is still the case in the new edition of the rules or not. I don't actually own a set of KK currently, so I was going by what the veteran players were explaining. Come to think of it, though, they were all on the other side…. ;-)

War Artisan
11 Jun 2009 6:57 p.m. PST

Come to think of it, though, they were all on the other side…. ;-)

I think I resemble that remark! ;-)
Actually, that was a mile away on the other flank, so I didn't see it, nor do I have an opinion on that interpretation of the rule (except a vague discomfort with anything that makes Neapolitans effective troops).

I just wanted to mention that there are photos of the game on two Yahoo groups (for those who are members of those groups):

The Koenig Krieg group at

in an album entitled "War of the Sarcastic Alliance" in the Photos section, and

The Minnesota Miniatures Gamers group at

in a folder entitled "Recent Games" in the Files section.

Apologies to those who don't want to join YAYG (Yet Another Yahoo Group); I understand perfectly.

Jeff

bavoisSYW
26 Sep 2009 6:23 p.m. PST

"Regarding the "Neapolitan column," there is a strange rule where infantry in column have a better chance of fending off cavalry for some reason. We found this by accident when an Austrian cavalry unit broke through the main Neapolitan line and caught a second-line unit marching up in column. We were all confounded when it bounced. No idea if this is still the case in the new edition of the rules or not. I don't actually own a set of KK currently, so I was going by what the veteran players were explaining. Come to think of it, though, they were all on the other side…. ;-)"

Infantry in column are better at fending off cavalry in the new edition, just like the old one. Cavalry need a 5+ to break the bayonets, unlike infantry in line where the cavalry only need a 4+.

That said in the new edition, infantry in line gain an extra dice when shooting at cavalry and columns get no dice if in column and fighting other infantry. So a column really is not a good idea to be in. Columns are also easier to hit by artillery and infantry in line gain an extra dice when shooting at columns.

Personally I think I would prefer a 12 figure battalion in line with 7 dice needing 5's to hit and a 4+ protection against cavalry, then a column with 2 dice needing 5's to hit but only +1 better protection against cavalry breakling the bayonets…:)