"DBR Condensed Scale - Your Opinions Please" Topic
---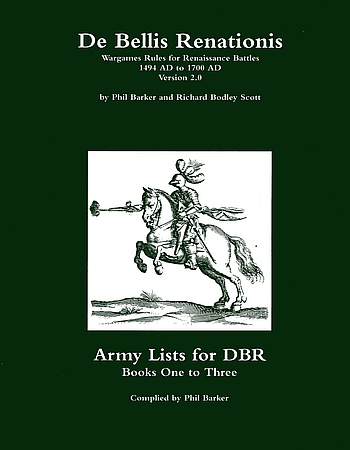 9 Posts
All members in good standing are free to post here. Opinions expressed here are solely those of the posters, and have not been cleared with nor are they endorsed by The Miniatures Page.
Please remember that some of our members are children, and act appropriately.
For more information, see the TMP FAQ.
---
Back to the De Bellis Renationis Rules Board
---
Areas of Interest
Renaissance
---
Featured Hobby News Article
---
Featured Link
---
Top-Rated Ruleset
---
Featured Showcase Article
---
Featured Workbench Article
---
Featured Profile Article
---
No Name 3
23 Jan 2007 11:56 a.m. PST

This topic is aimed at DBR players. I already have a possible alternative set of rules in mind if I decide to change from DBR for ECW.

I have some 6mm ECW armies that I used to use quite a lot for DBR normal scale. I really enjoyed playing DBR with them, but have found that over the last couple of years my ECW armies have not had many airings.

The reason seems to be that the games take me an evening or two to prepare in terms of picking the armies, balancing points, packing them etc. Also, if I play at home, a 6x4 foot board is a too little large to be convenient.

The 2 games I have been playing a lot of the last couple of years are DBA and HotT. Both of these sets of rules take me a short while to prepare for, in 6mm or 15mm are very portable and only require a small table to play upon.

One alternative for my ECW armies is to try the 100 point condensed scale DBR option, which plays on a 2x3 foot area. (Elements represent 4x as many men in the condensed as in the normal DBR scale.) One option for me would be to rebase my figures on larger bases e.g. instead of 8 infantry in one rank on a 10x40mm base have 24 figures in 3 ranks on a 20x40mm base. An army would consist of about 10 to 15 elements instead of 50 to 60.

Of course, I do intend to try the condensed scale myself. I have a normal scale DBR game booked tomorrow and hope to get back into the swing of DBR. However, I would appreciate hearing how people have got on with the condensed scale of DBR, whether the games were as satisfying as the normal scale, were the results more or less accurate and were the games any quicker.

Tony S
23 Jan 2007 2:03 p.m. PST

When I've played 100 pt DBR games, we usually play on a 2x3 board. 2x2 boards, the usual DBA size, are too cramped, especially for large armies like the Irish, or some of the more mobile Eastern armies.

Personally, I like the condensed scale for larger 300-400 point games too. Fewer modifiers at the condensed level, so it's a bit quicker and smoother. I also find it feels (for me) more like an army, since there seems to be less fiddly tactical bits. Mind you, there are still more fiddly tactical bits than, say, Polemos, but that's another thread. :)

I have found that artillery in 100 point games are vastly over priced. We either cut the price of artillery in half (like generals) or just give each side a single Art(O) over and above the 100 points of troops.

Grizwald
23 Jan 2007 2:36 p.m. PST

I actually quite like DBR Condensed. It means you can do Marston Moor on a reasonable sized table and it will not take too many hours to play.

Bobgnar
23 Jan 2007 7:04 p.m. PST

Do not confuse Point size with game scale size (not figure scale). DBR has three point sizes and two scales. Condensed has paces 1/2 the distance of the Normal scale, mostly no second ranks, and some combat factor changes. This is a good way to play large battles. Nevertheless, you still have to pick points.

The point sizes are small games, 200p and less (played on small boards), the standard points for tournament games, and then the Giant convention or club scenario game. So you can have a small Condensed game, 100AP on a small board in 15mm (6mm) all the way up to a giant 25mm Normal game on a 6 by 12 foot table.

If you want to play large battles, then use Condensed scale (rules). The comments about artillery above are quite true. You do not want 1/4 of your points taken up by Artillery. If one side can have it but not the other, then up the points over 100 to compensate the non artillery. This does not apply to (I) guns at 5AP. Likewise each side should get a free general for just the price of the element. I have done many small point Condensed games in 15mm. A really good game on a 2 by 3 foot battlefield.

Great fun.

Whatisitgood4atwork
25 Jan 2007 4:43 p.m. PST

I play and enjoy DBR in normal scale with 15mm and 25mm figures.

I am also building two 6mm late C17 DBR armies to use in condensed scale, using the 60mm frontage recomended for 25mm troops.

I don't have enough done for a game yet, but they look good. Deploying bases one rank deep look good as each base of foot has two or three ranks of figures. I use two ranks of 12 for Shot (O) and (S) and three of 10 for Shot (F) and for pikes.

At 400 points, the lack of room on the table leads naturally to deploying in historically deep formations, with two or three battle lines seperated by a normal move.

Note that many of the outcomes will be a bit different in condensed to normal scale. Where two ranks fire, It lowers your enemy's factors and shooting becomes more deadly. So in condensed, Shot is noticably less dangerous when shooting than in normal scale.

I am looking forward to playing largish games in condensed.

No Name 3
27 Jan 2007 7:41 a.m. PST

Thank you for your advice and for telling me about your experiences. There was a lot of useful information.

I enjoyed the game we played on Wednesday (444 points per side at normal scale). It took from about 7.30 to 11.00 pm. DBR 2 has changed in some aspects from the earlier edition but IMO is an excellent game.

I will be trying a game at home tomorrow (Sunday) with two 108 point armies. We will be using the condensed scale. I take note of Tony S's comments and so will use a 3x2 foot board.

I must admit that I had not thought of the condensed scale as being suited for large battles. If I enjoy using the condensed scale for the small game I may well try a larger battle in condensed scale.

Whatsitgood4atwork's ideas of using 60mm wide elements with a lot 6mm figures on them sounds interesting. I bet it will look fantastic. I will probably go with the 40mm wide elements with 3 ranks for infantry and 2 for cavalry because I am interested in using a small playing area.

No Name 3
30 Jan 2007 10:10 a.m. PST

Had 4 games on Sunday (108 points each, DBR using the condensed scale on a 3'x2'playing are). We both enjoyed the games and won 2 each. The results did not seem inconsistant with the 444 point normal scale on Wednesday. Condensed scale 100ish points DBR works for me!

I am undecided on whether to re-base my armies. It would be nice to still play a big game if I wanted to. Also, re-basing can be a bit of a chore.

What I may do is get a couple of non-ECW DBR armies of 100 poinnts or so to try some other conflicts. I am considering Buccaneer verses Colonial Spanish or something from Eastern Europe.

Pyruse
07 Feb 2007 8:35 a.m. PST

I much prefer DBR condensed scale to normal scale for ECW – but I play with a full sized army with 3 generals.

As Bob says, using Condensed scale has nothing to do with playing at 100AP.

I just find Condensed gives a much better game, and plays faster because of the lack of fiddling around with rear ranks. It also allows you to play even the largest battles in an evening.

No Name 3
07 Feb 2007 10:07 a.m. PST

Pyruse, thanks for your post. I will definately try a big game in condensed scale some time. In the mean time the 100ish point games should get my ECW armies out a bit more.