"Question about blades in difficult going (DBM)" Topic
---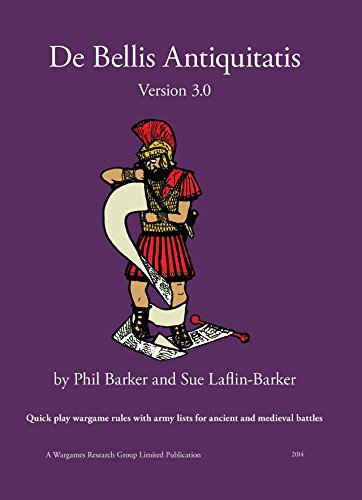 6 Posts
All members in good standing are free to post here. Opinions expressed here are solely those of the posters, and have not been cleared with nor are they endorsed by The Miniatures Page.
Please use the Complaint button (!) to report problems on the forums.
For more information, see the TMP FAQ.
---
Back to the De Bellis Antiquitatis (DBA) Rules Board
Back to the De Bellis Magistrorum Militum Rules Board
Back to the De Bellis Multitudinis Rules Board
---
Areas of Interest
Ancients
Medieval
Renaissance
18th Century
Napoleonic
---
Featured Hobby News Article
---
Featured Link
---
Featured Ruleset
---
Featured Showcase Article
---
Featured Profile Article
---
Featured Book Review
---
maverick2909
21 Jan 2017 10:40 a.m. PST

Hey folks. Have a quick question. Playing DBM 3.2. My blade are fighting Auxilia. His Auxilia are right at the edge of difficult going. I move my blade up to contact. None of the blade bases are in the difficult going. My opponent is saying I suffer the -2. The way I read the rules I don't think I do. Was wondering what you all thought and was seeing if I could get some higher authority on this. Thanks!

Stanton

aynsley683
21 Jan 2017 7:15 p.m. PST

The rule to which your friend is referring to is the 'if mounted fighting foot in difficult ' suffer the -2, so as long as some part on the foot are in difficult the mounted suffer the -2 even if they are totally in good going.

The part that refers to foot getting any minus say if the element itself is in, i.e. the blade element.

Can dig out the page numbers etc. tomorrow for you and your friend. But you had it right Maverick, your Bd should of fought at a 5 to his Ax of 3, then any overlaps etc. counting. As the Ax will not of had any rear support in difficult, because no one, or even Ps gets rear support in difficult going.

aynsley683
21 Jan 2017 7:33 p.m. PST

Page 22, 3 rd line from the bottom says if Bd in close combat against foot to their front while in difficult going, which your Bd was not in so doesn't get the penalty.
A few lines above that mentions the mounted suffering a -2 bit which I think your friend was thinking of. Had your Bd been a Kn instead then the Kn would of been a -2.
How did your game go anyway Maverick?

Piyan Glupak
21 Jan 2017 10:48 p.m. PST

Can't really help you, as I have never got into DBM. Perhaps you might find it useful ask about DBM on the DBM board only, as that will be where DBM players go; a lot of people on the DBA board don't play DBM much.

maverick2909
22 Jan 2017 8:28 a.m. PST

Very poorly, he rolled up my left flank in the difficult going and I rolled a few 1's while he rolled a few 6's in the center and that did me in.

Thanks for clarifying that. I pointed the cav and knight wording out to them but they insisted it was a typo. The problem is, I've only been gaming DBM for 2 years now. These guys have been playing for 10+ years. They have what they think are the correct rules ingrained in their brain. What they learned though isn't always correct and this isn't the first time I have had to correct them.

aynsley683
22 Jan 2017 2:55 p.m. PST

It isn't a typo at all as it's been in the rule book for a few different editions. I can also find the official interpretation booklet thingy, that helps clear up spono moves and deployment plans that do away with the floating command issue.
The same interps were used at the worlds, international team challenges and all tournaments in the US.
I able to play in the last two years of the DBM team challenges that were held in Lisbon a while back, after that DBM never had the numbers to have team challenges.