"FUBAR - a first game!" Topic
---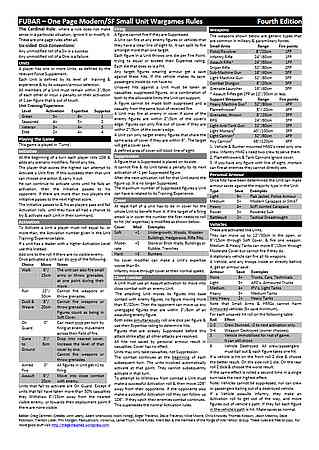 11 Posts
All members in good standing are free to post here. Opinions expressed here are solely those of the posters, and have not been cleared with nor are they endorsed by The Miniatures Page.
Please don't make fun of others' membernames.
For more information, see the TMP FAQ.
---
Back to the FUBAR Rules Board
---
Areas of Interest
World War Two on the Land
Modern
Science Fiction
---
Featured Link
---
Featured Ruleset
---
Featured Showcase Article
---
Featured Workbench Article
---
Featured Profile Article
---
Featured Book Review
---
Herkybird
04 Nov 2012 8:24 a.m. PST

We tried using FUBAR yesterday for our Stargrunt 2 models, the write up and my assessment of the playtest are at: link

Tgunner
04 Nov 2012 8:49 a.m. PST

Yes, you found the common complaint for FUBAR as it exists now. There are some really easy fixes:

1. Remember, you get a +1 to activate a unit that has no LOS to any enemy units.
2. You can have squad/team leaders that can be "better" troops than their followers. For example, a seasoned squad lead by a veteran leader activates on a 3+ rather than a 4+.
3. Finally the FUBAR team is working on modifying the activation system. Here's a thread talking about it:
link

This thread discusses some fixes to the system to allow more activity in the game but still keeps the essence of the activation system intact… roll to activate, failure moves initiative to the other player.

I've tried this out a couple of weeks ago and it worked great. I got a much more fun and dynamic game using these suggestions. I was going to post a battle report on my blog but real life (read Hurricane Sandy) shut me down for a while. But here's a link to my blog where you can read a bit about it:

But don't give up on FUBAR yet. It's a great, fun, little game engine that has a lot of potential.

Mako11
04 Nov 2012 12:25 p.m. PST

Some are suggesting using D10's, D12's, or D20's, for initiative, so you have less of a chance of units not activating, while still retaining some chance of that happening.

I think that makes a lot of sense, so is worth consideration.

The really nice thing about FUBAR, other than it being free, is the rules and stats are so simple, they can easily be tweaked to your liking.

Herkybird
04 Nov 2012 1:32 p.m. PST

Hi Guys! – we are not ditching FUBAR, but working on sorting the problem with activation.
We did use the +1 if out of sight of the enemy, and were aware of the leader ability enhancement.
Ian managed to throw a great many 1s, which no tweaking could help!!!

Dragon Gunner
04 Nov 2012 2:56 p.m. PST

I made these modifications…

1. Units out of sight of the enemy and not under attack will automatically activate.

2. I allow what I call "entire unit activation". An example would be an entire platoon could charge but everyone in the platoon would have to perform the same action. When the platoon breaks apart for flanking or whatever reason they lose cohesiveness and the entire unit activation ability. Individual leaders become very important if the have different levels of competency. The following is an example…

LT = Veteran

1st, 2nd and 3rd squad leaders = Green

Weapons Squad Leader = Seasoned

Dodgyknees the Greek
04 Nov 2012 4:38 p.m. PST

Before advocating the use of FUBAR to the group I had made an extensive Google search for any and all references to the rules including amendments and AAR reports.

I was aware that the activation could be problematic but wanted to see just how much of a problem it could be. I also wanted to see how the combat aspect of the rules worked. The elegant simplicity is inspiring.

One of the suggestions to the activation problem made by Herkybird was the same as Dragon Gunner's entire unit activation.

An idea that I had was to have all units activate, but to still lose initiative if 'activation' failed, making the roll essentially an attempt to keep initiative. However I am not totally happy with this, as I do not want all units to do exactly what I want all the time, there are too many historical references to units not being where they were supposed to be due to unforeseen circumstances.

Ian's main problem was units (including Veterans) not activating 3 or 4 turns in a row, and I can understand his frustration. I am thinking of giving a unit that failed activation a +1 for the next activation attempt (may make this cumulative, but still thinking it over), so that units don't totally bog down.

I also think we will try moving to a D10 system as this minor change should IMHO avoid the granularity of a D6 system.

Tgunner
04 Nov 2012 8:02 p.m. PST

Craig tossed this out yesterday. It's a nice clarification on how the two action system works. Sadly formatting makes this hard to read, so let me break it down for you. In each "action" below you get the name of the action, how many actions it takes, and what the effect of the action is. So when you activate a unit you roll one die. If you roll your activation number or higher then you're successful in activating the unit and it gets two actions. You then pick out actions from below and complete them. Then you pick another unit and so on. If you fail then you only get one action then the initiative goes to the other player who tries to activate a unit. Anyway, check out what you can do below:

Choice Actions Effect


Move One An infantry unit can move 6", a vehicle possibly further.

Shoot One The Unit can fire at an enemy, see Ranged Combat.

Fight One The Unit can carry on with close combat against an enemy that is already in close combat with it.

Assault Two The Unit can move up to an enemy and engage in Close Combat.

Run Two The Unit can make a double move.

Aimed Fire Two The Unit can fire at an enemy with a ranged combat bonus of +1.

Disengage Two The Unit can withdraw from close combat one move (i.e. 6" for infantry).

Overwatch Two The Unit reserves its action until later in the turn, when it can then fire at an enemy.

Counter-attack Two The Unit reserves its action until later in the turn when it is assaulted by an enemy. Counter-attacking denies the assault its assault bonus.

Sorry about the formatting, but the basic idea is there. It really makes for a very different game because even units that fail to "activate" still get one action to do something: shoot, move or any other one action choice. Then the initiative goes to the other player like normal So while your unit might not do as much as you would like it still gets to do SOMETHING each turn. That gives the game a very different dynamic and makes it more fun for players but it still keeps the basic feel of the old system: as in the initiative switches if a unit fails it activation roll. A win-win if you ask me.

Dragon Gunner
04 Nov 2012 8:25 p.m. PST

Dual actions in a single activation will create bizarre situations where some units fire then disenage. They keep the process up the whole game, one side gets slaughtered without being able to retaliate.

Mako11
04 Nov 2012 8:33 p.m. PST

I like the D10, D12, or D20 options, since with the D6, as mentioned, granularity is an issue.

For larger games, I can see trying to activate by platoons, as mentioned above, and then rolling for each individual vehicle, or squad within the unit. That way, even if you fail with some units, you still get to do something, while the failing units go on guard, or provide overwatch support, etc.

The issue with this would be one side having larger platoons than another, since those with more units in them would get an advantage.

Switching from a D6 to a D12 greatly reduces the chance of non-activation for units, which in my book is good, but still provides enough of a chance to make life interesting for mediocre, or poor troops. Troop stats remain the same, but the percentage chance for failure drops off considerably.

The +1 to activation for no enemy units in sight, and/or the option to automatically permit them to activate both make sense, depending upon the game scenarios, and/or the quality of the troops.

Dale Hurtt
05 Nov 2012 6:27 a.m. PST

For games like FUBAR and Warmaster, where it is relatively easy to have a string of bad rolls and therefore one side does not activate at all, I tend to leave a marker indicating you did not activate and simply let them automatically activate next turn. At some point you decide that a string of failed activations is too much simulation and not enough fun.

Capt Flash
02 Feb 2013 6:53 a.m. PST

Our group prefers the original activation rules. But we also allow leaders to give orders and auto activating a squad as an action.