"Ultra-FUBAR pick-up game at Games and Stuff in Maryland" Topic
---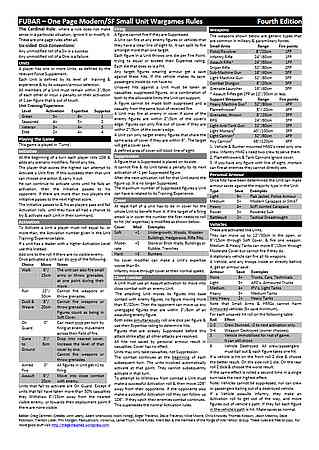 10 Posts
All members in good standing are free to post here. Opinions expressed here are solely those of the posters, and have not been cleared with nor are they endorsed by The Miniatures Page.
Please use the Complaint button (!) to report problems on the forums.
For more information, see the TMP FAQ.
---
Back to the FUBAR Rules Board
---
Areas of Interest
World War Two on the Land
Modern
Science Fiction
---
Featured Hobby News Article
---
Featured Link
---
Featured Workbench Article
---
Featured Profile Article
---
Featured Book Review
---
Tgunner
27 Apr 2013 8:28 a.m. PST

Last Sunday I took my boys out to Games and Stuff for a pick-up game of FUBAR with my 15mm. This time even my son Brandon played. We had loads of fun and we got to endure some of the worst die rolling I've ever seen… like father like son I guess!

And no, he isn't playing his DS, he's taking pictures of the game, honest!!
rounddownrange2.blogspot.com

Stepman3
28 Apr 2013 5:36 a.m. PST

Im in Baltimore, actually a few of us play FUBAR Star Wars. Im wanting to try the FUBAR zombie rules, we should try to get a game in…"Games and Stuff", thats in Glen Burnie, right?

Nathan Heazlett
28 Apr 2013 8:05 a.m. PST

Where do you all play? I'm looking to start playing games up at Titan Games in Timonium…

Stepman3
28 Apr 2013 8:46 a.m. PST

usually at someones home…never heard of Titan Games…

Tgunner
28 Apr 2013 9:11 a.m. PST

Yes, it's a really nice game shop in Glen Burnie. They are pretty well stocked with popular titles but what really rocks is there large game room complete with terrain. Here's a link about their new location:

I wouldn't mind catching a game or two. Saturdays are best for me

Mako11
28 Apr 2013 11:40 a.m. PST

Looks and sounds like fun.

Are you using the D6 rules, or D10/D12, or other?

I've been considering a D12, or even D20 option, for a little more granularity, and to ensure that even low-rated troops get to perform some activations.

The simple way to do a D12 option is to just add 6 to any D6 rating, in terms of troop quality for activation. That way, a poorly rated unit still has a decent chance of activating each turn. Over time though, and multiple activation attempts, they still demonstrate their lower quality in relation to better troops, but it's not as severe as in the D6 game.

You can do the same for combat as well, if desired.

Now you've got me reviewing the Forge of War site for updates, since there doesn't seem to be much activity about Ultra Fubar on the Yahoo Group of late.

I think Ultra is definitely the way forward, to make FUBAR even better.

Tgunner
28 Apr 2013 12:45 p.m. PST

I stick with d6. Yeah, you get more granularity with the other dice but I don't like the headache of dealing with a bunch of modifiers. I want a few that are easy to remember, but I could see the d10 being very useful- especially for getting more granularity in troop quality.

For example, the current editions of FUBAR run from elite troops with Activation 2+ and Expertise 4+ to Green with Activation of 5+ and Expertise of 5+. With the D10 you get a whole lot more room to work with. Greens could be Activation of 7+ and Expertise of 8+ and Elites could be Activation 3+ and Expertise of 5+. That gives you a whole of room for different troop types.

However I just create my own troop types with their own Activation and Expertise numbers. It's just simpler to me, but your mileage may vary.

I tossed a copy of my Ultra-FUBAR rules on the Forge of War site earlier this month.. but I posted the wrong copy! That was a working draft without the updated vehicle rules. I'll probably fix that later today. But yeah, Ultra is way better than regular FUBAR. Last week's game would have been a total mess especially with the die rolls me and the boys were throwing around.. yeah, it was really bad. If that had been regular FUBAR then most of our units would have been glaring at each other and been stuck "On Guard" for most of the game. But then again it was mostly Seasoned troops vs. Seasoned troops so what do you expect? With Ultra they at least got to do something each turn so my attacks, and the boys reactions, didn't totally bog down due to poor activation rolls.

Mako11
28 Apr 2013 1:53 p.m. PST

Yes, I've had that experience too, with FUBAR, playing a couple of solo scenarios.

Getting to do at least something is important for players, unless you have a GM playing as the lower quality force, in a cooperative style game.

I can see it being realistic in some circumstances, but if the force quality is very mismatched, it's tough on the side playing the poor troops, even if they have greater numbers.

Might need to adjust the rules for that too, e.g. giving them 2x or 3x the activation attempts of the other side's better troops (depending upon their quality), and/or failures, before initiative swings back to the better troops, to make the game interesting.

Perhaps they get to try to activate a whole platoon (3 squads) of poor troops, for each elite squad unit of their opponents. That way, they may actually get to use at least one squad per turn, on average, and perhaps attrit the better unit a bit, over time, with their larger numbers.

I haven't tried that yet, so will have to give that a go next time.

Scorpio
30 Apr 2013 10:03 a.m. PST

G&S does have some great play areas, only wish it was a little closer to where I live.

If you guys ever end up closer to DC to game, let me know!

ARMY Strong
30 Apr 2013 10:37 a.m. PST

Southern Maryland is FUBAR country!