"FUBAR close combat question" Topic
---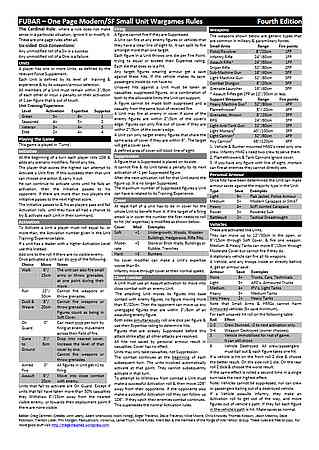 7 Posts
All members in good standing are free to post here. Opinions expressed here are solely those of the posters, and have not been cleared with nor are they endorsed by The Miniatures Page.
Please use the Complaint button (!) to report problems on the forums.
For more information, see the TMP FAQ.
---
Back to the FUBAR Rules Board
---
Areas of Interest
World War Two on the Land
Modern
Science Fiction
---
Featured Hobby News Article
---
Featured Link
---
Featured Showcase Article
---
Featured Workbench Article
---
Featured Book Review
---
Featured Movie Review
---







Please sign in to your membership account, or, if you are not yet a member, please sign up for your free membership account.
pigasuspig
10 Nov 2016 7:22 p.m. PST

Lots of people are talking about FUBAR this week! I would like to try it again, but have one confusion about the rules:
How does running away from close combat work? The rules seem to contradict each other: units stuck in activate automatically to fight at start of turn, and can't activate again. But a unit must try to activate to run away. What?

Would be very grateful for any help from experienced FUBAR players. Thanks!

Mako11
10 Nov 2016 7:40 p.m. PST

Hmmm, don't recall that.

Perhaps, if it isn't in the rules, an activation roll to break contact and flee?

Of course, the opponent should get one free attack as you do that.

I think in most rules though, for close combat, forces remain locked in battle until one side emerges victorious, like in Thunderdome.

I recommend using D10s for activation with FUBAR.

pigasuspig
10 Nov 2016 7:57 p.m. PST

From the rules:

The combat continues at the beginning of each
subsequent turn. The units involved automatically
activate at that point. They cannot subsequently
activate in that turn.
To attempt to Withdraw from combat a Unit must
make a successful Activation roll & then move 1D6"
away from their opponents. If the opponents also
make a successful Activation roll they can follow up
1D6". If they catch their enemies combat continues.
This supersedes the normal Activation rules.

What on earth does this mean?

Dale Hurtt
10 Nov 2016 8:02 p.m. PST

The units automatically activate. However, if you wish to Withdraw, the chance of success is equal to your Activation roll, i.e. you are not making an Activation roll to activate, you are making an Activation roll to Withdraw. Failure means you don't withdraw and the combat continues in that spot.

Same with the Activation roll to follow-up an opponent withdrawing.

pigasuspig
10 Nov 2016 8:08 p.m. PST

Thanks! That is workable: it is not an activation, but a special action using the activation roll odds.

I guess I'll assume that the initiative player attempts withdrawals first.

My big problem with 40k (and even 1p40k) is that I can't teach them! So I am always looking for simpler versions. This looks promising. Thanks again!

Donald

Mako11
11 Nov 2016 1:30 p.m. PST

Yea, that, and basically the fighting automatically continues each turn (as I mentioned above), unless one side can break off and flee further than their pursuer(s), assuming they can activate to follow up.

ROUWetPatchBehindTheSofa
12 Nov 2016 10:04 a.m. PST

Dale's explanation is how I've played it.