"The Battle of Bakkala [fictional, WRG, 6mm]" Topic
---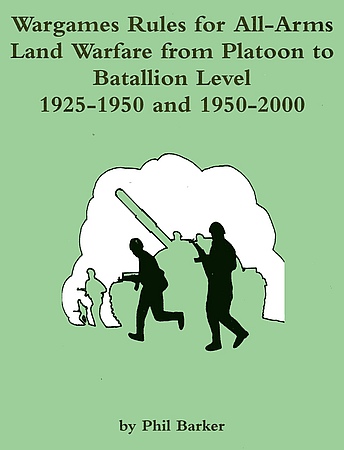 9 Posts
All members in good standing are free to post here. Opinions expressed here are solely those of the posters, and have not been cleared with nor are they endorsed by The Miniatures Page.
Please do not post offers to buy and sell on the main forum.
For more information, see the TMP FAQ.
---
Back to the Wargames Rules for All-Arms Land Warfare Rules Board
---
Areas of Interest
World War One
World War Two on the Land
Modern
---
Featured Hobby News Article
---
Featured Link
---
Top-Rated Ruleset
---
Featured Showcase Article
---
Featured Profile Article
---
Current Poll
---
Rex Brynen
14 Jan 2013 11:02 p.m. PST

The town of Bakkala was certainly one of the most famous in northwestern South Dakkastan. The dates, olives, and pistachios of the region were prized for their delicate flavour. The ivory-coloured wool of its goats was highly regarded for it softness and reputed ability to repel the undead. It was the site of the Clay Mosque of Abu Daoud, renowned for its smooth strangely curving lines, bright blue dome, and gilded minarets. Bakkala had, by virtue of its location, also been known throughout history as the "gateway to Derka-Derka"—for the town sat astride the famous Silk Road (now renamed "Highway 20″) that led eastwards through the arid scrub and hills to the South Dakkastani capital.

Shortly after the Kirkland incident, Bakkala would become the site of the first major battle of the war (variously known as "Operation Hegemonic Moral Self-Assuredness" in the Federated States of Natonia, and as the "Great Patriotic War and Jihad Against the Imperialist Infidel Aggressors and their Lackeys" in the Republic of South Dakkastan)….

Temporary like Achilles
15 Jan 2013 4:51 a.m. PST

What do the be-mulletted Akka-Dakka separatists make of this? An opportunity to push for Natonian support for independence, I'll be bound…

Enjoyed the report!

cfielitz
15 Jan 2013 8:40 a.m. PST

Great report! What rules were you using?

Rex Brynen
15 Jan 2013 9:53 a.m. PST

We used a combination of the original (1979) edition Wargames Research Group modern rules (now a free download), and the direct and indirect fire and weapons data from the later (1993) edition. Since the latter already included such things as top-attack fire-and-forget ATGMs, tandem warheads, upgraded fire control systems, thermal imaging, DU ammunition (etc, etc) the weapons data works perfectly well 20 years later—especially against a third world opponent.

The reason that we didn't entirely use the later edition is because of the unwieldy system of tactical modes and troop characteristics that it introduced in an effort to force players to use doctrinal behaviours. The effort was praiseworthy, but it just didn't work--and is more easily done in other ways.

WRG does use a classic Igo-Ugo move sequence, and given the degree of tactical control one has over unit performance some might not like the lack of fog-of-war and C3I problems that rules like Cold War Commander attempt to simulate through command rolls, etc. On the other hand, WRG rules require detailed written orders from the outset (which can take time to change), and therefore can depict such effects in a quite realistic way if the players play it right. In the game above, for example, the Dakkastani side failed to synchronize various march and assault speeds as well as they might have, and as a result the two flanking forces arrived on my flanks a bit piecemeal, making them rather easier to destroy. Similarly, had I decided to counterattack, it likely would have taken me several turns (under heavy artillery fire) to make sure all my various subunits had appropriate instructions.

I also like WRG modern rules because they very much derive from a professional military operations research tradition, with clearly expressed probabilities to detect, hit, and kill. Indeed, the rules were, in various modified forms, in military use as training resource through the 1980s, until supplanted by digital simulations. The Canadian (1980) military version of the ruleset (which is much simplified from the commercial set) can be ordered via John Curry's History of Wargaming project.

Milites
15 Jan 2013 5:14 p.m. PST

Used to play with the old rules with an opponent, but never with the new set, so could not really judge the move and exigency modes impact. It looked quite interesting, forcing Russian conscripts to ether attack or assault (if close enough) not engage in fancy skirmishing, which IIRC Marines and VDV, air assault could do. My main bugbear was the authors anti-Americanism (US Rangers are the same tactical competency as Soviet conscripts) and the deterministic morale rules. What issues did you uncover?

Loved the battle report and am dying to know, what does WALRUS stand for? The R might be recce but am at a loss to the other letters!

Rex Brynen
15 Jan 2013 5:49 p.m. PST

The newer set is also set in a horrible font and difficult to read. In general I think the tactical mode system meant well, but just slowed play too much. Much of the same effect could be had by morale or performance penalties to troops attempting to act uncharacteristically. I should tinker around with a set of rules modifications some time!

As for the WALRUSes, I didn't want to call them SEALs, and "walrus" is something of an in joke since a NATO conference in Estonia a couple of years back (long story…). Now I'll have to accept your challenge and come up with an actual acronym!

Milites
15 Jan 2013 5:59 p.m. PST

I forgot about the type face, after reading them I used to do a passable imitation of the last scenes from the film The Man with the X-ray Eyes. Clue, he eventually tears them out, he is in so much pain!

Agree about how the tactical mode could have slowed it down, given the element basing and it was too subjective in its view of national competency, creating possible arguments.

Yes, I'm waiting for a cracking deciphering of that acronym!

Rex Brynen
15 Jan 2013 7:01 p.m. PST

How about "Worldwide Assault, Landing and Reconnaissance Unconventional Strikeforce" ?

You're right about the rather odd evaluation of national competencies. Moreover, I would prefer a system that favours but doesn't entirely straightjacket units into national doctrines.

Milites
15 Jan 2013 7:30 p.m. PST

We have a winner! WRG's author does show his bias, especially downgrading US units in the WRG rules and his snide comments describing element costs, in his prototype Sharp End counter-insurgency set with over generous estimations of UK units proficiencies.