"Ares Game, Fantasy Rules! and Warrior Heroes?" Topic
---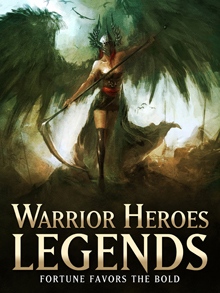 10 Posts
All members in good standing are free to post here. Opinions expressed here are solely those of the posters, and have not been cleared with nor are they endorsed by The Miniatures Page.
For more information, see the TMP FAQ.
---
Back to the Warrior Heroes: Legends Rules Board
Back to the Fantasy Rules! Rules Board
Back to the Warrior Heroes: Armies and Adventures Rules Board
Back to the Ares Rules Board
---
Action Log
16 Jan 2017 6:16 p.m. PST
by Editor in Chief Bill
Changed title from "Fantasy rules, Ares, & Mayhem: warrior heroes. comparison" to "Fantasy rules, Ares, & Mayhem: warrior heroes. comparison"
Crossposted to Warrior Heroes: Armies and Adventures board
Crossposted to Fantasy Rules! board
Crossposted to Warrior Heroes: Legends board
16 Jan 2017 6:22 p.m. PST
by Editor in Chief Bill
Changed title from "Ares Game" to "Ares Game, Fantasy Rules! and Warrior Heroes?"
---
Areas of Interest
Fantasy
---
Featured Hobby News Article
---
Top-Rated Ruleset
---
gloria invictus
19 Nov 2003 10:56 a.m. PST

Anybody care to compare and contrast these three systems: Fantasy Rules, Ares and Mayem: warrior heroes. (price not being part of the equation).

Thanks,
Andrew

Ratbone
19 Nov 2003 11:25 a.m. PST

I can't give a very detailed answer, but I can give a little on Fantasy Rules! and Mayhem: Warrior Heroes.

Warrior Heroes is more skirmish oriented, though you can use it for large battles. It features a very neat reaction system where you don't totally control every specific move, which is very intriguing. It rewards troops who band together for the morale benefit of being in large groups.

Fantasy Rules! is a mass battle game. It is designed for stands usually featuring multiple figures, in the way the DBx series of games does. Gameplay is very smooth, featuring a very nice Morale Clock system which controls the length of the game. Eventually as you take casualties your army's will to fight is sapped.

These two games do not really compare, as they each fill a billet. FR! can not be used for 1 fig=1 man skirmish type games as it is designed to generalize units as blocks of troops. Mayhem Warrior Heroes is also capable of being played solo because once figures get within a certain distance of one another, they start reacting to each other. For example, if an enemy model gets within a certain distance of a Berserker, he'll very likely charge wildly. While a Pikemen would most likely stand fast to receive the enemy. Meanwhile, an archer will probably fire an arrow. And so on.

Warrior Heroes takes a bit of the power out of the general, so that you can move them where you want, but you can't control exactly how they fight down to detail. If you like to control exactly how and when your models attack, and so forth, then you will not like this game.

If you like a mass battle system featuring many different troop types, having undergone three revisions in the past ten years based on fans comments and suggestions, with a smooth magic system that is not overpowering, where heroes can influence a battle but not control it utterly, then you will like Fantasy Rules!

Ed the Two Hour Wargames guy
19 Nov 2003 11:33 a.m. PST

Good point Ratbone.
Actually if you want to compare mass battles versus mass battles that would be Warrior Heroes.
Here's a review

http://www.wargamesdirectory.com/html/reviews/review33.asp

Hope this helps,
Ed the THW guy

www.twohourwargames.com

Revenant
19 Nov 2003 1:44 p.m. PST

ARES is also a skirmish level fantasy game. It uses multiple die types in representing effectiveness or skill levels (i.e. the higher the die type, the more effective), and has an excellent unit construction system.

Magic can be effective, but definitely does not dominate the game system.

You can download free demo rules from Majestic 12's web site.

All in all, it's a great game.

Revenant

Lukash
19 Nov 2003 3:11 p.m. PST

ARES is a little more dynamic in that you build your troops to your desire. Fantasy Rules! doesn't really support that function, but that is okay because it is a mass battle game. I have not played Mayhem:Warrior Heroes, so I can't comment on that. Personally, FR! felt a little too "generic," but that may now be changed with the new rules.

Revenant
19 Nov 2003 3:54 p.m. PST

One other game to consider is Armies of Arcana, published by Thane's Games, which is also a fantasy mass combat game. It is a generic set, but has a bit more detail that some of the others, and people have used it to build their own forces.

Another excellent game.

Rev

Ratbone
19 Nov 2003 9:57 p.m. PST

Actually Fantasy Rules! gives a lot of flexibility for building your own units. A lot more than most systems.

I think Mayhem: Warrior Heroes is too chaotic for large mass battles. The more models you have, the more reaction checks you have to make. Of course, a lot of times you can have guys who don't need to even roll if the modifiers push the number to automatic success.

But in terms of mass battles, Mayhem would work out much like Warhammer does, sure it's a large battle, but you're still representing 1 figure for 1 man. More of a large battle than what I call a mass battle. What I call a mass battle is what Warhammer players would call 10 or 20 thousand points. And you don't represent each trooper with his own model, but you go somewhere in the neighborhood of 10 or 20 to 1 for each figure on the table.

That said, I like Mayhem: Warrior Heroes a lot. I just wouldn't use it for too large of a battle. Of course, that kind of thing is subjective, I mean, if all the players were very familiar with the rules, you could use it. But I don't think it's aimed at that. It's best feature is the reaction system, so that the model isn't a robot but a person who reacts to a simple set of guidelines (Fight or Flight) depending upon the changing situation around him.

Landorl
20 Nov 2003 8:11 a.m. PST

Armies of Arcana is not a true "mass combat" game as each fig represents 1 person/creature.

However, it still works like a mass combat game in that they are organized into units and formations.

The game works well, and is great for large skirmishes and small battles with easily over 100 figs per side and creatures and magic. One thing that is great about the rules is that heros and magic, while effective, aren't overpowering.

Mackie
20 Nov 2003 8:25 a.m. PST

Ares gets my vote for fantasy skirmish gaming, it's so customizable you can practically make anything up and balance it out with the point system. Armies of Arcana is a Warhammer-like game, only more balanced. Both systems allow you to customize models with their point systems. Armies of Arcana's point doesn't work too well for skirmishes though, only mass battles.

Mackie
20 Nov 2003 8:28 a.m. PST

You can also look at the No Quarter free rules on the internet. It seems to also be a Warhammer-like game with a point system. I've only browsed through some of the rules so far, but there are some great ideas in there.