"Warbands open or close order" Topic
---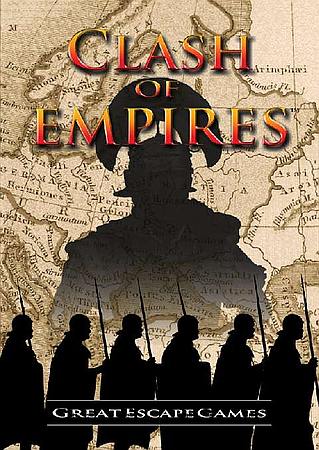 6 Posts
All members in good standing are free to post here. Opinions expressed here are solely those of the posters, and have not been cleared with nor are they endorsed by The Miniatures Page.
For more information, see the TMP FAQ.
---
Back to the Clash of Empires Rules Board
---
Areas of Interest
Ancients
Medieval
---
Featured Hobby News Article
---
Featured Ruleset
---
Featured Showcase Article
---
Featured Workbench Article
---
Featured Profile Article
---
Current Poll
---
Rod MacArthur
16 Jan 2017 8:38 a.m. PST

I tried to register on the Great Escapes website to ask this question, but have been waiting for an activation message for several days, so thought I would ask it here.

The Army Lists for British, German and Dacian in the main rulebook all show warbands as Close Order. However the Army List for Gallic warbands on the Clash of Empires website shows an option of Close or Open Order.

Since all of these armies were warrior based, with individual prowess being important, I would have thought that they all fought in Open Order, as opposed to the tighter Close Order formations used by Roman cohorts or Successor phalanxes.

Any thoughts?

Rod

Griefbringer
18 Jan 2017 2:37 a.m. PST

Notice that several of those "Barbarian" lists in the rulebook also feature light infantry as a support option – these being warbands in open order and with 25 model maximum. (Notice that the open order warbands in the Gallic ally list also have a 25 model maximum, so that option presumably represents something similar.)

Also the army lists in the Age of Ravens supplement tend to have similar division for those armies with warbands (Irish, Welsh, Picts etc.): big close order warbands as core choices, and smaller open order warbands as support choices.

Maybe the close order status here partially represents the "bunching up" effect of large warbands, with the warriors trying to remain within a shouting distance of their chieftain (or vice versa).

Of course if you feel that the closed order formations don't really feel appropriate for the warbands, you could make them open order in your games (without adjusting point cost), though you might want to adjust the maximum unit size into something smaller. This would end up making them more manoeuvrable, though.

Mars Ultor
18 Jan 2017 11:53 a.m. PST

Griefbringer brings out some good points. I think also for consideration are (1) the moment of impact and the momentum that these warbands probably bring in pushing apart their opponents is probably well represented by the +1 CR for being close order, and (2) The restrictions on movement that such a warband has by being Close Order and with low DL are probably about right IMO (warbands not being nimble or particularly trained formations, I would assume). Try doing anything with them that requires a DL test and you'll quickly see how the big Close Order warbands are really dependable when moving straight ahead – anything else is a gamble.

Mars Ultor
18 Jan 2017 11:59 a.m. PST

A little off topic, but BTW I like the balance in CoE: warbands are very unwieldy, but they stand a good , or at least even, chance against Roman formations when they hit at a charge. The Roman pilum can be effective but isn't the weapon of mass destruction it was in WAB, and warbands won't automatically bounce off.

The errata rules about the pilum effect and sustained HTH bonus of a winning warband are very worth looking at.

Rod MacArthur
19 Jan 2017 12:53 p.m. PST

I suppose what prompted my question was the basing issue.

Although I have been wargaming for over 50 years most of it has been Napoleonic or recently 18th Century. I am planning to create a Roman era set up later this year. I like the thought of basing my 1:72 plastic Romans on close order bases 10mm wide x 15 mm deep and I would prefer to base all warbands on open order bases 15mm wide x 20mm deep, as would be an option for the Gallic warband on the CoE website, but would be incorrect for the British, German and Dacian warbands in the original CoE book.

I wondered whether the option to base Gallic warbands as either Close or Open Order was effectively an amendment to the original book showing all warbands as Close Order.

I suppose that my thoughts date from the old WRG systems of different basing for Close Order, Open Order and Skirmishers, which CoE also seems to have, and which I like.

Rod

Mars Ultor
20 Jan 2017 11:03 a.m. PST

Rod, I think you're in okay territory if (1) you're playing an identically based opponent, or (2) your opponent is reasonable and you don't claim too many or too few attacks for the length of your unit.

I do Dacians, and I really wanted to show warbands that were not uniformly ranked behind each other. On my 40mm bases for 4 figs I found this difficult. So when I did the open order warbands for the Support units, I put four on 50mm bases instead, kind of like what you were referring to above with WRG. I just have to keep in mind what's really on my front rank and it's not difficult. I do like the idea of distinct open order basing better. Maybe the writers had a reason in not doing this, I'm not sure.