"DBA Rules Listing - Need More Info" Topic
---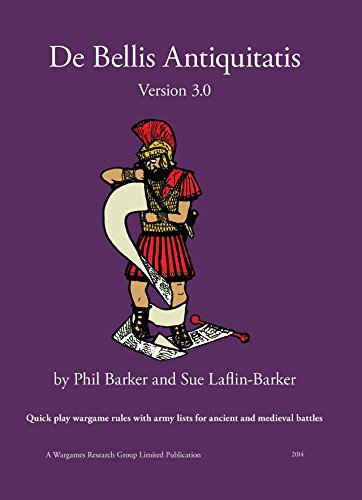 4 Posts
All members in good standing are free to post here. Opinions expressed here are solely those of the posters, and have not been cleared with nor are they endorsed by The Miniatures Page.
Remember that you can Stifle members so that you don't have to read their posts.
For more information, see the TMP FAQ.
---
Back to the De Bellis Antiquitatis (DBA) Rules Board
---
Areas of Interest
Ancients
Medieval
Renaissance
18th Century
Napoleonic
---
Featured Hobby News Article
---
Featured Link
---
Top-Rated Ruleset
---
Featured Showcase Article
---
Featured Workbench Article
---
Featured Profile Article
---
Featured Book Review
---







Please sign in to your membership account, or, if you are not yet a member, please sign up for your free membership account.
Editor in Chief Bill
26 Sep 2016 6:13 p.m. PST

We've got a Rules Directory listing for DBA:
TMP link

We could use:

1. A description of the how the rules work
2. a brief article on the different versions over the years
3. a brief description of the new supplement

If you can help, drop me a PM.

Bobgnar
26 Sep 2016 6:49 p.m. PST

You might want to make some corrections in your text already before you start adding new things.

These fast-play rules allow entire armies to be represented by less than 50 figures. Covers 3000 BC to [1485] 1520AD. The booklet also includes [NOcampaign system] rules for big and giant battles, diagrams and over [200] 600 army lists. DBA was the first game in the DBx series, which now includes DBM AND DBMM(a more complex versionS of DBA), HOTT (a fantasy version), DBR (a renaissance version) and Horse, Foot, and Guns (1700 – 1920's)

Designers
Phil Barker, [ not Dba 3 Richard Bodley Scott] Sue Laflin Barker

Editor in Chief Bill
26 Sep 2016 7:38 p.m. PST

You might want to make some corrections in your text already before you start adding new things.

These things are not mutually exclusive.

We also need a description of the current 3.0 book.

Bobgnar
27 Sep 2016 7:54 a.m. PST

I gave DBA 3 description to you above.

Here is an overview of how the game is played
1. Two players (or teams of players) select armies of miniature figures from the lists in back of the book. For a better look the figures are best painted. For ease of handling, multiple figures are glued to rectangular bases and called ELEMENTS.
2. Players note the Terrain and the Aggression of their army in the Army List.
3. Players place a battlefield between them (a playing board) 2 feet square for 15mm figures, 3 feet for larger scale .
4. Each player rolls a die (or single dice) adding Army Aggression. The higher roll is Invader, and lower is Defender.
5. Defender sets up pieces of terrain based on his/her army Terrain. These representing woods, hills, marshes, rivers, towns, etc., on the battlefield. Procedure is in the rules.
6. The Invader picks which board edges is to be each player's home edge.
7. Then the players place their figures on the battlefield according to the deployment rules along their home edge.
8. They then take turns moving their figures and resolving shooting and close combat. The Defender starts.
9. At the start of each player's bound (turn), that player rolls a single 6-sided dice and the number that comes up (PIPs) is the number of elements or groups of them that can be moved. The player can then move any of the elements of his/her army up to that limit, according to the distances allowed for each troop type.
10. The players then resolve shooting and close combat according to the methods given in the rules.
11. It is then the other player's bound. He/she does as noted in 8 – 10.
12. Players alternate bounds until one achieves the victory conditions. There need not be an even number of bounds for each player .
13. Players shake hands and play another game!