"BBDBA Agincourt" Topic
---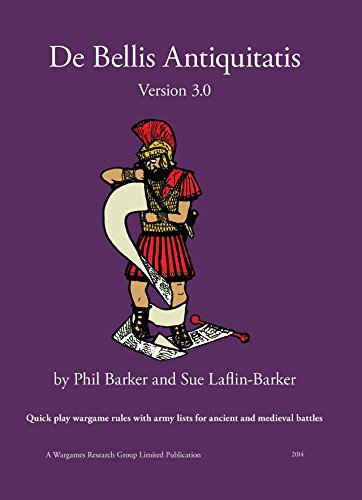 9 Posts
All members in good standing are free to post here. Opinions expressed here are solely those of the posters, and have not been cleared with nor are they endorsed by The Miniatures Page.
Remember that you can Stifle members so that you don't have to read their posts.
For more information, see the TMP FAQ.
---
Back to the De Bellis Antiquitatis (DBA) Rules Board
---
Areas of Interest
Ancients
Medieval
Renaissance
18th Century
Napoleonic
---
Featured Hobby News Article
---
Featured Link
---
Featured Ruleset
---
Featured Profile Article
---







Please sign in to your membership account, or, if you are not yet a member, please sign up for your free membership account.
Navy Fower Wun Seven
28 Oct 2016 8:28 p.m. PST

Dear All,

On Thursday at the Uni we celebrated Agincourt with a BBDBA game…more pictures ici:

Mako11
28 Oct 2016 10:20 p.m. PST

Looks neat, though rather ironic with those nice looking, micro-scaled troops.

;-)

Thanks for sharing.

MajorB
29 Oct 2016 12:34 a.m. PST

15 mm is micro-scaled?

And why ironic?

GildasFacit
29 Oct 2016 7:23 a.m. PST

I was expecting to see at least 6mm if not smaller from that description. 15mm is large scale to me !!

Khusrau
29 Oct 2016 11:43 a.m. PST

There's a certain type of gamer who considers their preferred scale to be the 'One True Scale' – seems especially prevalent among players with a preference to 28mm.

Me, I play in everything from 1/3000 to 54mm. Eclectic – I just try to resist repeating the same things in multiple scales, not always easy – so I have ECW in 6 & 15, WW2 in 6 and 28, Ancients (the same army) in 6, 15 and 28..) und so weiter.

Great War Ace
30 Oct 2016 10:24 a.m. PST

I see French missile troops massed on the wings. And there are a LOT of them. How they got that close before being shot down is a poser.

The "mud" as described is interesting: how does a generally rainy night turn into a strip of "mud", especially close to the English front? The "mud" affected French movement from the getgo. It allowed many more volleys of arrows before contact range. There is no way that masses of crossbowmen out in the open, closing on the English wings, would ever shoot on a parity with longbow and come to close range. Crecy anyone?

Otherwise, it looks like an interesting departure from the rigid historical OBs……………..

Thomas Thomas
31 Oct 2016 11:48 a.m. PST

Very nice battle we didn't do our usual Agincourt game this year as the weekend conflicted with our Good Bad & Ugly tournament but one player brought a Henry V English Army to the tournament – and darn near won it.

Exact effect and placement of mud at Agincourt is difficult to asses. Its not even mentioned in some eyewitness accounts and only in passing in a few later accounts. English advanced about three times as far as the French without any ill effects (either because the area wasn't muddy or the mud had little effect). French advanced about 250 yards (bowshot) not clear if the entire distance was muddy or only became bad going as advancing masses churned up the fields. In any case it was the arrow storm not the mud that was decisive – though mud may have made it more one sided.

French had plenty of crossbows (and bows) and intended to use them but they go pinched out by the mounted wings and mass of dismounted men at arms in the center as the field narrowed. They come forward after the defeat of the mounted wings and breifly engage but are bested by longbows. Not clear if most even deployed or lacked pavise or whether just the usual rate of fire problem lead to quick defeat.

Generally to recreate Agincourt (or any HYW battle), I recommend using Shooters from HOTT (+3 v. Foot) for both longbow and late medieval crossbow w/pavise. Crossbow shoot only in their own bound to reflect lower ROF.

Great to see Big Battle DBA being used for historical battles – keep up the great work!

TomT

Great War Ace
31 Oct 2016 6:09 p.m. PST

The English advance was through sewn fields. It had rained heavily during the night. The English advance was in stages so they could rest and keep their line. The Advance was about a thousand yards, iirc. Then the archers advanced to goad the French with long range shot, and retreated back behind their stakes frieze. The French horses churned up the ground on the flanks. This would have affected any hypothetical French crossbow advance on the wings, as shown in the game.

The French center, the vanguard, was deeply packed with ranks, one source asserts thirty deep: but that would probably have been after the frontage compacted. The ground out in front of the English second position would have quickly been churned into a muddy mess. This did not prohibit movement, obviously, but it had to affect it: almost entirely affecting the French attacks, with minimal effect on English movement since they stood to receive the French attack. That effect was to tire the advancing men at arms and slow them down.

When it came their turn to counterattack, the English advanced beyond their second position, pushed through the broken and now retreating vanguard, and attacked the French main. The ground did not prohibit the English from launching such an attack.

When I play Agincourt, the only effect that I consider for the mud is to slow down any troops moving through it. Usually I have cut movement by half.

Queen Catherine
31 Oct 2016 7:32 p.m. PST

If one is going to replay an historical game, a good rule of thumb is that it should be at least 51% likely [more likely than not] that the historical result will re-occur if one side does not outplay the other.

If we feel that, say Agincourt, it is 60-40 against the French, we should offer those players a couple of historical options that can change things, and the English a couple of opportunities to make decisions that can also "loosen" the predictability of a historical re-enactment.

It doesn't take much. I've found with naval games that a close examination of the historical events usually boils down to – at most – three decisions per side [usually angle of approach, formation, and using natural features like sun/fog etc] and you have nine possible playing outcomes between the two sides.

so give each side three choices, 5 combinations should come up with an English win [play quality being equal] and 4 a French one. If both sides play the same quality, then it should come down to luck, as in dice.

Hope that helps.

Oh, and I think that Make's comment has to do with the irony of a "BIG battle DBA" game being fought with small figures, FWIW.