"GBnU Glasgow Leg - Tuesday November 3rd" Topic
---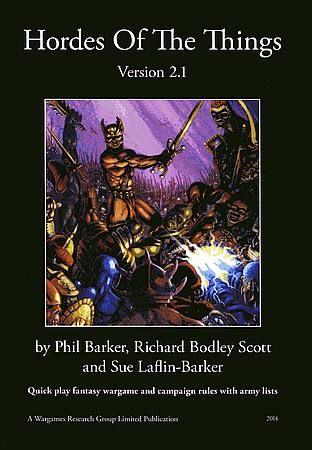 7 Posts
All members in good standing are free to post here. Opinions expressed here are solely those of the posters, and have not been cleared with nor are they endorsed by The Miniatures Page.
Please do not post offers to buy and sell on the main forum.
For more information, see the TMP FAQ.
---
Back to the Hordes of the Things Rules Board
---
Areas of Interest
Fantasy
---
Featured Hobby News Article
---
Featured Link
---
Top-Rated Ruleset
---
Featured Workbench Article
---
Featured Profile Article
---
Featured Book Review
---
Featured Movie Review
---







Please sign in to your membership account, or, if you are not yet a member, please sign up for your free membership account.
Eoghan Mor
28 Oct 2015 10:34 a.m. PST

The Glasgow leg of the 2015 Good, Bad and Ugly Hordes of the Things tournament is almost upon us. It takes place on Tuesday 3rd November in Partick Burgh Halls, Partick, Glasgow and we're starting about 6pm with a 6:30pm target for the first game. There will be three rounds and a time limit of 45 minutes per game.

The theme of this year's tournament is Armies of myth and legend, although it is not mandatory to enter a themed army. There will be prizes awarded on the night plus the high scorers across the whole international tournament will win prizes. Themed armies will go forward to be voted on by the on-line HOTT community with a prize for the one voted as best.

All are welcome to take part. We are using HOTT version 2.1 and 40mm base frontage (figure scale is flexible) and armies must be a legitimate 24AP HOTT army. There will be a few loan armies available for anyone who wants to play but doesn't have an army.

Drop me a message here if you have any questions.

Terry37
02 Nov 2015 6:11 p.m. PST

Tomorrow the Glasgow, Scotland Leg of the GBnU plays. his will be the third Leg with Sydney, Australia, and Staines, England having already played their Legs.

Euan Caldwell will be coordinating this Leg as he did last year, so it should be a great event and I am looking forward to some good coverage afterwards.

Next after Glasgow will be The Republic of Texas on the 7th and Atlanta on the 8th.

Stay tuned…..

Terry

Bobgnar
03 Nov 2015 11:06 a.m. PST

The Midwest leg is coming up on November 14, in Dexter/Ann Arbor Michigan. 16 players have committed to play. We will have a seniors and juniors division as there are six teenagers signed up. They are all pretty good players and I think it best to separate them so as not to embarrass the adults.

Eoghan Mor
06 Nov 2015 3:01 p.m. PST

15 players took part in the Glasgow leg of GBnU 2015 on Tuesday evening, with the organiser stepping in to play as well to make it an even number of players. We had three complete novices and a few once or twice a year players alongside the more experienced players.

Three rounds were played however the results have still to be announced as we ran out of time to present the prizes at the end of the evening.

The results will be announced and presentation will take place next Tuesday.

The armies and players (in no particular order) were:

Greek Epic : Good– Gordon MacPherson
Elves: Good – Stuart Hammond
Egyptian Mythological: Good – Malcolm T Robbie
ACW Union Army: Good – Graham Short
Cu Chulain: Good – Luis De La Calle
Crusaders : Good – Jonny Alcorn
Robin Hood: Good – Peter Clark
Freedom Fighting Flying Carpets: Good – Paul Dowsland
Dem Bones, Skeletons from Hell: Bad – Shona MacPherson
Arabian Knights: Bad – Mark Prentice
Aztecalypto: Bad – Mark Grindley
Homeric Greek: Bad – Mike Lillie
Undead: Bad – David Martin
Pictish Mythology: Ugly – Euan Caldwell
Norse Myth: Ugly – Gus Caldwell
Mongols: Ugly – Michael Harker

Results, army lists and pictures to follow.

Bobgnar
07 Nov 2015 8:13 a.m. PST

Great list of armies. Nice turn out. Was this done as part of a regular club night or a special event?

I have not seen armies listed as Ugly in other Legs, did you just count these as Bad in the matches?

Eoghan Mor
08 Nov 2015 3:42 p.m. PST

A combination of both. Tuesday is the regular weekly club meeting night for the Phoenix Wargames Club in Glasgow, but we try to run some sort of special event or multi-player game on the first Tuesday of each month. This month it was GBnU with a mixture of members and guests taking part.

Classifying armies as Ugly, rather than Good or Bad, was just a bit of fun – it is in the title of the tournament after all – for armies that could be either, depending on your interpretation. I guess that could be said about a few of the others as well.

Eoghan Mor
20 Nov 2015 3:41 p.m. PST

fter a long delay, here are the results from the Glasgow leg of the GBnU competition:

Gus Caldwell – Norse Mythology: 52
Shona McPherson – Dem Bones (Undead): 44
Mark Grindley – Aztecalypto: 42
Peter Clark – Robin Hood: 36
Mike Lillie – Homeric Greek: 32
David Martin – Undead: 28
Malcolm Robbie – Egyptian Mythological: 28
Paul Dowsland – Freedom Fighting Flying Carpets: 28
Stuart Hammond – Elves: 26
Luis de la Calle – Cu Chulainn: 24
Jonny Alcorn – Crusades: 16
Mark Prentice – Arabian Knights: 13
Michael Harker – Mongols: 10
Graham Short – ACW Union: 8
Gordon McPherson – Greek Epic: 2


Trophies and prizes were awarded to the the winner and runner up – Gus and Shona. There was also a wooden spoon trophy for the lowest scorer – Ron McPherson, who is also our club president, Shona's father and the maker of the wooden spoon trophy! In his defence, he has won the competition in pre-GBnU years.


The prizes were painted armies, Saxon Myth for the winner and Norse Myth for the runner up.