"The Witcher project – an update. " Topic
---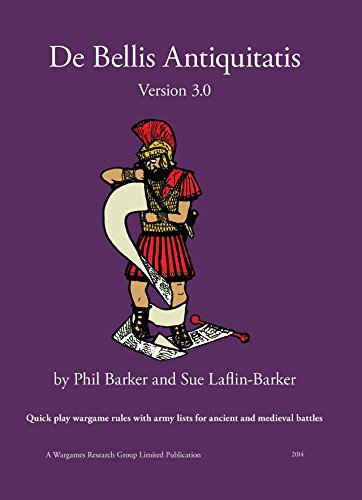 5 Posts
All members in good standing are free to post here. Opinions expressed here are solely those of the posters, and have not been cleared with nor are they endorsed by The Miniatures Page.
Please remember not to make new product announcements on the forum. Our advertisers pay for the privilege of making such announcements.
For more information, see the TMP FAQ.
---
Back to the De Bellis Antiquitatis (DBA) Rules Board
Back to the Hordes of the Things Rules Board
---
Action Log
06 Jan 2017 8:31 p.m. PST
by Editor in Chief Bill
Crossposted to De Bellis Antiquitatis (DBA) board
---
Areas of Interest
Fantasy
Ancients
Medieval
Renaissance
18th Century
Napoleonic
---
Featured Hobby News Article
---
Top-Rated Ruleset
---
Featured Workbench Article
---
Featured Profile Article
---







Please sign in to your membership account, or, if you are not yet a member, please sign up for your free membership account.
timurilank
12 Apr 2016 2:11 a.m. PST

There is an update posted to the HOTT section at the Fanaticus Forum.
link

Text is complete for the scenarios, campaign and siege game and the army lists now include more options plus the beasts and monsters. No doubt these will all experience much re-writing after play testing.

Cheers,
Robert

KTravlos
12 Apr 2016 3:08 a.m. PST

Wow Robert. That is swell work

timurilank
12 Apr 2016 3:01 p.m. PST

Thanks KTravlos,

The writing is nearly done and lacks only magic and much of this will no doubt be revised during play testing.

Beasts and monsters are now sorted by HOTT classification.

The Northern Kingdom maps should be done this week and the designing of castle top down plans and record sheets to track time, expenses and income will complete all the necessary drawings.

Then months of play testing should bring the project to its end.

mghFond
12 Apr 2016 3:54 p.m. PST

You and your projects, the way you throw yourself into them. I was in awe of your 3rd Century Roman one. I'm jealous.

Though I myself hate magic and monsters, this work of yours is impressive too.

timurilank
13 Apr 2016 1:56 a.m. PST

mghFond,

Magic and monsters will have a similar employment as treated in the Witcher game series.

This means mages and sorcerers, as advisors or court diviners, were generally not found on the battlefield unless the king were present.

Monsters did not like to be disturbed during meal time and therefore found the "all you can eat" buffet after a battlefield more to their liking.

During lean periods (no battles) monsters would prowl about the countryside creating havoc for supply trains and troops moving up to the front and these would make ideal scenarios to introduce new players to the game.