"HOTT quick-reference sheet" Topic
---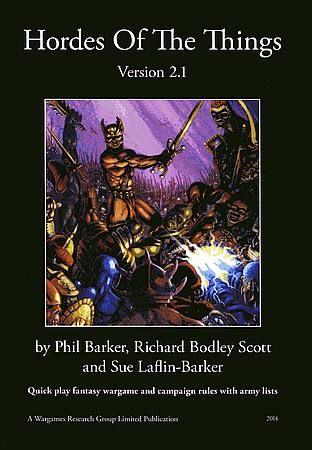 6 Posts
All members in good standing are free to post here. Opinions expressed here are solely those of the posters, and have not been cleared with nor are they endorsed by The Miniatures Page.
Remember that you can Stifle members so that you don't have to read their posts.
For more information, see the TMP FAQ.
---
Back to the Hordes of the Things Rules Board
---
Areas of Interest
Fantasy
---
Featured Hobby News Article
---
Featured Link
---
Featured Ruleset
---
Featured Showcase Article
---
Featured Workbench Article
---
Featured Profile Article
---
Featured Movie Review
---
Chgowiz
16 May 2016 11:06 a.m. PST

I love HOTT, but my problem (aside from being an idiot gamer) is that I play infrequently, and I haven't played enough with experienced players, so that I never remember the rules when I sit down to play a game. So, to help me out, I created a quick reference "cheat sheet" that combines unit information and an overview of the rules. There are also page references so I can look up the more fiddly bits.

I'm submitting this here for you to use as you like – please adapt/fold/spindle/mutilate and enjoy!

HOTT Quick Reference/Cheat Sheet:
https://docs.google.com/document/d/1PjG2JuzwZFQkrCqwFJ4ifWfVfvq-6a-d1GuiG8vgJ0E/edit?usp=sharing

PS. Written for HOTT v2.0. If the gaming budget allows me to spend the $40 USD at birthday/Christmas this year, I may buy the updated version.

MajorB
16 May 2016 11:17 a.m. PST

I wouldn't waste your money. The changes in v2.1 are minimal (see thread here: TMP link )

I recommend you get DBA v3.0 instead and the (free) D3H2 mod.

Thomas Thomas
17 May 2016 2:37 p.m. PST

If you want the D3H2 mod – email me at TomAndKate@aol.com.

You need a copy of DBA 3.0 to use – as mentioned a much better investment than the 2.1 reprint.

TomT

Chgowiz
18 May 2016 5:37 a.m. PST

I appreciate the offers! I'm still finding a lot of fun in HOTT 2.0. And if I get the $40 USD to spend, we'll see.

Please let me know what you think of the reference sheet.

Bobgnar
18 May 2016 2:24 p.m. PST

I gave the Ref Sheet a quick read. One problem for me is that it is specific to your game, and I had to do extra looks to figure out what applied to the basic units. Your "Town Militia" is the HOTT Shooters. This sheet is not generally useful to the general HOTT player. It is a useful way to present the info for a specific game. I can see making a data base where one can enter the special troop name for game, and then a pull down for the HOTT type and then get the rest of the data.

Specific points
Put measurements in PACES

"Elements must be in two corner and full edge contact." A group need only have adjacent elements touch on one corner. Otherwise, how to group a Blade with a Behemoth.
"Elements must be in front to front, or back to back corner and full of one element edge contact."

Group can slide to get into full front edge contact with enemy.

"Movement cannot occur within 1 base element width distance in front of the enemy. (ZOC)" Not true. Movement in that area is limited but can occur, how else to attack enemy.

Actually too much to consider. The actual rules are easier to understand than all of you text. Tactical factors are good to have, put with the element data.

Chgowiz
18 May 2016 6:08 p.m. PST

@Bobgnar – very correct and you're right, I should have put that disclaimer up front! Thank you, sometimes the obvious :)

Some follow up questions –

Inches instead of paces – for my game, I converted everything to inches. It was just far easier for me to do it that way. I'll check to make sure I'm consistent, thank you!

Thanks for the feedback, much appreciated! :) I'm sure if/when I get as skilled with the rules, those sheets will become much simpler.