"L'Art de la Guerre in English, coming soon." Topic
---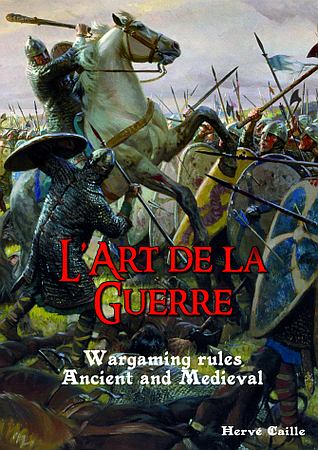 8 Posts
All members in good standing are free to post here. Opinions expressed here are solely those of the posters, and have not been cleared with nor are they endorsed by The Miniatures Page.
For more information, see the TMP FAQ.
---
Back to the ADLG (l'Art de la Guerre) Rules Board
---
---
NickNorthStar
22 Sep 2014 5:48 a.m. PST

L'Art de la Guerre, the popular French language Ancients wargames rules, have been translated into English. We will be getting copies in October, and we're taking pre-orders now.
link

We are also doing a 'club special', if you buy 6 in one go, you get a 25% discount.
link

We are looking forward to getting these in and having a go. They have been billed to us as a natural successor to DBM/FoG, two systems we've played and enjoyed, so hopefully they've been billed right!

Shaun Travers
22 Sep 2014 5:54 a.m. PST

I have been waiting for about 5 years for this, I am sure I can wait until next month! I am off to bed now but will pre-order in the morning.

NickNorthStar
22 Sep 2014 5:57 a.m. PST

I will send this story to Bill as Hobby News once the book is with us.

Ferbs Fighting Forces
22 Sep 2014 10:09 a.m. PST

Looking forward to this too (but then I'm a rules junkie). Pre-order placed.

Shaun Travers
22 Sep 2014 1:48 p.m. PST

I am a rules junkie too, and I did end up placing the order before I went to bed!

blacksmith
23 Sep 2014 3:43 a.m. PST

LOL Shaun!
(I know the feeling)

sebastosfig
25 Sep 2014 4:47 a.m. PST

I've been playing it since the first version, back in 2008. They're not perfect (but which ruleset is?), but I always enjoy a game. It's fast, with enough minis on the table to get a good feeling of the battle.

It might seem a bit random a first, especially during combat, but when you learn how to manoeuvre your units correctly, you'll see randomness is not what happens. Trust me. Oh the joy of charging ennemy cavalry with elephants!

One thing I really like: skirmishers are here to skirmish! and nothing else, unless they are in very difficult going.

Drusilla1998
21 Oct 2014 8:40 a.m. PST

Currently, our group plays DBMM, which I feel is an excellent rules set. However, for most, they are difficult to fully understand, so I am always looking for an alternative.
From what I hear, they are a mix of several existing rules, FoG, DBM, so from that standpoint, I am intrigued. I will be ordering them and determining myself.