Check out Grav Armor, an excellent game that's now available for free: link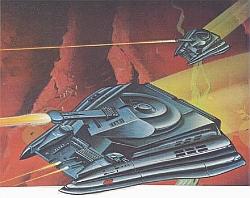 First, Grav Armor uses simple, but effective, rules for electronic warfare that drive a lot of the action. Units have and EW rating. Each hex has a combat value. Add up the combat values of all along the path to the target (including the target hex). If it's equal to or less than the firer's EW value, the target is detected. EW also adds to attack values and defense values.
Second, all firing occurs in the opposing player's turn! That sure keeps both players engaged … You can fire before an enemy unit moves, at any point during its move, or after it finishes moving. It's a very dynamic system.
Third, the terrain on the maps represents different things in each scenario, since they're on different planets. Hot worlds, ice worlds, vacuum, and Earth-like. This can be disorienting, but there are some recolored maps and some redux maps both on the download site and at link
Fourth, the maps cover an area equivalent to Western Europe, so scale is big, indeed.