Back in the later 1970's and early 1980's I had so many of the modules.
But than I got married and had children and found miniatures.
So dumb old me got rid of nearly every single one of my D&D stuff.
Do you know what these costs these days.
Smart me did keep all of the 1st Edition AD&D books and a few of the modules, like; Tegel Manor, The Temple of Elemental Evil (just do not where that is at the moment).
City State of The Invincible Overlord
Had the original of this way back when.
But I got the Collector's Edition of 5th Edition of D&D for Christmas so I have began to get some of these old Modules, which is why I know what they cost these days.
So far I have gotten:
Got this one in the mail last night.
This one I got last week.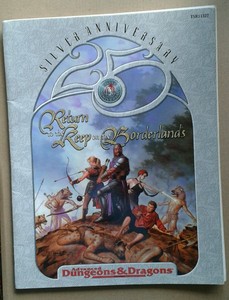 Plus I have this coming
So yes The City State of The Invincible Overlord is the best city and lets just say that to get this book you will pay.
The great thing is that since I buy stuff from Amazon this ended up costing me nothing.
Oh and yes I did but one of the new ones.