I'm not sure why I'm posting this, maybe it's therapy? Or I guess I want to tell Dad's story. At least part of it anyway.
This morning at 3:30 I had to say goodbye to my father: Freddie Don Case. My dad was 74.
He was a tough cookie. He was small, but he played basketball and football as a kid. He lost his mom (my real grandmother) when he was six and was basically raised by my Aunt Betty (who was just 16 herself). My grandfather practiced "tough love", and my dad could really rile him up. He use to say that he made it to adulthood because my aunt kept Papa from killing him… LOL!, and I'm not sure just how much he was kidding!
Anyway, the thing that was truly fascinating about my dad was his time in the Air Force. Yes, that's right, he was unabashedly a member of the Air Force! He took great pleasure in teasing me about being a "grunt", "ground pounder", or "gravel agitator"! Yes, he thought it was a waste that I joined the Army as a tanker rather than enlisting in a technical service like the Air Force and getting a "real job".
Being a young man during the Cold War he had the choice of taking his chances with the draft or joining up, so he decided to join up. Heck, he figured that he was a shoe in for the draft so it was probably better to enlist and pick his service rather than have Uncle Sam choose it for him. So at the ripe old age of 19 he left his job and signed up in the flyboy club as a, get this, "fuel specialist". Poor kid… I guess back in the day there was no such concept as truth in advertising!!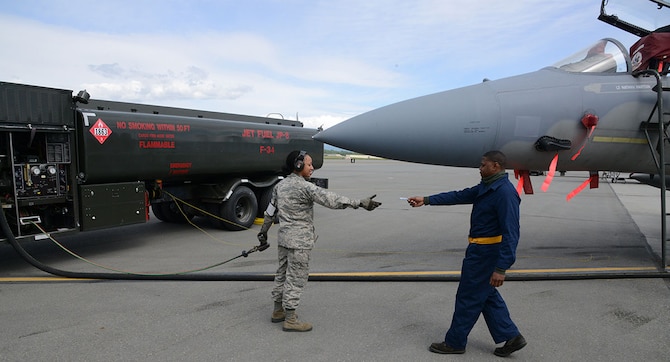 He "thought" he would be wearing a lab coat/smock and using beakers and test tubes or something chemical/technical oriented. The truth was that he would never see the inside of a lab! Instead he was trained to operate FUEL TRUCKS!!!!
So that's what my dad did from 1958 to 1961. He drove fuel trucks and watered thirsty birds. I use to ask him, "Did you get to wipe the windows and check the oil too!?!"
He did feel a bit cheated at first, but he did love it! He discovered what a joy it was to spend time on the flight line racing between warbirds to juice them up. He saw a lot of birds too: F100 Super Sabres (his favorite), F105 Thunderchiefs, and all sorts of interceptors and even transports.
He got to spend time around warbirds that you only get to see in a museum now. That must have been so cool.
He loved to tell me stories about his time in too, and I never got sick of them either.
One of his favorite stories was about how once a pilot allowed him to hop a ride on a troop transport (I forget what it was) and he got to watch paratroopers from the 82nd perform a training drop. He use to get so excited when he told that story.
However his favorite story was about getting stationed in Okinawa where he was picked to join a "special, secret" mission to Thailand around 1960 or 1961. I thought it was an odd story, but it turned out to be very true. He and other airmen were sent to some old airfield built decades before to support a phantom squadron of A-26 Invaders. These planes, unmarked with crews out of uniform, were going to be used to attack communist forces in Laos or Vietnam! Dad was sent there and spent weeks in the jungle dodging scorpions and snakes while servicing the warplanes to support their mission.
Sounds like a cool movie? Maybe, but it was real. It was called Operation Millpond:
I always thought it was an odd story, but I checked into it and found all sorts of information about it on-line. My dad was thrilled when I showed him what I found! I could tell that it gave him real joy to read about this odd, obscure, but fascinating part of his life. To see pictures of his old CO. It was so cool that I could do this for him… to show him that this obscure operation from his youth was not completely forgotten.
That was two years ago.
My dad passed away this morning from a heart attack. He made it to the hospital with my brother, but there wasn't much that they could do for him except ease his passing.
Words just can't express…
So I'll just say bon voyage flyboy. I hope the Lord has some classic warbirds for you to juice up and send down the taxi way. Your DAT Army boy misses you already.