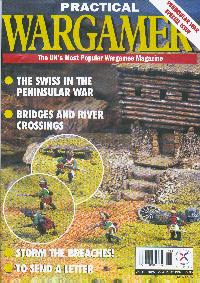 ---
Contents of Latest Issues
Brief Description
Glossy, professional magazine dedicated to miniatures, including coverage of science fiction and fantasy wargaming.
Focus
The entire field of miniature wargaming
Size
58-page glossy magazine. Roughly one-fifth of the pages are in color, the rest in black-and-white.
Frequency
6 times per year
Subscriptions
£17.50 (UK)
£26.60 (overseas, surface mail)
£33.60 (overseas, airmail)

U.S. readers can subscribe via the U.S. subscription agent, Wise Owl Worldwide Publications, at these annual rates:

US$41 (surface mail)
US$54 (airmail)

Editor
Stuart Asquith
Publisher
Nexus Special Interests
---
The publishers of Practical Wargamer were kind enough to send us a sample issue of their magazine. My first impression is that this publication contains some of the best miniatures photos I've seen lately (tight close-ups, images in-focus, colors bright and pleasant).

My second impression is that, as well as providing ready-made scenarios, Practical Wargamer's emphasis is also on providing in-depth background material. Thus in this sample issue, I find:
| | |
| --- | --- |
| The German Danish War 1864, Part 2: The Danish Army | A 4-page article on the organization, equipment, and uniforms of the Danish Army of 1864, including two color illustrations, one black-and-white illustration, and one black-and-white sketch. |
| The French In Egypt, Part 2 | A 3-page survey of the Egyptian Campaign, providing basic information about the Mamelukes, the Turkish and British Armies. An Order of Battle is provided for the British. The author provides tips on appropriate tabletop scenery, recommends available miniatures, and briefly summarizes the home-brew rules he plays with. Eight photos, half in color. |
| Slaughter at Sheikan, 1883 | A 3-page Sudan scenario based on the Kordofan Expedition, pitting an advancing Egyptian "army" (with European officers) against the ambushing forces of the Mahdi. The Order of Battle is given at 50:1 scale, with other game information given in general terms suitable for any game system. My only complaint: the sizes for a few of the Mahdi units were left out. The photos were wonderful, even if they do look more like dioramas than a tabletop battle. |
| Smaller Armies of the Napoleonic Wars: Uniforms of Baden, Part 1 | A 4-page article on the infantry of Baden, illustrated with seven black-and-white sketches. The four infantry regiments of Baden are discussed individually, over the period 1806-1815. A very brief historical note is included. |
| The Saxon Army, 1740-1760 | A 4-page article comprising a history of the Saxon Army during this period, and a guide to their uniforms. Includes eleven illustrations (nine in color), all originally from cigarette cards (see illustration, above). |
| Studienka 1812, Part 1 | A scenario based on the Crossing of the Beresina during the Retreat from Moscow. This 3-page installment provides a map and background information. Nine photos (seven in color) depict 30mm miniatures which could be used for this battle. |
If this issue reflects this magazine's editorial policy, then Practical Wargamer offers a blend of ready-to-play scenarios and in-depth organization and painting information.

Other articles in this issue were:
| | |
| --- | --- |
| Wargaming at the Model Engineer Exhibition | A 1-page convention report. |
| Tree Surgery | A 2-page article with photos, showing how to make trees (no scale given, but they look suitable for use with 15mm figures or larger). My only complaint was that it wasn't made clear where or how to find some of the materials. ("Sisal string?" And are "grass powders" the common ground-foam flocking, or something else?) |
| Monte Cassino | Sort of a "how I spent my vacation" piece, including a photo of the author in Italy. Only a third-of-a-page of actual wargaming information... |
| Set Up | An interesting system for generating scenarios, based on letting players vote for the types of forces and battle they desire, then "averaging" the votes to create a realistic battle. Suitable for any period, though obviously best for multi-player games. |
Practical Wargamer also includes these regular features:
Points To Ponder
Convention announcements and reports, club news, and other items of interest. Coverage limited to the U.K.
Wargames Briefing
Primarily announcements of new miniature figure releases, with excellent photos (some in color). Also includes other commercial announcements (measuring sticks, painting services). Includes mention of plastic kits, and scales up to 54mm. In this sample issue, the Briefing was 3 pages in length.
Bookcase
A brief synopsis of recent rulebooks, reference books, book services, art prints, and other printed material (including a contents list of recent wargaming magazines). 2 pages.
Across the Board
Brief reviews of recent military boardgames. 2 pages.
Fantasy Facts
A review column covering science fiction and fantasy miniatures. (Oddly, the column seldom mentions product codes or even the product names.) In this issue, the 3-page, illustrated column included:

a 25mm resin asault vehicle from Grendel Productions
six new 25mm ground-soldier sets from Ground Zero Games
an overview of the 15mm fantasy and 1/300 space fighter lines from Peter Pig
six new fantasy packs from Grenadier
a ruined cathedral in resin from Grendel Productions

On Screen
A column about computer software. One page in this sample issue.
In summary, Practical Wargaming is a professional, quality magazine dedicated to the miniature wargamer. The coverage seems broad, though I'm not sure if this sample issue is representative (lots of Napoleonics in this issue, only one reference to WWII, and nothing for Ancients). The articles were well written, and the magazine looks good enough to leave out on the coffee table when company drops by.
---
Last Updates
20 June 1997
publisher changes names
18 June 1997
added Latest Issues link
14 June 1997
reorganized
7 April 1997
new US subscription prices for Practical Wargamer
17 September 1996
Practical Wargamer subscription rate update
Comments or corrections?