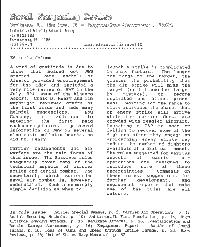 ---
Contents of Latest Issues
Brief Description
A newsletter which focuses on naval wargaming during the years 1900 through 1945. Includes historical notes, new scenarios, campaign games, and book reviews.
Period
1900 through 1945
Size
50-page newsletter
Frequency
6 times per year
Subscriptions
US$20 per year; £15 per year (via European agent)
Editor
Nathan A. Forney
Publisher
Nathan A. Forney
---
According to the first issue...
"Naval Wargaming Review is directed to those interested in naval history, and especially historical recreations. The primary focus will be the period from 1900 to 1945, although not to the exclusion of other periods. The Seapower rules, published by Alnavco, Inc., will generally be followed for miniatures gaming, and for the further development of the gaming system when required for an engagement or campaign."
This newsletter has a strong scholarly feel to it -- even the book reviews take the chance to present some naval military issue, rather than merely to introduce a new (or old) book. Reading Naval Wargaming Review, I get the sense that I'm actually learning something about warfare while also improving my gaming knowledge.

Speaking of gaming, NWR clearly sees itself as a pioneer in introducing new rules. With the same analytical approach which it takes to purely historical matters, this newsletter presents new rules thoroughly grounded in naval history. Typically, the articles first explain why a new rule is needed by examining naval engagements of the period; once the foundation is laid, then the rule itself is provided.

Scenarios also take their place in this publication. Half of one recent issue was devoted to the Order of Battle for a 1904 naval engagement. The following issue contained a write-up of how the editor and a friend fared in playing that battle.

Although the Naval Wargaming Review does not claim to be dedicated solely to the Seapower game, it should be noted that all of the scenarios and new rules presented so far have been written specifically for that game.

Therefore, it's probably fair to say that this newsletter is going to be most useful for Seapower players, though with some work, the new rules and scenarios could be adapted to other game systems. The well-written historical articles and book reviews will of course be of interest to any naval enthusiast.
---
Index To Articles
All issues of Naval Wargaming Review have been indexed as part of the Naval Miniatures Index.
---
Last Updates
18 June 1997
added Latest Issues link
14 June 1997
reorganized
13 June 1997
Naval Wargaming Review grows in size
13 May 1997
reorganized
28 August 1996
reorganized
Comments or corrections?