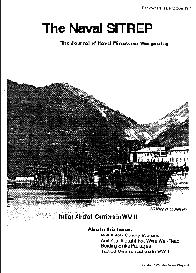 ---
---
The Naval SITREP is the successor to the old Harpoon SITREP newsletter, formerly published by GDW (the publisher of Harpoon). The former newsletter was dedicated exclusively to the late 20th Century; but under its new publisher, The Naval SITREP is expanding to include another Larry Bond naval miniatures game -- Command At Sea, a game which covers the WWII period. Since the editor is also the designer, we can expect The Naval SITREP to be the authoritative publication supporting both the new game and Bond's other game, Harpoon.

For modern naval enthusiasts, the special attraction of this newsletter is its focus on the latest naval developments. The Alerts column provides information on new weapons systems, new ships, the changing equipment of current ships, and all matters related to modern naval warfare (including land-based air and even coastal artillery). Most issues provide updated forms for one or more naval weapons systems; a recent issue provided forms for both the MiG-31M Foxhound B and the French La Fayette FF class (at the time of publication, a year from becoming operational).

When it comes to scenarios, the newsletter covers both historical and modern periods. For instance, a recent issue devoted one-fourth of its space to a WWII encounter in the Mediterranean Sea, pitting an Italian convoy and escort against the Royal Navy (a preview of a scenario due to be released in an upcoming Command At Sea supplement).

Other articles discuss proper naval tactics, provide ship histories, discuss books or magazines of interest, or even reveal such items as the reading list for the U.S. Air Command and Staff College (and you thought you were widely read...). Optional rules and forms are also introduced upon occasion.

Although the newsletter is published by Viking Forge, the publisher uses restraint in promoting his products. For instance, in an article on WWII Italian aircraft carriers (written by the publisher), the fact that Viking Forge makes a miniature of one of those ships goes unmentioned.

The Naval SITREP is clearly the newsletter of choice for players of Harpoon and Command At Sea, and should be recommended reading for any late-20th-Century naval miniatures player (just for the Alerts column alone).
---
Index To Articles
All issues of The Naval SITREP have been indexed as part of the Naval Miniatures Index.
---
Last Updates
18 June 1997
added Latest Issues link
17 June 1997
article edited to bring it up to date
14 June 1997
reorganized
13 May 1997
reorganized
10 December 1996
Naval SITREP changes publishers
Comments or corrections?