Sho sculpted very nice miniatures – Russian musketeers, fusiliers and grenadiers – and I couldn't resist to paint some as soon as they arrived. Those Russians fought in Italy under the renowned Suvarov, in Switzerland under Riminsky Korsakof and also along with the Brits in the 1799 invasion of Holland.
I chose grenadier for a change, there I did not have to worry about the colours, because fortunately like their Prussian counterparts they did not carry any.
I picked the historical grenadier battalion Sanaev which was made up by two grenadier companies of regiment Veletsky and Kamensky each. I chose also because the miniatures match one of the 4 uniform coat variations the Russians used at that time. The first company had white tuffts on the mitres – the second red.
The facing colour or regiment Veletsky caused raised eye brows and the description ranges from burnt milk, flesh, wood, to isabell, those for Kamensky – just grey, so not a lot of contrast.
url=https://postimg.cc/cKr1K0qb]

‌
url=https://postimg.cc/18W554dF]

‌
also Sho added a bonus miniature of Suvarov himself, who often presented himself in shirt sleeves only and use cossack horses. Alongside to him the mounted battalion commander of Grenadier battalion Sanaev.
Though Sho supplies horses, I used AB ones, there I liked the light canter pose – one has to do some carving and filing to make them fit, but in the end – a gratifying result.
The miniatures are painted with Contrast and my conventional technique with hobby acrylics and artist water colours.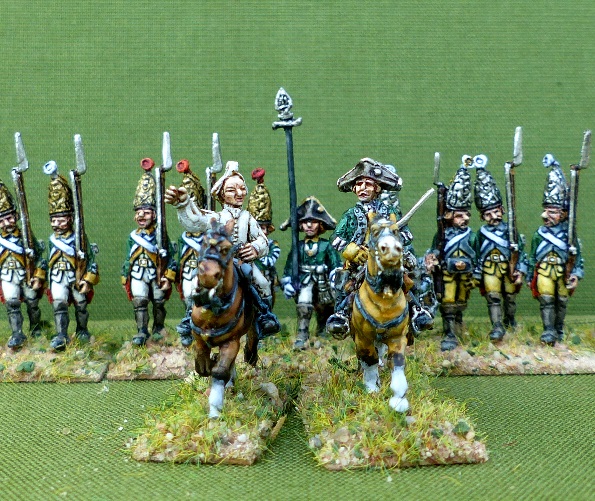 ‌