Started building my terrain project for Little Wars 2020 It's called "Escape The Titanica!" The game, kind of in the "Aliens" universe, is set aboard the luxury space liner Titanica, which has been struck by an ice meteorite while cruising somewhere near LV426. All contact with the bridge and First and Second Class passenger levels has been lost. That means all you guys in Third Class are on your own, and the race is on for the escape shuttles.

‌
I built the Titanica out of a file box.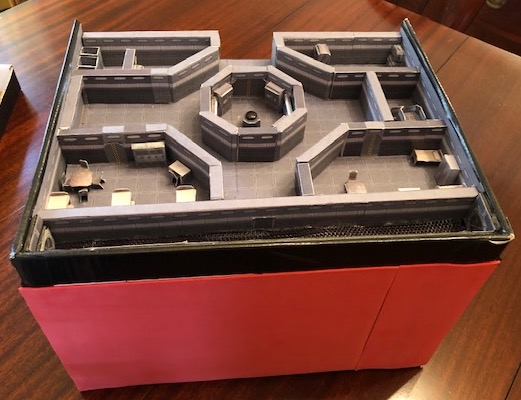 ‌
All four floors nest inside for easy storage.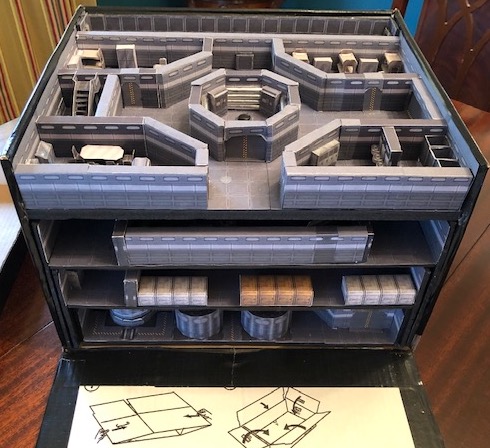 ‌
And slide out …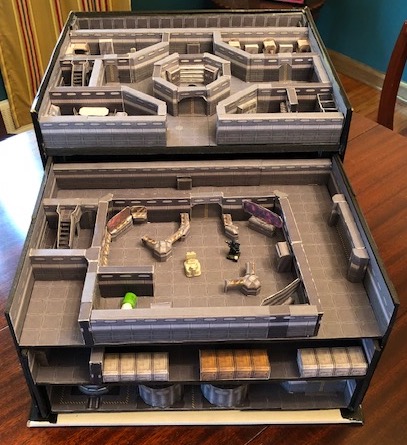 ‌
… level by level …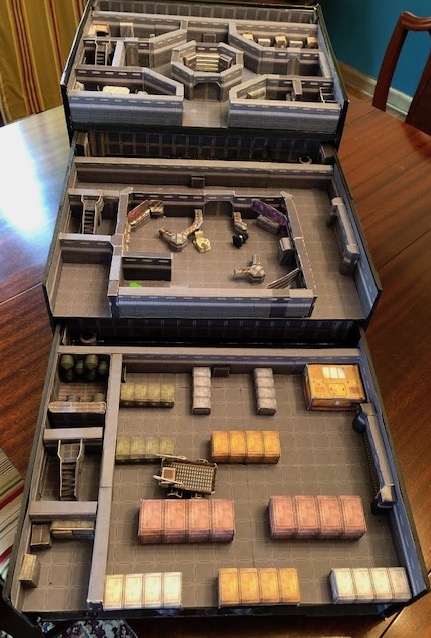 ‌
… to provide a kind of staggered interior view like maybe you'd see in one of them Osprey books.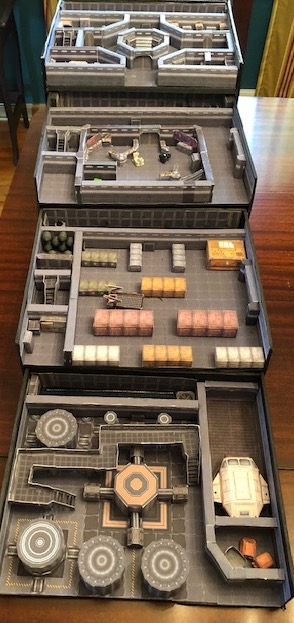 ‌
The top floor (it's actually level 119 on the Titanica) features a variety of utilitarian rooms, including barrack-style accommodations, semi-private cabins, dining areas and a head. Around these parts, we like to call it Steerage.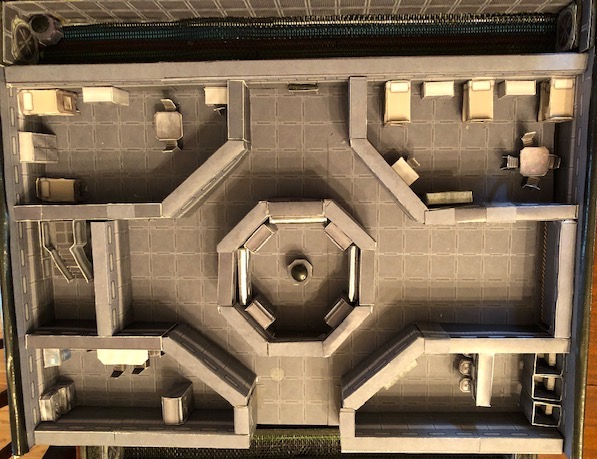 ‌
The next level features a variety of auxiliary operations rooms (this one is the back-up navigation room). The long room with the caged floor over the colored tubes is the utility corridor. It's useful for distributing air, water, electricity … and aliens.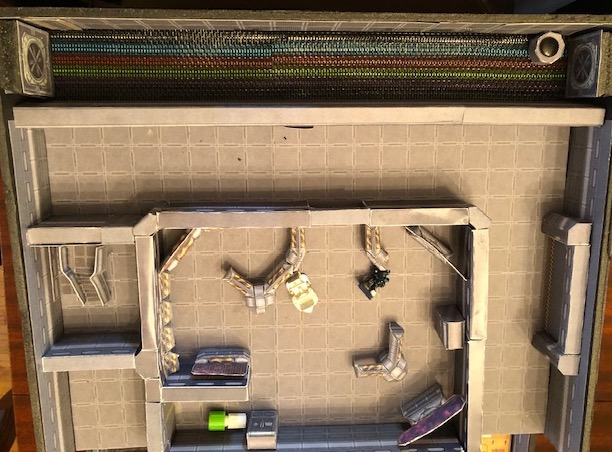 ‌
The third level is mostly stowage. There's probably a lot of useful gadgets in some of those crates …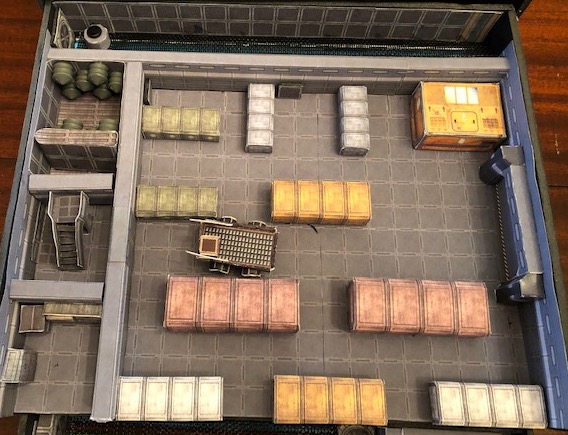 ‌
… while the bottom level houses mostly reactors and other radioactive stuff, with catwalks to get you around the worst of it. Gets pretty hot down here. An ideal environment for spawning aliens. Also the escape shuttles are all (in)conveniently located down on this level.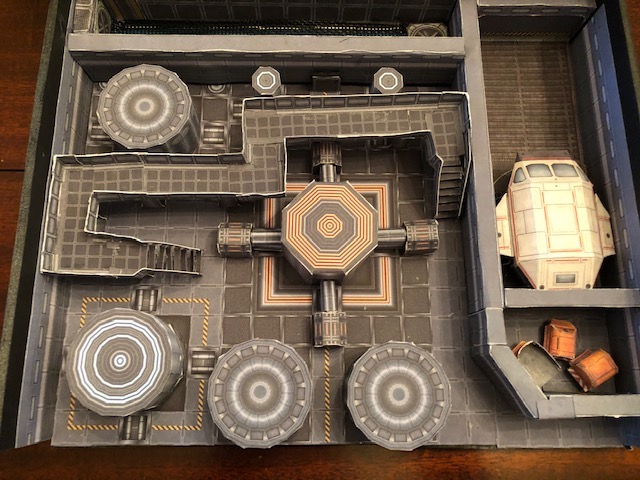 ‌
The plan is to have four of these boxes, two adjacent to one another on end, with the other pair on the other end, all meeting together on the bottom level – the whole thing will be 2.5 feet wide by 8 feet long. They'll be tricked out with dozens of figures – crew members, service bots, passengers, and eight crews that will be vying for one of the four escape shuttles. Mostly Khursan 15mms.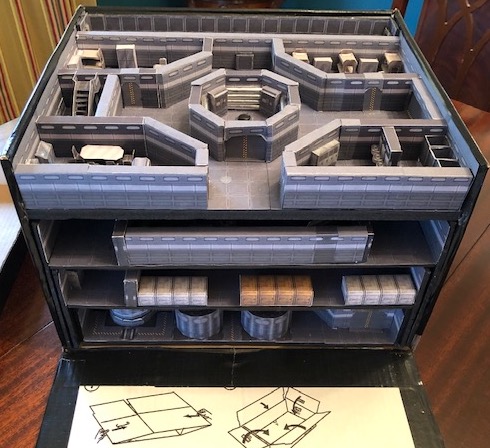 ‌
Some construction notes: Floors are black foam core, with paper floors. Walls, stairs, equipment and other scatter are all from the venerable Ebbles Miniatures download site
https://www.genetmodels.com
I like them because they look great, are scaleable (I printed mine at 75 percent, slightly larger than the 60 percent required for 15mm) and are easy to assemble. But mostly I like them because they are absolutely free. Used glue sticks, rubber cement and low-moisture construction grade white glue to assemble (I've learned the hard way that my old standby, Aleene's Tacky Glue, is simply too "wet" and causes excessive board warpage.)

‌
Anyway, I'll be running the Titanica game and perhaps a poor man's low-tech Space Hulk-type scenario at Little Wars. Hope you can stop by and play!
Little Wars