Here is a look at my most recent work on 6mm figures for my wargaming "active forces" box.
After many years it is time to finally retire the last of my 1/285 CinC infantry. I've not really been a fan of their figures since the early 1990s, when I discovered H&R 1/300 infantry figures.
This US Infantry has been in my "to be done" pile for over mumble-mumble years. But hey,I've finally gotten to them! So …

My general approach: I clip the figures apart (sometimes leaving some of the figures together when I find it convenient to ultimately mount them together. I glue them down to coffee-house stirring sticks for painting.
Then they are spray primed white using Krylon (automotive) primer.
Then the cast-on bases are painted a standard "dirt" color. For this I just use a craft store acrylic paint that is cheap and readily available. The color I use currently is called "mushroom", but just looks enough like dirt for my purposes.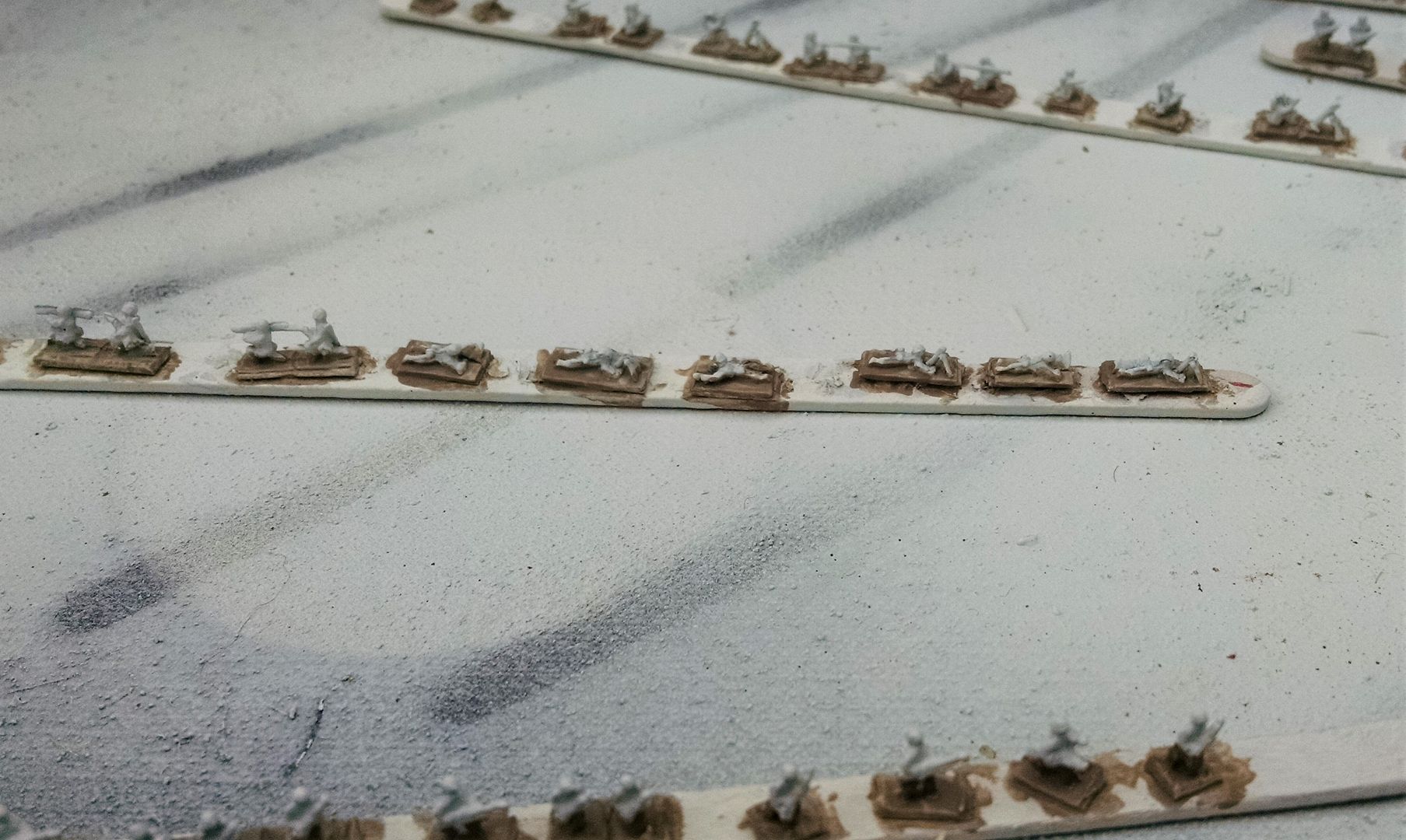 Here are figures on their sticks, primed, with their bases painted. No need to worry too much about getting a bit of paint on the figures, but it's important to cover the whole cast-on base, as otherwise the white will show through clearly.
I then paint up the figures, building the colors in layers as I go. For the US infantry I painted the pants a different color than the jackets. Usually as soon as I have the base uniform colors in place I'll do a dark wash, then proceed with the detailing.
Here are some fully-painted figures still on their stick. The lighting didn't quite work out for me here, so you'll have to refer to later pics to get a real impression of how the figures are painted.
I'm also showing some of the stands I'm going to mount them on: US Pennies. I give them all a base coat of the same acrylic craft paint I use for the molded-on figure bases.
Here are some of the painted figures, off of their sticks, ready to mount up. Again, sorry about the lighting. These pics were taken in direct sunlight, and my phone's camera just can't keep any of the color in the image at this level of brightness.
Up to now I have used the number of figures to distinguish the type of unit. 4 figures = full sized regular squad. 3 figures = full sized "special purpose" squad. 2 figures = team sized unit.
The rifle squads show 3 riflemen and a BAR man.
Each infantry platoon has 3 squads, and a 2 man command team. The H&R infantry packs are actually constructed for 1-to-1 unit scales, so for each 8 infantry figures you get a combat leader figure (waving the troops forward). I don't use these figures for squad leaders, but rather for platoon leaders and other officers.
Here is a rifle squad from the back. I use Acrylic Gel Medium, tinted with my dirt-color paint, to provide both the ground on the stand and the adhesion for the figures and the flocking, etc. Put a glob of gel on the penny, spread it around, put the figures in it, do a bit of work around the edges to ensure the gel flows over a bit onto the top of the figures cast-on base, then some model RR shrubs and talus, a little static grass, a little flocking, and on to the next one.
Once dry they are dull coated, left to dry, and dull coated again. Helps them last a bit longer.
I was working primarily for a "Mediterranean" look, but not something that looked so much like a desert that it would stand-out on an ETO board. I like the results I've got here.
Here is my company HQ squad. 3 men on a stand = full sized squad, but not a standard rifle squad. The radio-man helps me identify it as my HQ, as does a low-vis striping on the back of the stand. 2 stripes = company command. 3 = platoon command. 1 = battalion / battlegroup command. The stripes are brown, on the dirt base -- not at all obvious unless you are looking for them, but if you are they are fully visible.
I also created 3 medics for my US infantry. I use the figures carrying MG ammo boxes -- I'm not sure BAR #2s carried ammo into battle that way. So I clipped off their rifles and painted them up as medics, including painting their ammo boxes as medical kits. I sometimes use medics to add complexity to my gaming scenarios, giving players some victory points (or reducing their loss of victory points) for performing "rescues" of damaged or lost squads.
Here is an MG team from the company's weapons platoon.
The H&R figures are not the most detailed. But they are robust and rugged for gaming, and honestly you just can't beat the variety of figures they give you in the packs! Who else does a prone M1919A3 team in this scale?
Here is a bazooka team.
The company weapons platoon has 2 M1919 MG teams, 1 M2 .50cal HMG team, 3 60mm mortar teams, 3 bazooka teams, and a command team. I can split these support resources up or keep them together as I chose from one game to another, just as actual US Army infantry companies did.
I also have some battalion support resoources (not shown), including 81mmm mortars, MOP team, and .50cal M2 HMGs on AA mounts. Who else by H&R gives you those?
Here are some more interesting figures in the H&R infantry packs -- mine detectors! 3 men to a stand tells me this is a full-sized special purpose squad, then the figures themselves are a mine-clearance team in my engineering platoon.
The packs also contain troopers with flamethrowers. I have 3 flamethrower teams in my force. These can be used as part of the combat engineering platoon, or as was done in later war ETO they can be issued to the regular infantry if the mission involves an assault on prepared defenses.
The bulk of the engineering platoon is 3 man special purpose squads, and a 2 man command team.
The basic engineering squad is comprised of rifleman figures and guys carrying ammo boxes, whom I use as engineers with satchel charges or other engineering stores.
Here we see the whole core formation. There is a full company of infantry with three platoons, each of 3 squads and a command team. There is a company weapons platoon with MGs, mortars and bazookas with a command team, and a company HQ squad, and a platoon of combat engineers available for attaching if/when appropriate.
Now I'm ready to go against my French North Africans (for Torch), or my Italians (for Tunisia or Sicily), or any Germans who happen onto a battleboard in my neighborhood.
-Mark
(aka: Mk 1)