This week I've finished another painting commission consisting of 17 Peter Pig ships for their 'Pieces of Eight' ruleset. According to the customer's direction, some of them were to be painted as Spanish merchantmen, while as pirates the rest. Worth to be noted that the customer explicitly gave me permission to perform customizations at will, using either parts from other models or scratch building them.
I decided to divide the work into 5 ship batches, a number of models I'm comfortable enough with, and right afterwards started with galleons and fluyts. This is how they look once finished: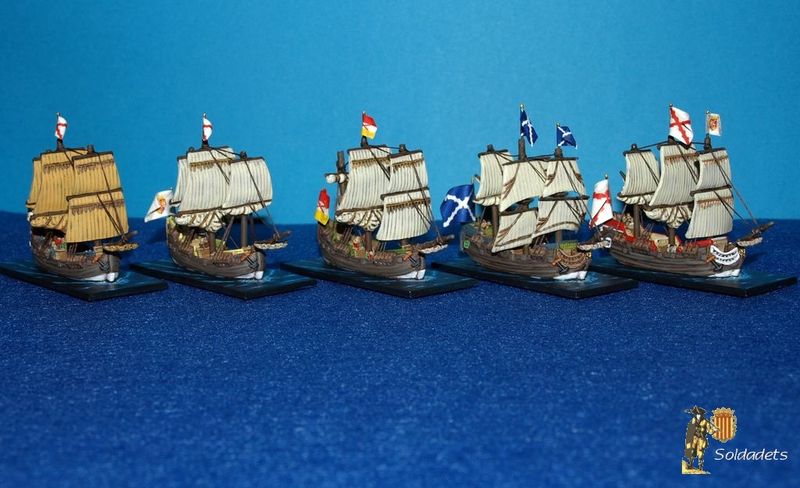 The two galleons in this group were modified in some degree, by adding some height to their aft castles or, in the case of one, replacing the original PP rigging. The one was placed regulation merchant flags for the 1701-1785 period (red cross of Burgundy on a white field), but the other one is hoisting a rather unknown set of flags (white cross on blue). This odd design first appeared during the War of Spanish Succession (1701-1715), deliberately used by Spanish merchants with the hope to be confused with French from a distance. Although actively fought by authorities, this practice seemingly continued well into the 1760s.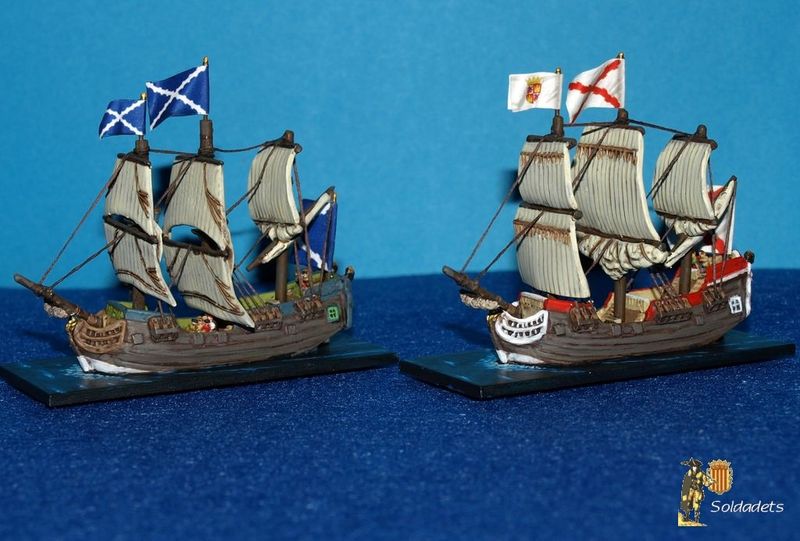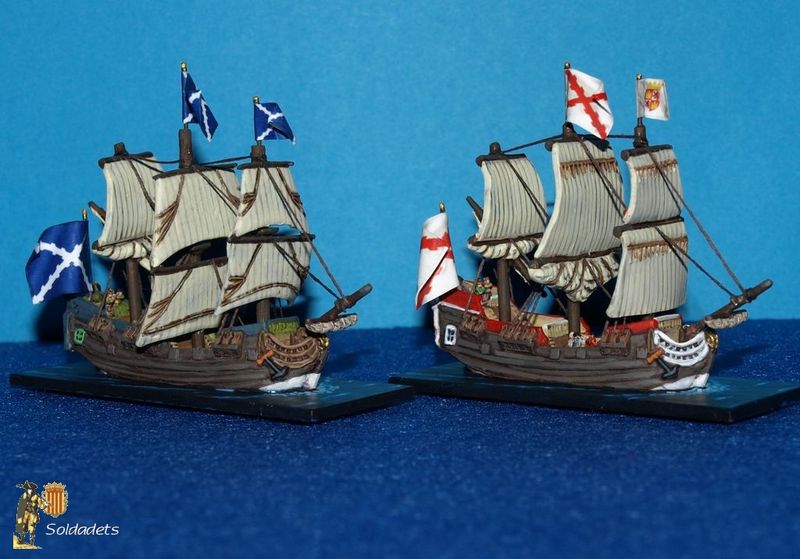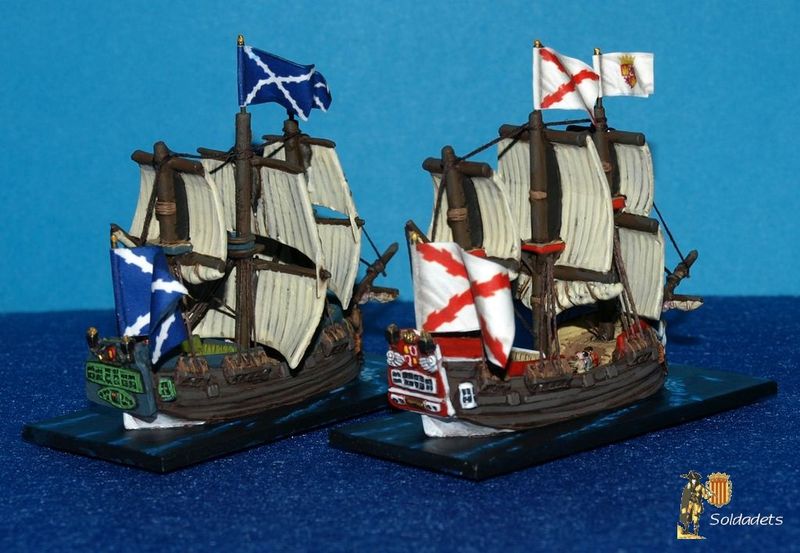 As for the three fluyts there, some modifications were performed too, with the ultimate purpose that not two ships of the same type were going to look identical. One ship was given Galician ensign, a Castilian one the other, and a colourful Flemish design the third one.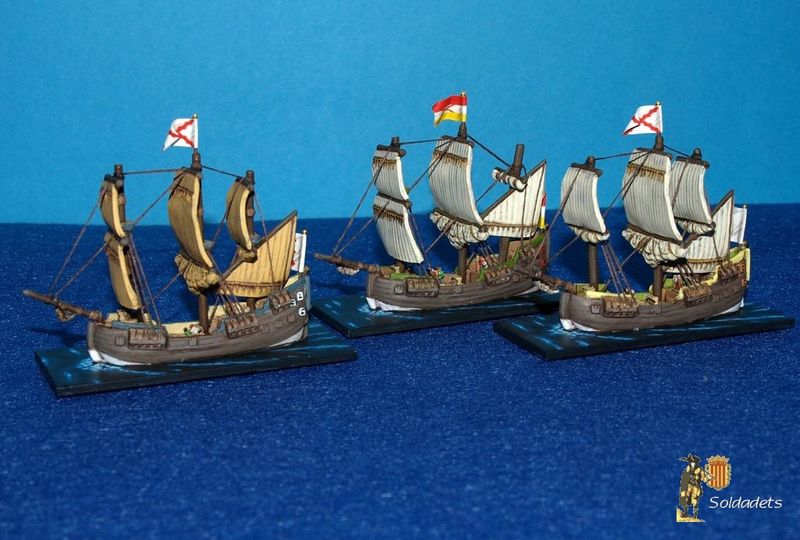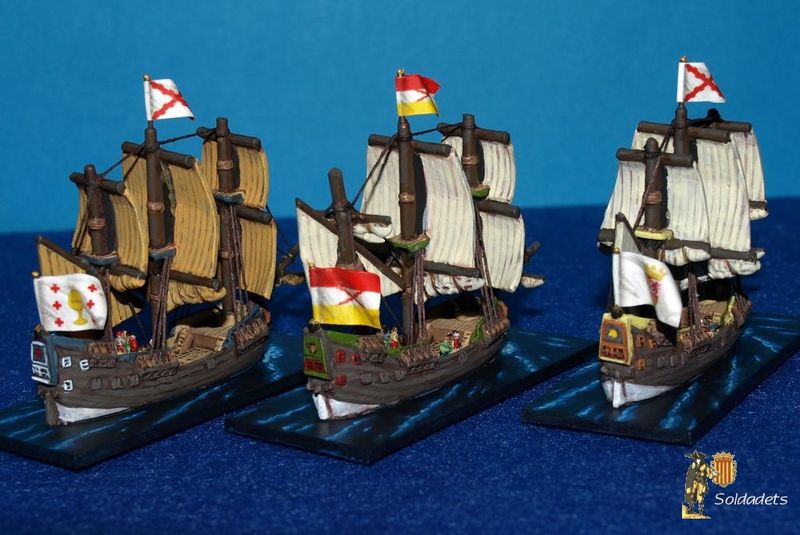 Next I went for the five two-masted ships in the collection, two of which were to be dressed as Spanish escorts, being pirates all the rest. Here you can see them: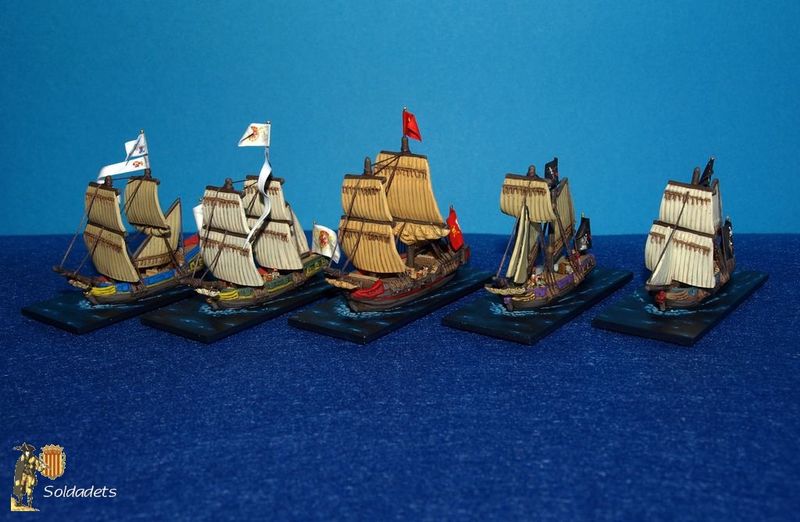 As for the Spanish warships, one was enlargened the aft castle, as well as assigned a lateen sail on mainmast, as if a primitive form of brig or quetch it was. The other one was finished as a proper brig with a gaff sail. Both are flying 1701-1785 war flags as well as long commission pennants.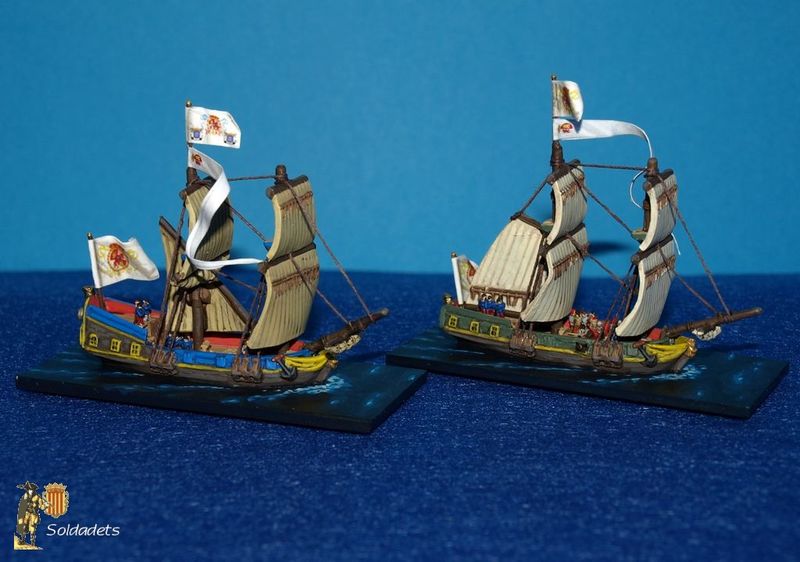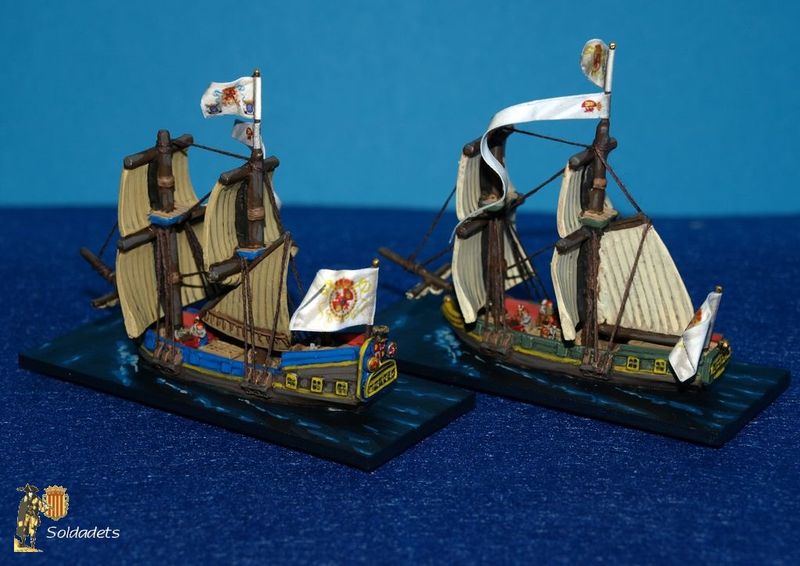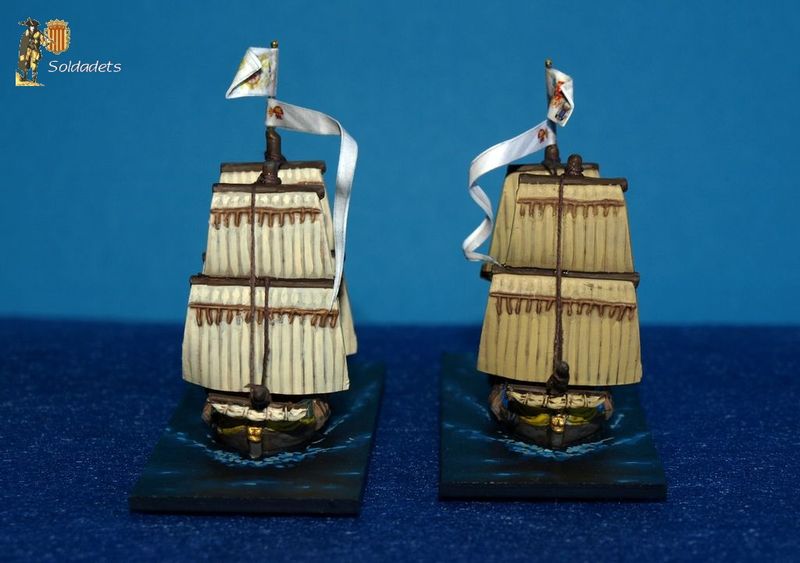 On its side, the larger brig wa given an austere look as a pirate ship, showing flags allegedly belonging to Christopher Moody.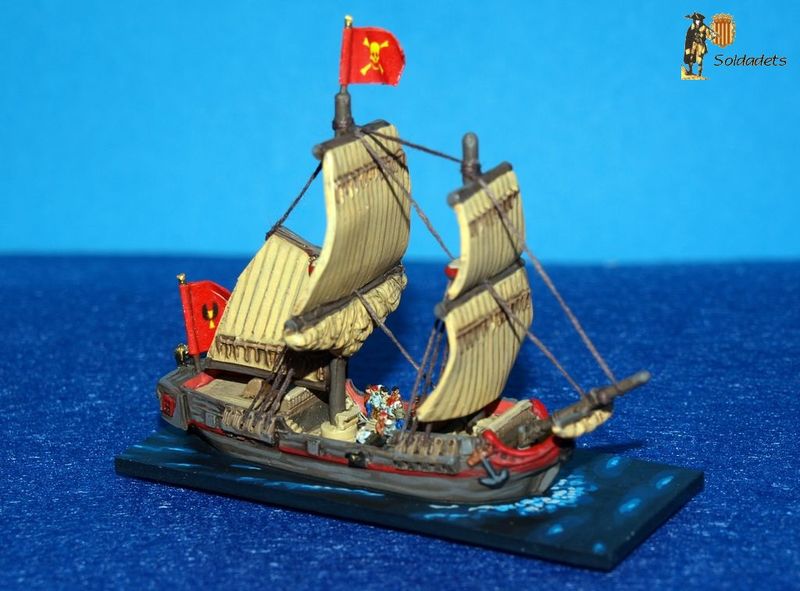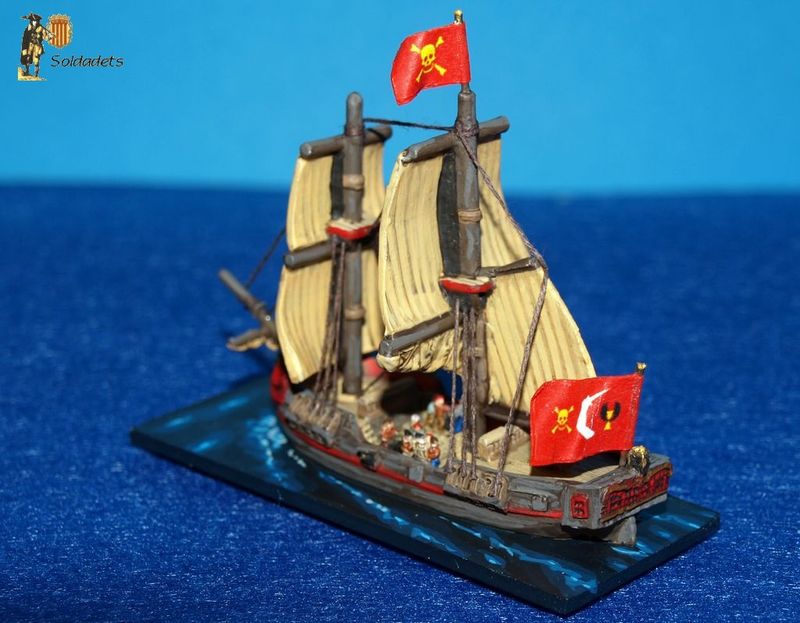 Finally, the last two smaller ships were built and painted having pirates in mind too. I assume that purple is probably quite an anachronistic colour for a ship of that era, but if you watch her flags set you'll understand why of such odd choice --for these are the flags stated by some for the french pirate woman Jacquotte Delayahe. With a little imagination you can see Keira Knightley by the rudder, I swear! The second warship shows the flags supposedly flown by another french pirate, Olivier Levasseur.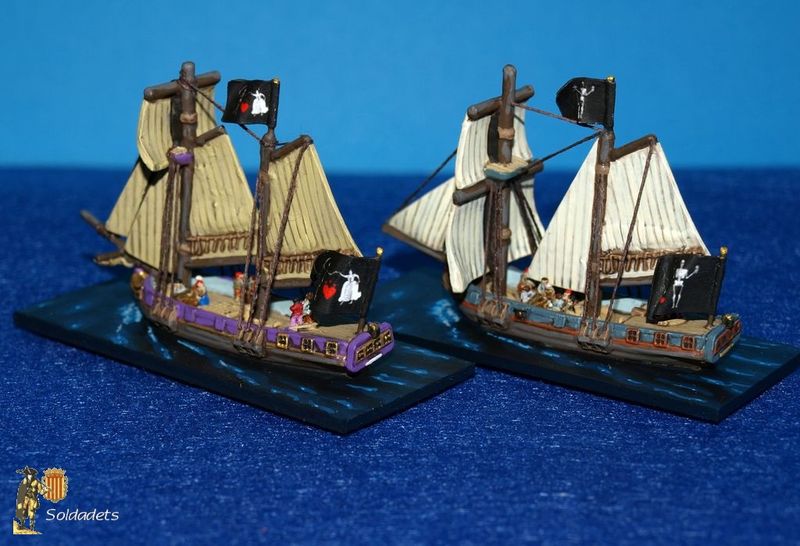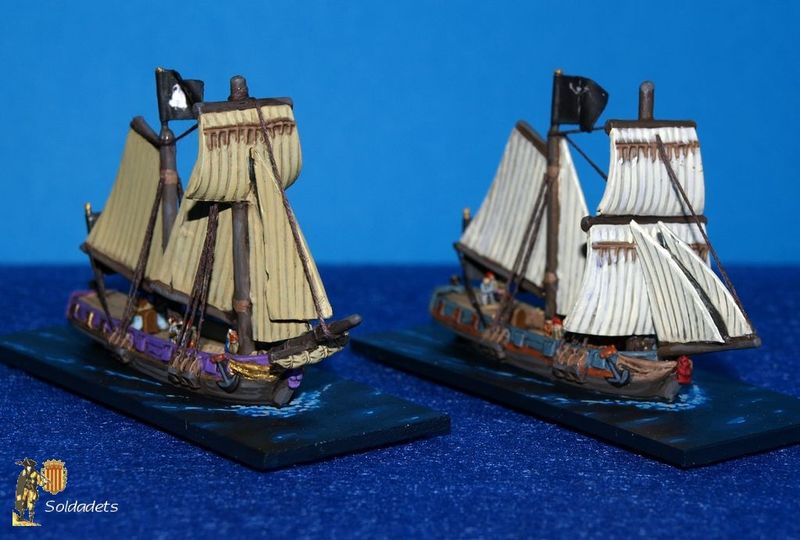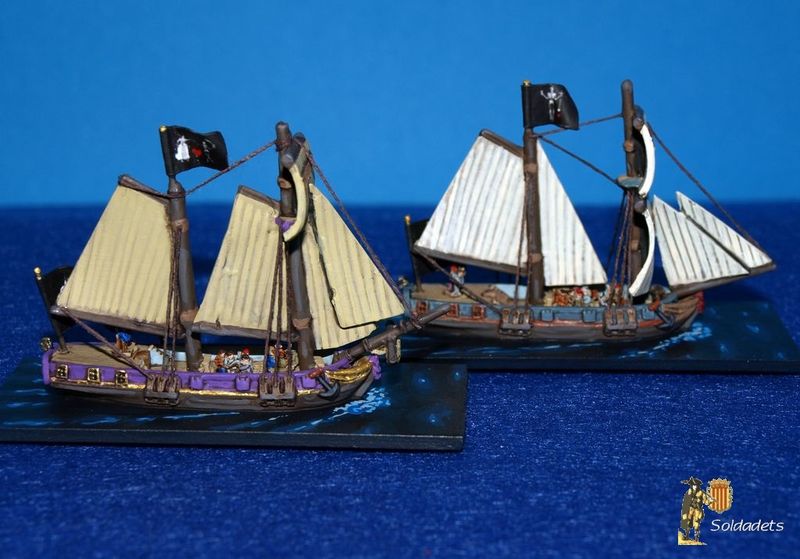 Right afterwards I started working on the customer's five single-masted ships, most of which had to be pirates too. One of these sloops had a second mast attached, for I planned to transform it into a lateen sailed tartane. One of these sloops had a second mast attached, for I planned to transform it into a lateen sailed tartane.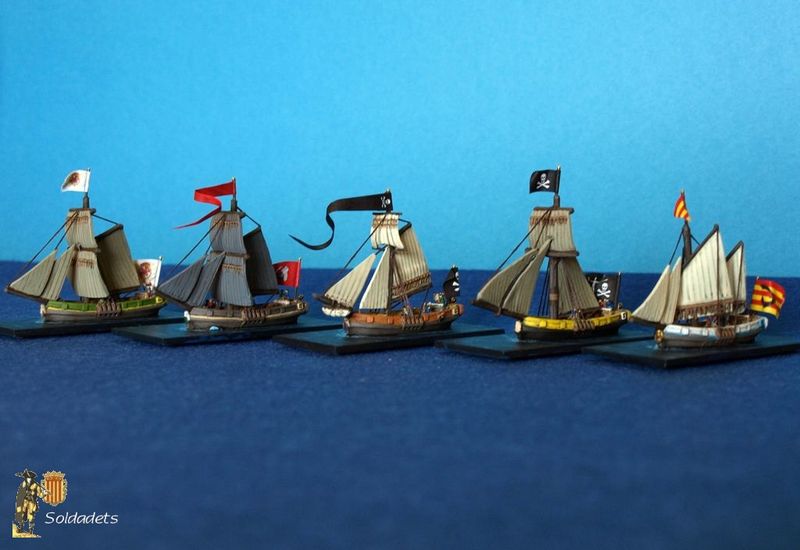 Although own to the Mediterranean Sea, tartanes and other lateen rigged ships were'nt uncommon on Caribbean waters --manned by french and spanish crews mainly, but also by italian or maghribian sailors in foreign service. I've taken advantage of this for assigning a red-yellow striped flag, supposedly flown by one Edmund Cooke, but that could also belong to a French or Catalan buccaneer (It could do even for a Barbary pirate!).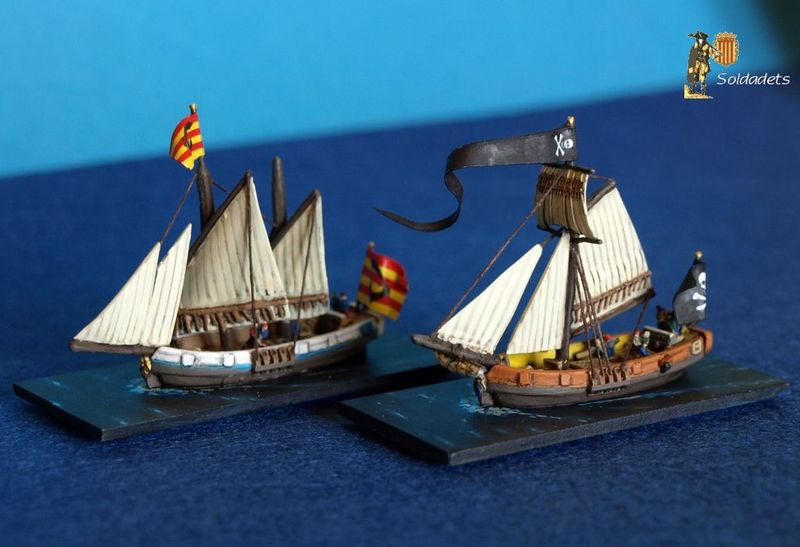 The other three pirate sloops show slightly different rigging configurations, making them close to either a 'pure' Bermuda sloop, or to a square course sail cutter instead. All this with the aim to make every ship unique, as said. Spare parts from brands other than PP were used for this, as well as some plasticard pieces.
On its side, the Spanish escort sloop follows quite a standard PP pattern, with no other modification than making the gaff sail a bit smaller, to leave room for the war ensign.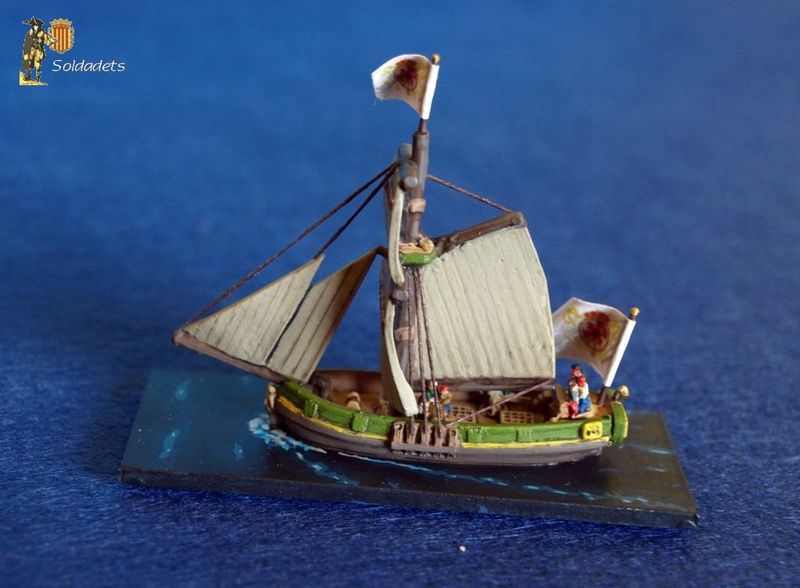 And last I painted two large indiamen, that were just replaced the original bowsprits, with no durther modifications.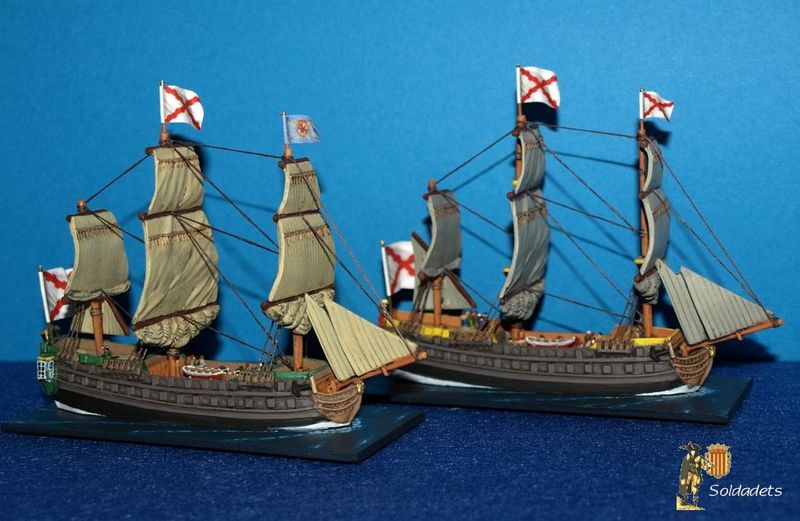 Both are flying large Burgundy Cross ensigns and mast flags. One of them has been given a different flag on foremast (a light blue one with the Spanish coat of arms), that was historically used by one admiral in WSS times. I thought it might be useful to the user --for identifying the Treasury Fleet admiral for instance, or a ship commanded by an above average Reserve captain perhaps, or for whatever other reason he might need.
I've enjoyed this commission intensely, and would like to thank the commissioner for his patience and trust. Hope he likes the result not less than I do.
Lluís
minairons.eu