The boy Henry and I had an interesting game over the weekend, so I thought I'd share.
It was really a play-test scenario, aimed at checking that the air rules worked okay, especially with Combat Air Patrols, intercepts and 'scram' rules. I also wanted to test Rules of Engagement as these will be a big balancing factor to restrict the massive advantage the US will have in our Tanker War campaign. Lastly, I wanted Henry to have the chance to play the Iranians for the first time to see where their weaknesses are without risking losses in the actual campaign. We both learned some lessons!
The set up was the Straits of Hormuz in 1989; heightened tensions have led to the Royal Navy's Armilla Patrol being temporarily withdrawn from the Persian Gulf. HMS Cardiff and HMS Active are being covered by F-14 Tomcats from the USS Theodore Roosevelt.
Here's the board, the coast of Oman closest to the camera and Iran's Qeshm Island in the distance:
As usual nothing was deployed and we made extensive use of 'blinds', which represented merchant and commercial traffic. I had two Tomcats on CAP and was watching a pair of air contacts closely. When they got a bit close my F-14s intercepted, interrupting Henry's activation. It turned out the Iranians had been very sneaky; one contact was a commercial airliner, which was being shadowed by an F-4 Phantom.
Although I'd got the jump on the Iranians, the Rules of Engagement meant that I couldn't fire unless there was a threat, so all I could do was shadow.
Having learned my lesson previously about maintaining a proper air defence (AAR here: TMP link ), I had HMS Cardiff acting as a picket ship.
In an effort to keep the Iranians at arm's length she 'painted' the F-4 with her Sea Dart fire control radar. It did the trick; the Iranian pilot failed his 'resolve' check and pulled back – for now. Again, due to the RoE I couldn't fire.
But then:
My Tomcats had already used their 'interrupt' to intercept the first Phantom, now a second, previously unidentified, Phantom swooped in, firing a Maverick missile at HMS Active.
The sole missile was downed by Cardiff using her Sea Darts, and now the gloves were off. Two further Sea Darts from Cardiff and both Iranian planes were destroyed,
By now my Tomcats were running low on fuel but I had another pair on the way. As they entered the straits they identified the frigate Sabalan, making its way towards the British ships.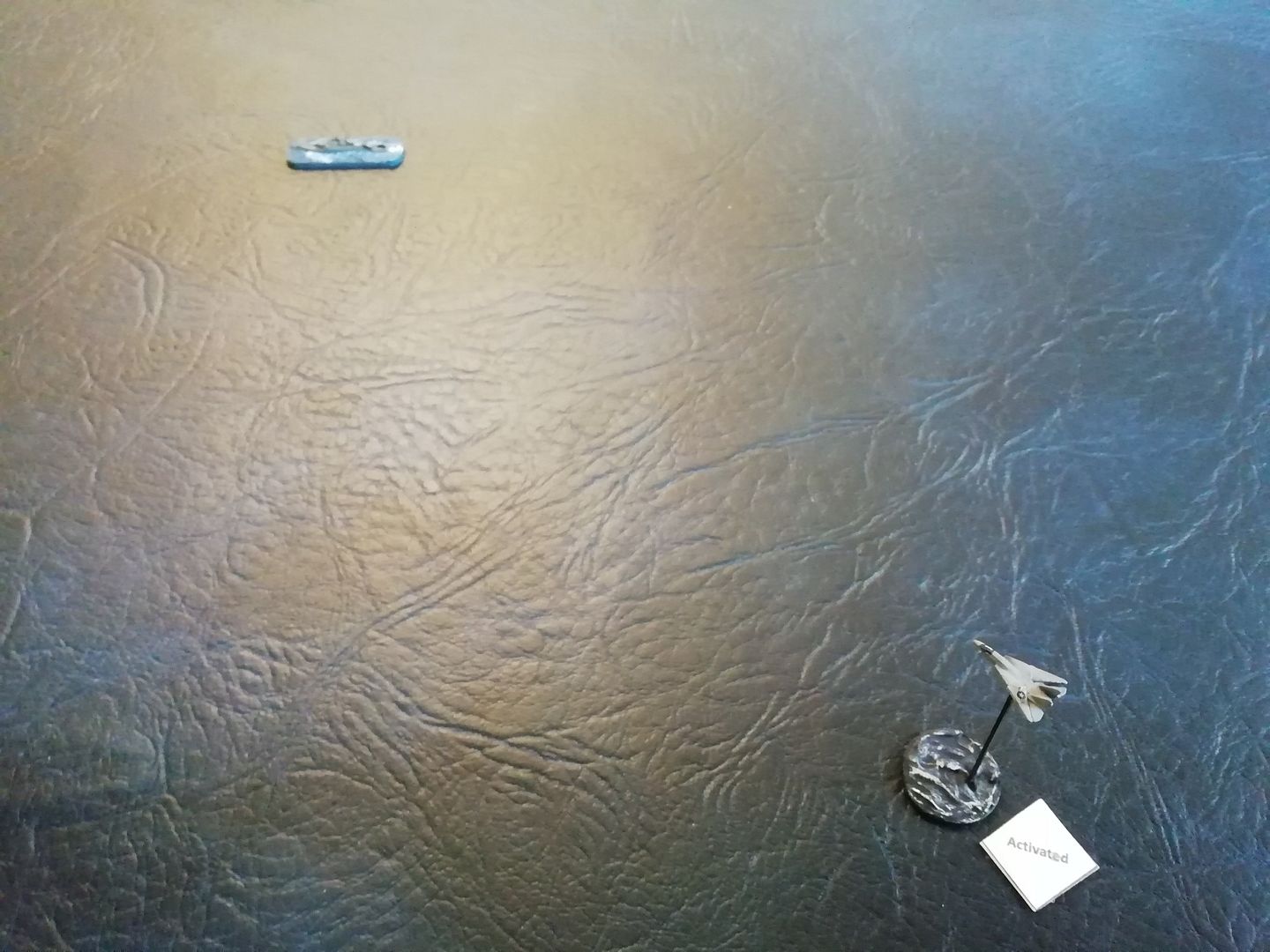 With the initial threat passed the RoE again kicked in, so again I had my hands tied. I tried to work round the Iranian ship, but Henry doggedly closed to within the 16 mile range of his Sea Killer missiles. It was frustrating for me as I had a lock on him continuously and was trying to manoeuvre so I could keep him within my defensive weapon arcs. In the restricted waters of the straits this was proving tough.
Until…
The Sabalan fires three missiles. Because of the close range (just nine miles!) we went straight to the point defence stage. And I had again made the same mistake as in the Black Sea – HMS Active, was – um – inactive! Although the Iranians could be seen with a Mark 1 Eyeball, I still didn't think to switch on my radars.
As the puffs of smoke and vapour were seen on the Sabalan, the order was frantically given to power up but it was too late: I had three missiles heading towards my frigate on 3s to hit… and Henry rolled three 1s!
Freed of RoE again, the Active turned and unleashed her full arsenal of Exocets: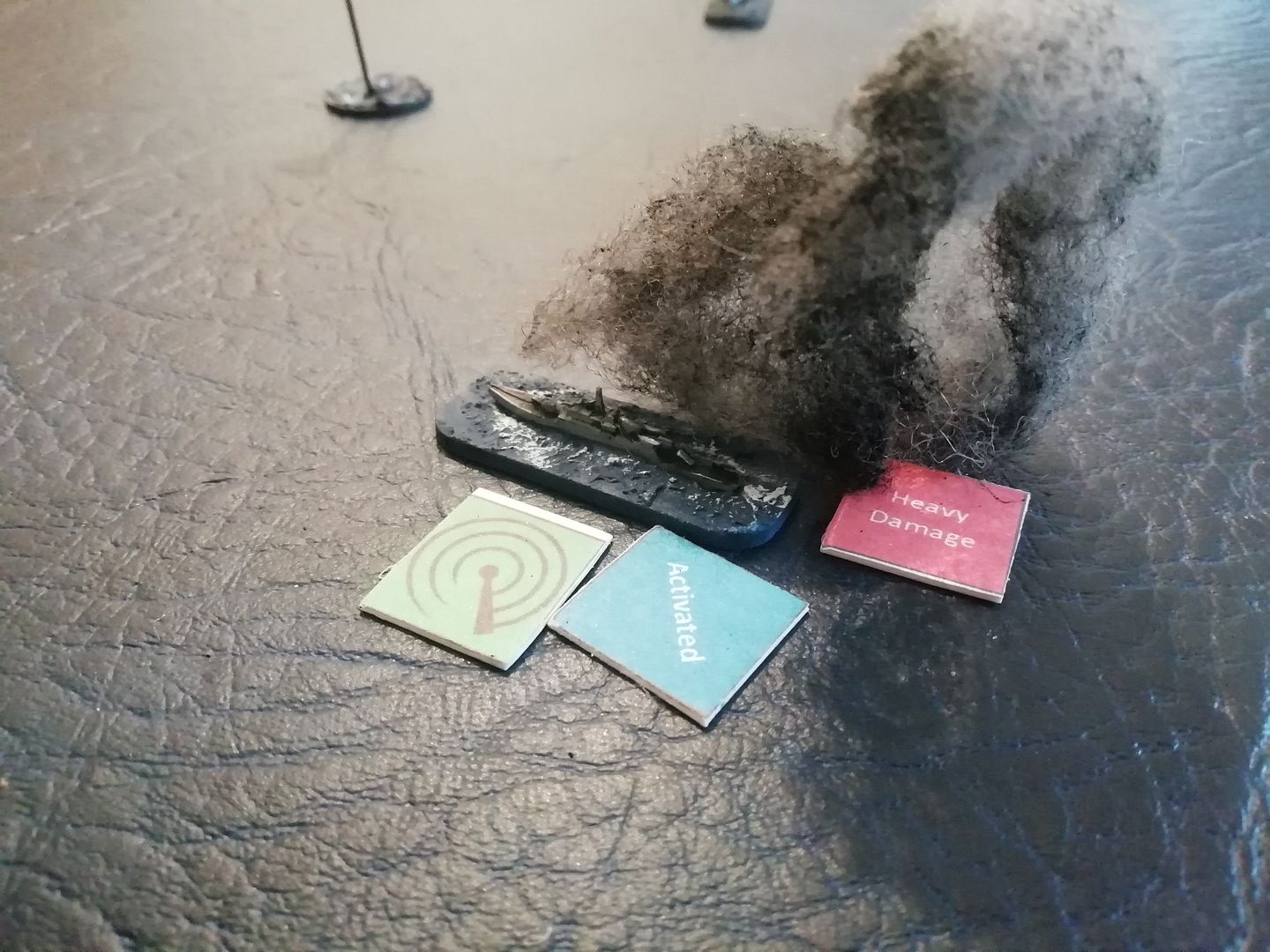 Three hit and the Sabalan was lucky to survive with just heavy damage.
And that was pretty much it: Henry decided against bringing on his second pair of Phantoms and we called it a day.
* * *
So, lessons learned? Henry learned that the RoE were certainly his big advantage as it allowed him to get in close. To capitalise on this he really needed to coordinate his attacks, though, rather than throwing his F-4s in piecemeal. He also found that pulling back when painted with FC Radar wasn't such a bad thing – he could just regroup and come at me again, waiting for the right circumstances.
And even though I got away with it I really must remember to switch my bloomin' radars on once missiles start flying!
The RoE might not suit all players, but they did balance the game and the cat and mouse moves were tense. In the campaign the RoE shift depending on circumstances, so a successful Iranian attack in one game would lead to a more aggressive US force in the next, but more aggression also impacts on US public opinion, so it can be double-edged.
All in all, another fun game. I gave Henry the option of switching to the Americans for the campaign if he preferred but he's sticking with the Iranians. I reckon he just prefers the cool Iranian camo schemes.
Nick