For the last year or so I've been painting up a lot of American troops for my All Quiet on the Martian Front game. I painted a land ironclad and a squadron of cavalry and a battalion of infantry and a of of supporting troops. Totaling up the points I realized that I needed more Martians!
I also needed to get my Martians organized. In my Great Martian War novels I decided that three tripods made up a 'Sub-Group' and that three 'Sub-Groups' plus a commander made up a 'Group'. Three 'Groups' plus a commander made up a 'Battle Group'. I didn't quite need an entire Battle Group yet, but I decided that two full Groups would be about right. I already had six scout tripods and five assault tripods so I decided that I would add seven assault tripods to give me twelve. That would allow me to have one scout sub-group and two assault subgroups in each of the Groups.
I also needed a commander for each group. At first I planned to use a Dominator tripod for the commanders, but after giving this some thought I decided against it. The Dominators are very heavily armed, with two heat rays a missile launching system. But a commander ought to be more focused on commanding than fighting. A commander was also more valuable and ought to be better protected. Fortunately, there was an ideal choice: a Veteran Tripod. The Veteran Tripods have heavier armor which makes them much harder to hurt. It does slow them down, but not too badly. Also, I like the way they look!
So, I painted up seven assault tripods and two Veteran Tripods and now I have two full groups—plus two grenadier tripods, four slaver tripods and 44 drones. A very nice force!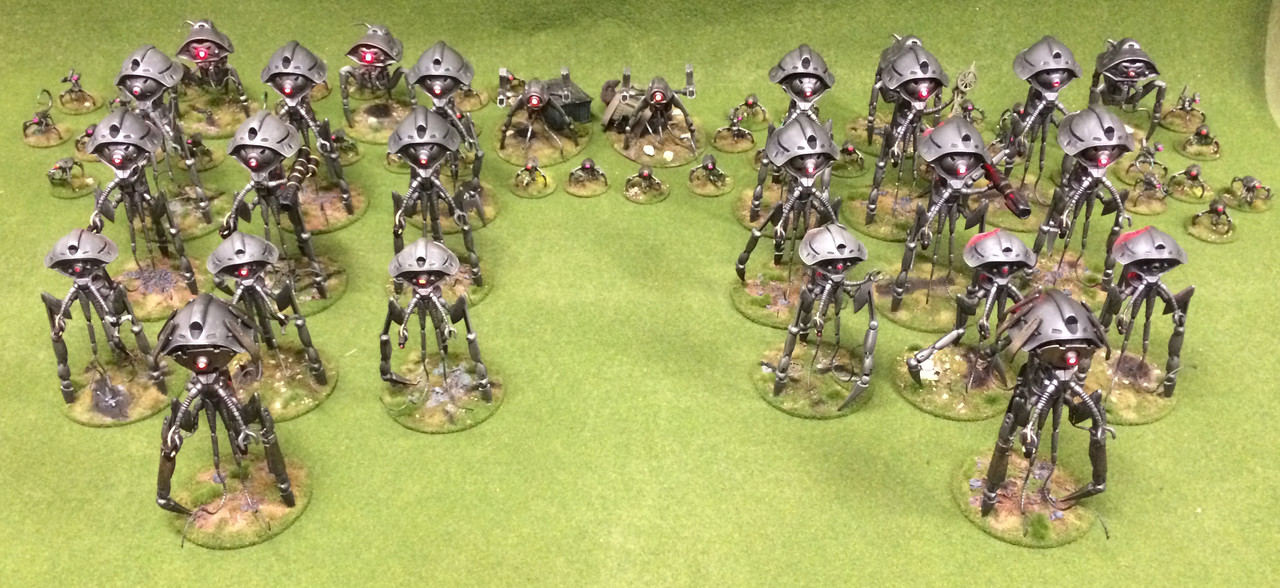 As you can see, I put LED lights in all of the new tripods to match the ones I already have. It is a bit more work, but the results are dramatic.
I also needed to make an additional box to store them!