I hadn't planned this before, but now I'm taking Age of Sail ships painting commissions --and I'm having a lot of fun from this, honestly
It all started after having given a try to Galleys & Galleons ruleset with some friends, that we enjoyed deeply. After some testing games else, using ships of my own collection, last month a friend persuaded me to paint some for himself. His commission consisted of 7 ships from Peter Pig and Minairons, that I eagerly took over after agreeing a price with him.
I first started with 4 of these models: a large galleon from Minairons as well as a frigate, a fluyt and a schooner from Peter Pig –those you can see below: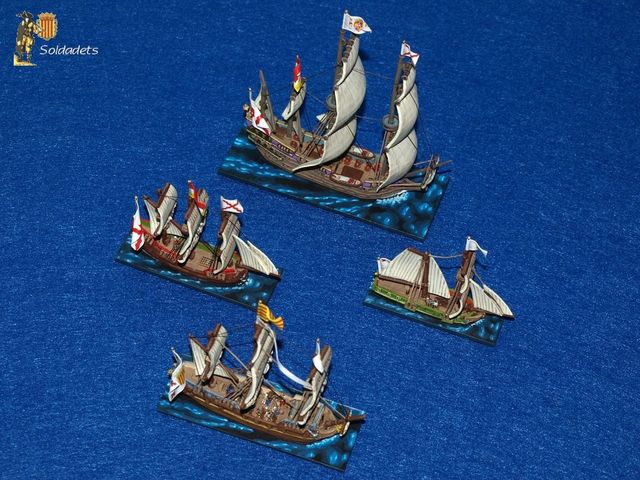 The galleon was painted as a Spanish trader (or corsair), hoisting flags own to 17th century but suitable for early 18th c. too: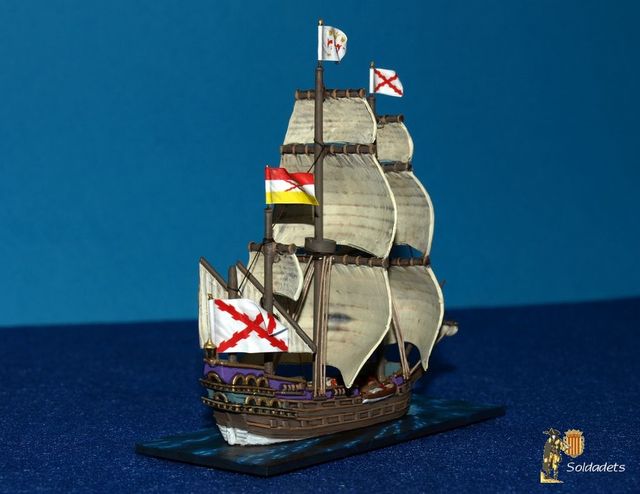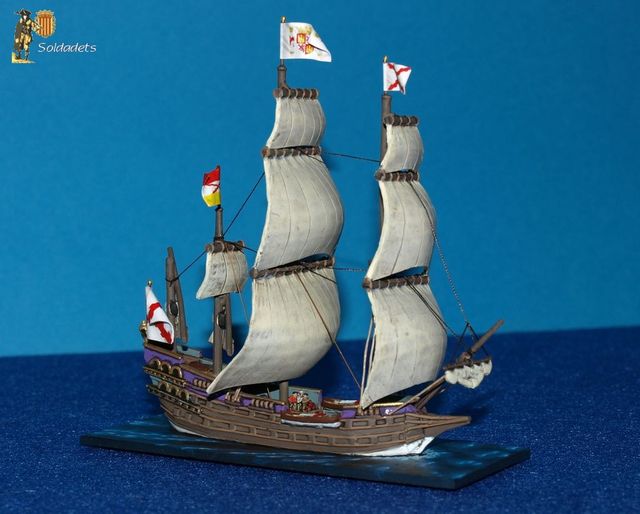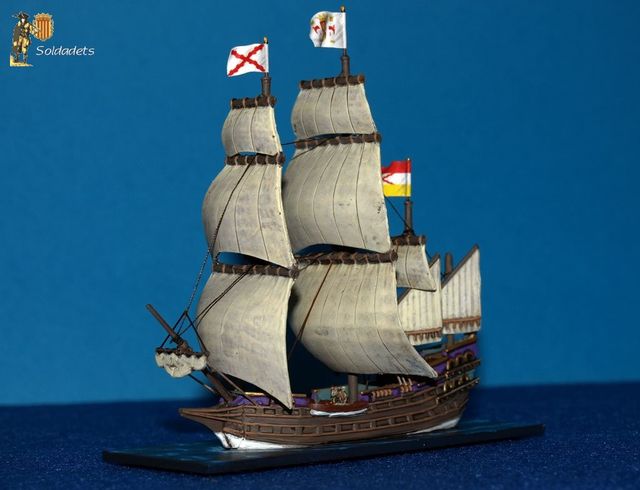 Similar for the fluyt small trader, that was given the same set of flags. Hull was painted here in a different brown shade, close to mahogany, because it seemed to fit better my friend's taste: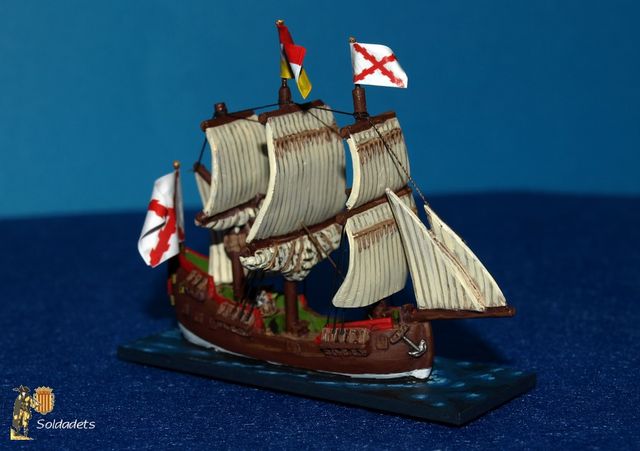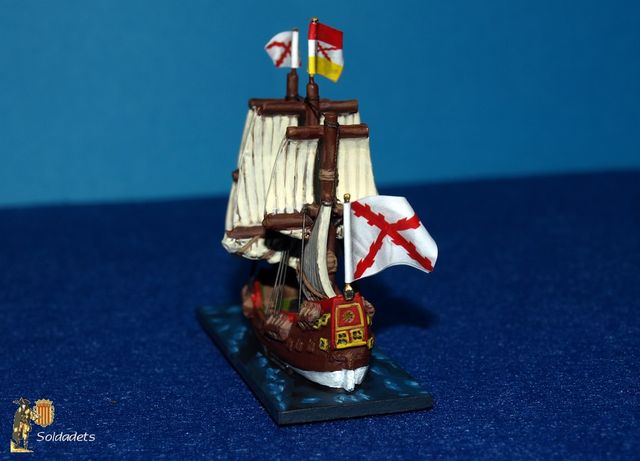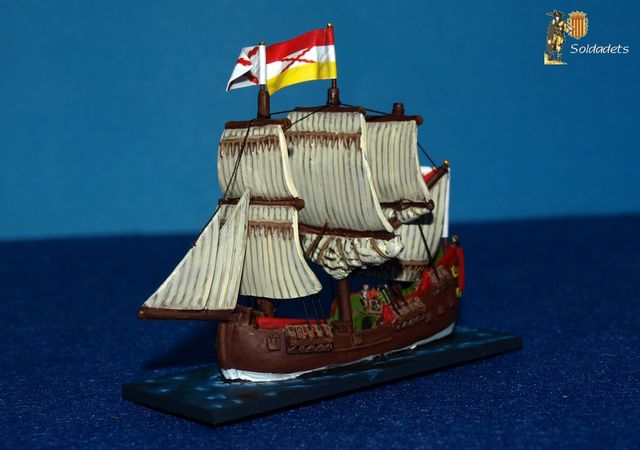 The remaining two ships were painted in Catalan livery, following the wish of my gaming mate. So I gave to both a set of naval war flags belonging to the 1640-1653 Catalan Secession War. The frigate's hull was painted 984 Flat Brown, with results quite satisfactory to me: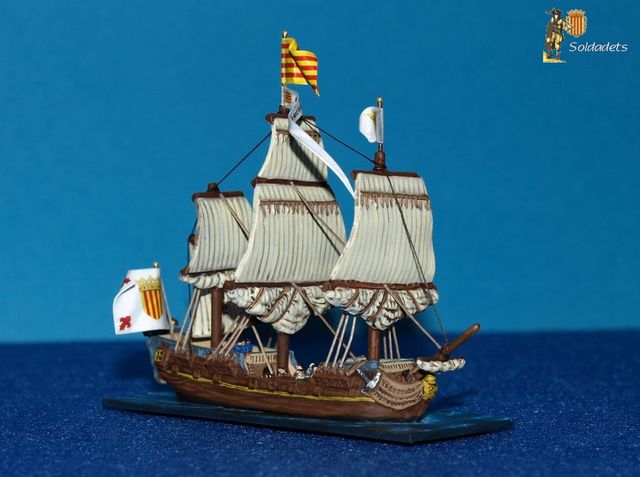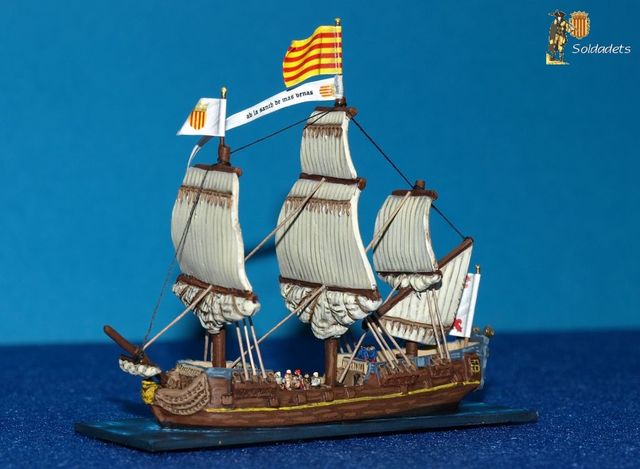 And here below the schooner, painted mainly in a light olive greeen: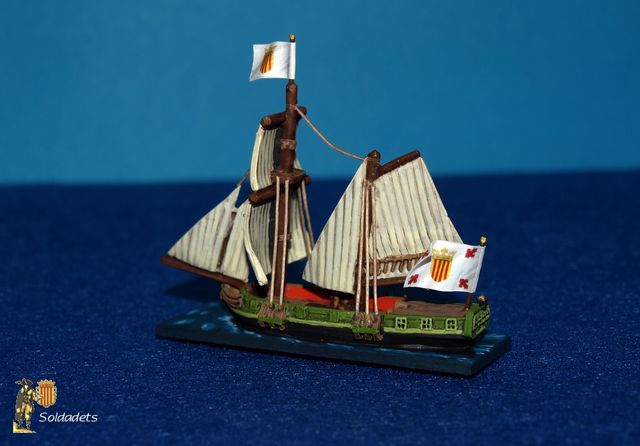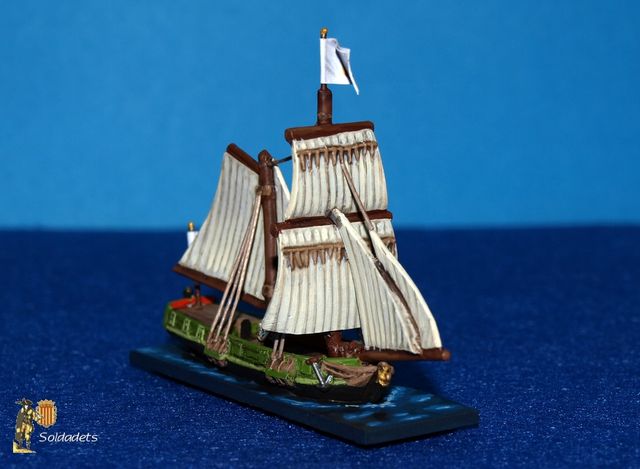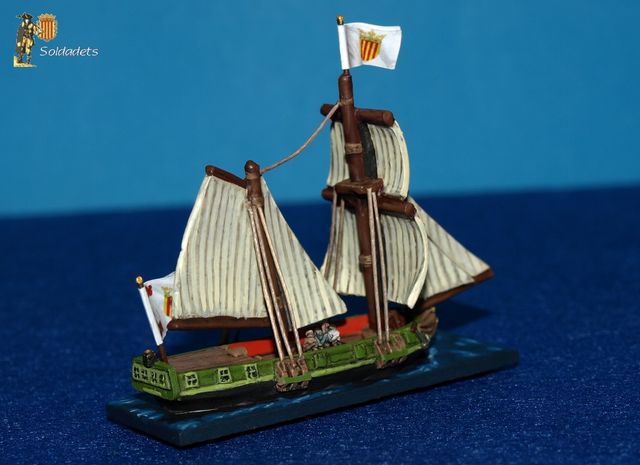 I had already painted other miniatures for that gaming mate before, so this particular commission shouldn't have altered my plans of painting for myself or my friends solely. However, right when I was about to start a second batch of ships for this guy, then it suddenly came a second commission proposal from an english gamer, who had just purchased a couple of Peter Pig fleets for their Pieces of Eight ruleset (merchant the one and predatory the other). His collection consists of 13 ships covering the full naval range of Peter Pig from a small sloop to a couple of large indiamen. It was new to me –an exciting challenge I accepted happily.
However, as I already had a first commission running and I was reluctant to make that english customer to wait until my first job was over, I decided to start painting both commissions stuff altogether –this would allow me to keep them both adequately informed on works progression, and by this to make their wait easier.
So this is the result of a second painting batch, that includes two large galleons else for the first commissioner, as well as three fluyt merchants for the english one: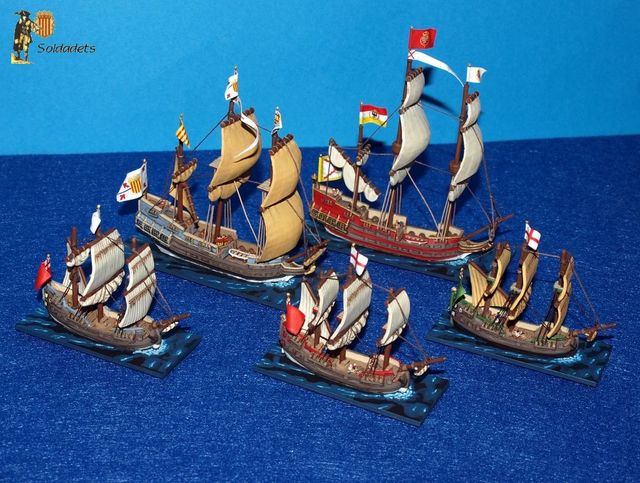 Once again, galleons have been painted and decorated with 1640-1653 Catalan secessionist ensign and flags (just as some of the previous batch ships), while the second one has been finished in a more generic way, so that it could equally perform as a 17th century Spanish man-of-war, or a Treasury galleon from up to early 18th c. The purpose of such being to allow the customer to use it in the 18th c. Caribbean campaign we're currently gaming --where he's playing Spain.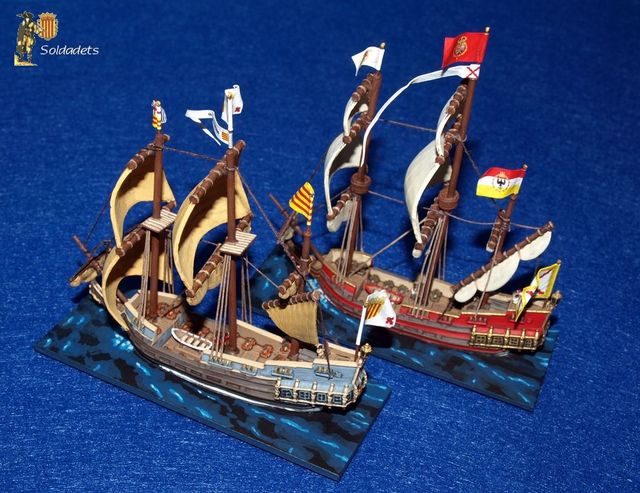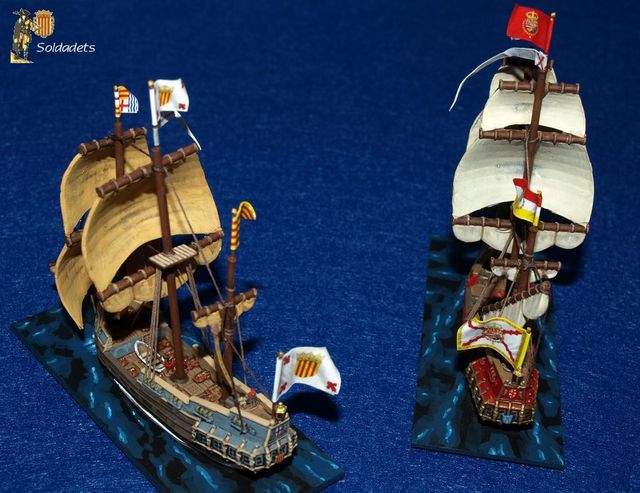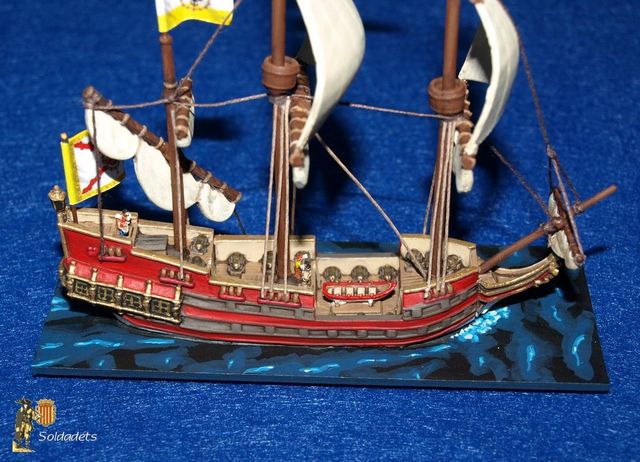 Following the suggestion from a Portuguese user, who explained me it was very rare for galleons other than Spanish to show 3 sails on a mast, this time I've shortened the Catalan galleon masts, leaving them with just 2 sails. Altough a little doubtful at start, I'm now quite happy with the result.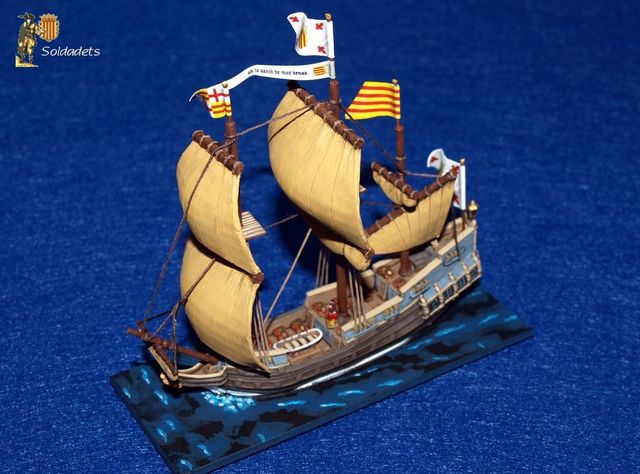 regarding the 3 fluyt ships belonging to the english customer merchant fleet, I've done some small changes to their rigging so as to leave not two identical fluyts. A little variety has ben applied to their colour schema as well --as it can be seen below: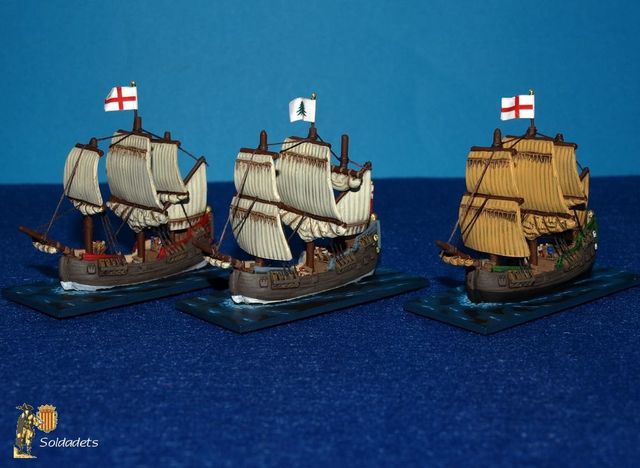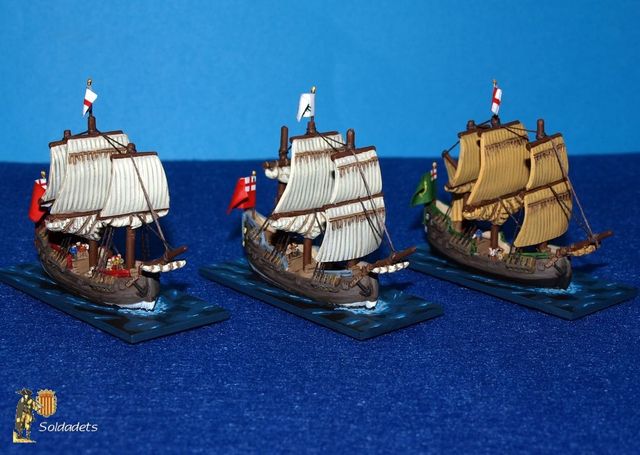 And last, I've placed a slightly different set of flags on each, so as to help an easier identification amidst a large battle. From left to right, 17th or early 18th c. flags from England, New England and Ireland.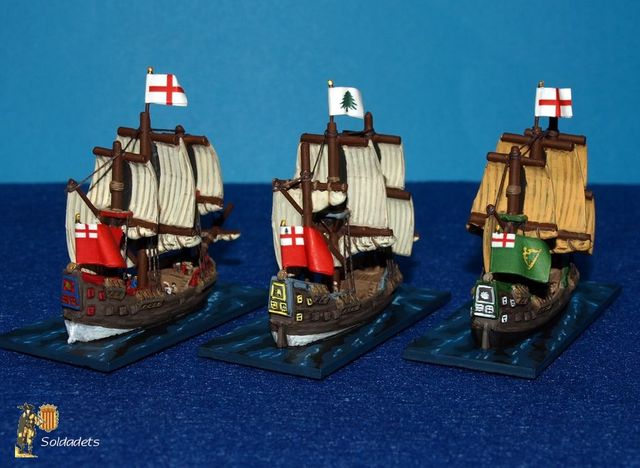 Not having been given strict instructions about flags, I had in mind at start to assign British Empire flags to the merchant fleet, while pirate ones to the predatory fleet. After watching these pictures, the customer has confirmed the general plan, albeit requesting some nationality variations in the merchant fleet. So that future ships will hoist not just British, but also French, Spanish and Portuguese ensigns.
Next batch is to be certainly colourful, then!