I survived painting 21 stormtroopers in 32mm scale. I never want to paint Imperial stormtroopers again as long as I live, lol. OMG.
Please bear with me through this lengthy post, but being the Star Wars geek that I am I think this tutorial will help some of you who may be about to venture into Star Wars: Legion and are facing the daunting task of painting these iconic white and black troopers.
I'm thrilled to have at long last a force of them but I need to go into therapy before I can face opening a bottle of white or black paint again.
I have to say that this project was probably the least fun I've ever had painting any kind of minis. It's one of those types of miniature armies you just have to "get through". When I finally got them done and was able to move onto the rebel troopers where I could use actual COLORS again it was like I had been reborn, LOL.
With that said though, I learned A LOT in the process and I think have a pretty useful technique for getting through them and have them look decent at the end. You may of course have better ways to do them that suit you better, etc.
So the good news about stormtroopers is that if you look at the history of the movies, the designs of the helmets and armor did change from time to time and indeed had more variation in their production than I realized: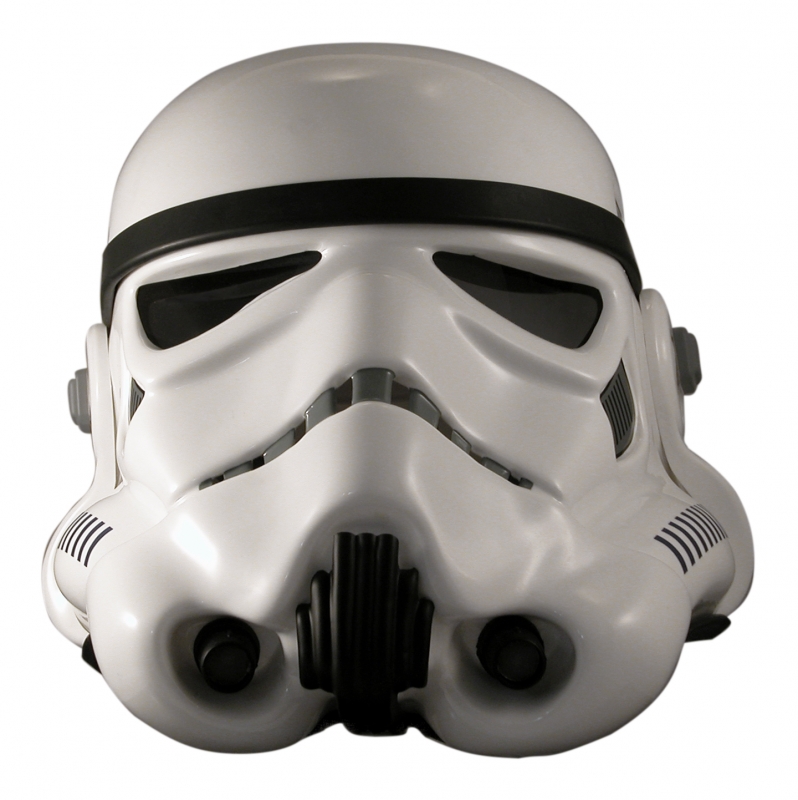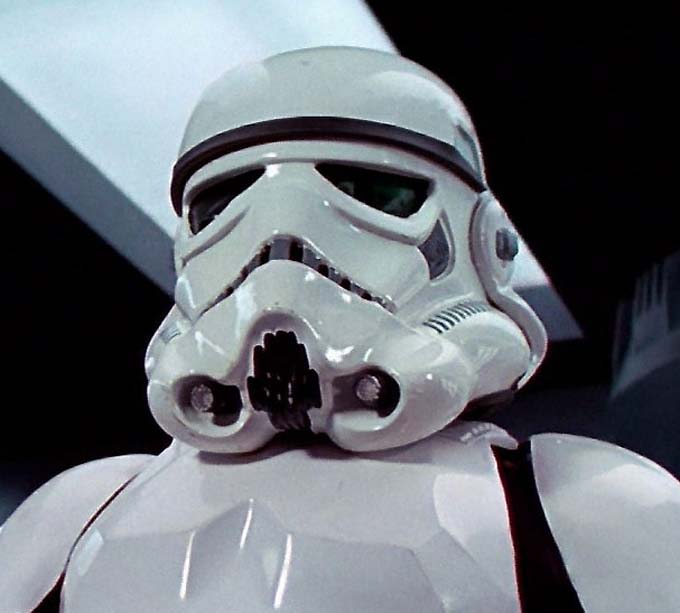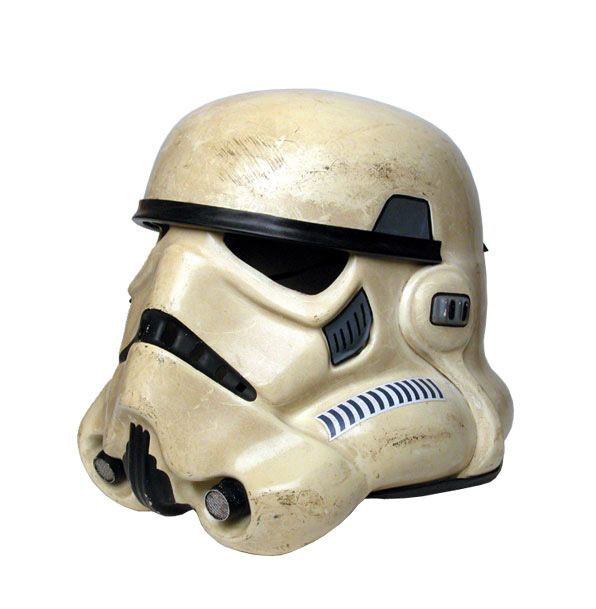 You can see in these helmet examples (some of which are original vintage movie helmets and others are movie replicas) in particular that the size of the white gap between the horizontal black band and the eye lenses has quite a range of variation. Some of the bands are so close to the eye lenses there's no gap while in others there's a fairly wide gap of white in between. Also the size and shape of the eye lenses changed and varied between movies and different production runs.
Also, the level of darkness of the visor "teeth" ranges from a grayish to a darker grayish/black.
This was very useful because I didn't have to obsess too much if all the troopers were exactly alike in this scale. For my painting skill level this would have been impossible any way. Some of my eye lenses are slightly smaller or larger than others, couldn't help it. In addition, the SWL miniatures themselves appear to have some inconsistencies in their casting detail in which some of the eye lids are thicker on some troopers than others, etc.
I have to say in all honesty that for stormtroopers I found that tutorials like Sorastro as well as other pro-painters like Spikey Bits didn't really help me much in terms of their techniques for the armor itself. Sorastro did the white spray undercoat but then went straight in with thinned black paint and hand-painted the lenses and visor teeth RIGHT OVER CLEAN WHITE which looked insane. I simply couldn't do it make it look right, it always came out wonky and crooked.
It inspired me to try something a bit different. I did the white spray undercoat but then did an OVERALL wash of Nuln Oil at full strength followed by an OVERALL drybrush of white. The reasoning behind my madness was that for me I had more control knowing that the wash would fill in all the dark, black areas and would fill them in crisply, such as the eye lenses and visor teeth. The white drybrush would visually outline all the areas where I could go back in and clearly fill in all the white again.
I know this seems totally backwards, but here's some pics. of the troopers at the drybrush stage next to some finished ones:
And here's two examples showing the troopers going from the drybrush stage to the armor painting stage to the finished model:
You can see in those photos the value of the drybrushing. It gives you very easily picked out "outlines" to follow and actually makes filling in the white armor areas much easier than trying to hand-paint in black recessed areas that are surrounded by clean, white undercoat. With this way, you can work up to the very edges of the areas that are supposed to be kept black and clean up the edges from the "outside": in other words, you're cleaning up the white as opposed to cleaning up the black which for me felt much more effective. It was way easier to do the eye lenses for example with them filled in by the black wash and THEN go back and paint the white "eyelids" around the black as opposed to the reverse way.
That being said, this was not fun. It was tedious. And boring. And colorless. I own 28 of the SWL stormtroopers but I could only bring myself to do 21 of them for now.
As far as Spikey Bit's tutorial, he KIND of did what I did but I think mine came out much better for the simple fact that he doesn't take his far enough and they don't look finished.
Here's one of his completed troopers. He does the black wash to provide all the shading on the ridges of the armor but doesn't clean any of it up so his troopers look more gray than white. That's ok if you want dirty, grayish troopers but I wanted them to be brighter:
I also think another mistake he made is that he painted his visor teeth with full-strength black and lost all of the teeth detail in the process. If you look at mine where the visor teeth are merely washed, you can actually see the details of the teeth picked out against a dark gray background from the Nuln Oil.
I think that his visor teeth area looks like a strip of duct tape across the helmet, the black is just too strong for this scale.
ALSO, it brings us to that horizontal black helmet stripe. Spikey Bits leaves that detail out entirely, and honestly I think that stormtroopers without that helmet stripe look wonky, for me it's a detail that has to be there.
Here's mine with the helmet stripes. I should also say that this was by far the most ghastly part of the whole paint job. I had to go back three or four times to finally get those stripes straight, it's a nightmare and you need a brush that comes to a needle point to make it work:
Here you can see some of Sorastro's also with the horizontal helmet stripe, although he put his helmet stripes lower than mine are so that the black actually meets the black of the eye lenses. I wanted to have that small gap of white for contrast but I think they look good either way: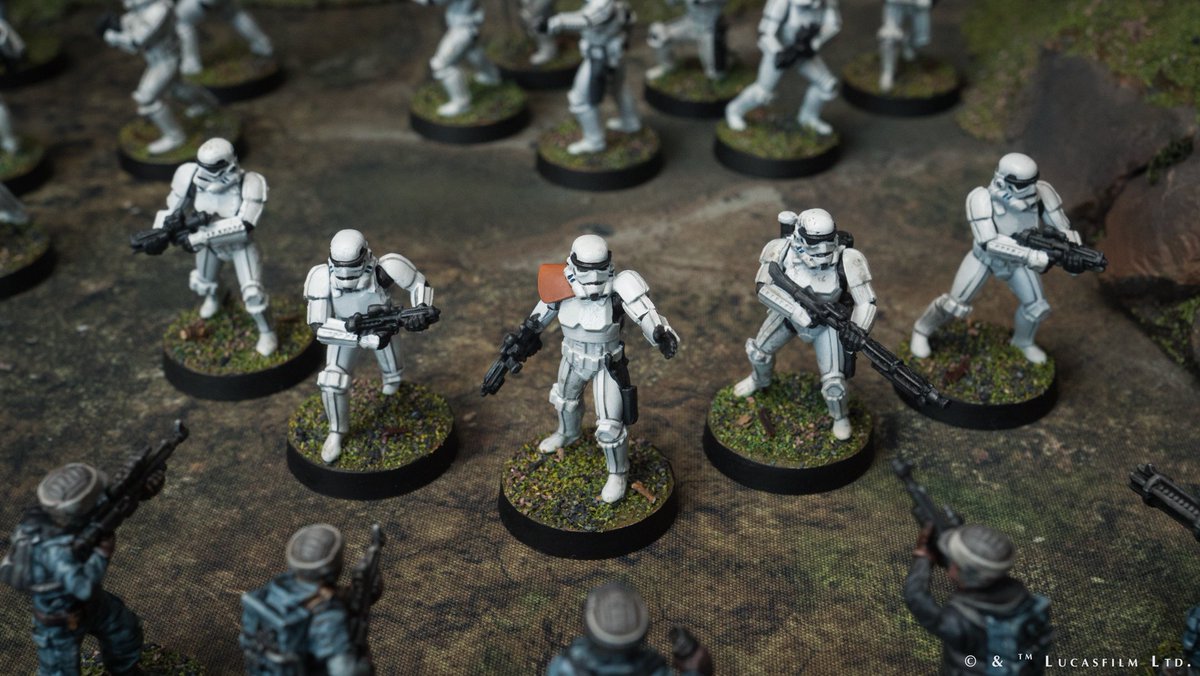 One part of Sorastro's technique that I absolutely followed was the tracing of the armor ridges. This again was equally ghastly as the black helmet strip but to me was also essential in making them look right.
Sortastro used GW Standard Mechanicus Gray thinned with water, I used Vallejo Stonewall Gray also thinned with water. But whatever gray you use, keep it to a lighter shade of gray. It just helps make the trooper's armor feel more tangible and sci-fi than if you just used a wash for all those ridges. Again, you go in with a needle-sharp brush and outline and trace all the vertical ridge lines up and down the arms and legs as well as the spaces between the square bumps on some of the knees.
One of main importances of using gray for this and not black is that the gray makes it look like pure white armor that is reflective and is creating a subtle shadow that the eye picks up at tabletop height. It's also important that these details be gray because it sets them apart from the more pure black of the eye lenses and the black body suit underneath the armor. I find that when stormtroopers are painted using black for EVERYTHING when being detailed that they tend to look like wonky fantasy skeletons as opposed to troopers wearing white armor.
Here's one of my heavy weapons troopers where you can closely see the gray lining done on the armor and how it is set apart from the black:
…and here's more of my troopers where you can see the gray set apart from the black:
link
For the weapons and holsters I went with the same straight black that I used for the body suit since in that regard I didn't see any value in having a contrast between those things, it's basically all black. However, I did do a very dark gray highlight to the holsters to set them apart from the actual weapons themselves.
Finally, for the heavy weapons troopers I used a Vallejo dark gray for the backpacks, and then a Vallejo blue to do that vertical cylinder section in the center of the backpacks.
For the squad commanders I used one of Vallejo's orange/brown colors to do their shoulder pauldrons.
Here's one of my squad commanders with the orange pauldron:
In the end I didn't go for any alternate paint schemes, I went straight with the original A New Hope classic color scheme which carries through the original trilogy.
Here's a photo showing the full paint palette that I used. It was mostly Vallejo colors with a couple Wargames Foundry colors and finally the Citadel Nuln Oil wash:
Hope you found this useful! Happy Star Wars painting everybody!