With only a week to do to Britcon 2018 at theBarnes Wallis Building, Sackville ST, Manchester (UK) we've now reached a milestone of having almost 50% more trade space than last year, more demo games and the UK launch of a whole new WW2 ruleset as well – plus the usual bar, bring and buy and competition game eye candy (honest – check out the Sharp Practice tables in the main room if you didn't think competition games could look amazing!)
If you are dithering about coming along next weekend, here's a quick heads-up about our some of the things going on around the Britcon Trade Show this year, and some highlights and offers for you to look out for:
In our biggest show for years, our new traders this year include:
Footsore Miniatures – exhibiting under their own steam for the first time this popular 28mm manufacturer has a host of highly thought of ranges for the "Saga" eras – which has now been extended with the recent release of a brand new Samurai range as well.
Footsore will also be bringing the War Banner team to demo their "the new hotness" Gangs of Rome game at the show, giving you a chance to engage in a spot of old school toga-wearing street violence in between browsing the other stands at the show if you want to see how the system works on the tabletop.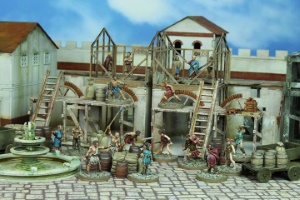 GS Miniature Workshop – on Saturday George will be exhibiting his range of modular forests, roads and hedges along with other scenic items suitable for every scale from 6mm up to 28mm.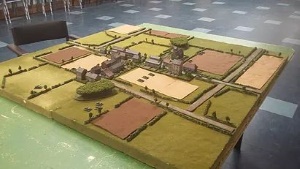 West Wind / Forged in Battle are exhibiting this year for the first time under their own banner, and with more than half of our competitors playing in 15mm "Ancients" competitions their "post-kickstarter" War and Empire ranges are sure to be very popular. There is also a Britcon special offer running across Forged in Battle & War & Empire ranges of "buy 5 blisters get one free".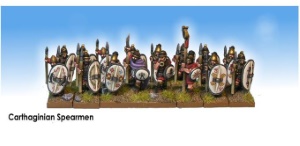 Iron Gate Scenery are one of the new wave of 3-D printed terrain makers, with bespoke items for 28mm Fantasy, Pirate, Aztec & Roman eras as well as 15mm World War II/Modern War. Their range is constantly growing so there may be even more by the time Britcon comes around
Mantic Games are the company behind Dreadball, Kings of War and TV tie-in zombine-fest The Walking Dead and will be at Britcon this year with a full trade stand and their games system demo team, allowing you to add a quick spot of zombie-splattering or sci-fi sport into your visit to the show – just say hi to the team at the demo table or on their stand and they'll be happy to give you a run-through of the games.
Ministry of Buildings have a unique concept in that their MDF ranges come ready assembled and painted – so no fiddling around with PVA glue and the smell of burnt wood, you can just pop their buildings straight onto your tabletop and start playing
Sleeping Dragon Hobby Shop have a vast range of scenic modelling materials and hobby supplies for painting miniatures, decorating bases and dioramas, constructing terrain or even building whole gaming boards.
We also have offers and new releases from our regular traders, including:
The Pit gaming store have a phenomenal offer of 20% off RRP of all their our stock that is priced £10.00 GBP and above – including FoW/TY, Star Trek, Star Wars and a host of modelling and hobby supplies!
Lesleys Bits Box will have brand new Games Workshop boxed models at 15% off RRP, as well as a large collection of Epic models which will be onsale at the show this year
Colonel Bills have their 10% pre-order discount running for anything booked in through the pre-order facility in their online shop for Britcon collection (select "pre order and collect at a show") or by email or phone. This offer includes any of the 4Ground, Flags of War, the Xyston Miniatures 15mm ancients ranges which The Colonel now carries in unit packs, and the AB 15mm Napoleonic packs which again are in units or 24 foot, 12 cavalry or 3 guns & crews…..how good is that?? Contact Colonel Bills via their website for more details and to place your pre-order
Instant Armies will again be attending Britcon, which they tell us is one of their favourite shows of the year. This year they have 28mm figures both painted and unpainted from various manufacturers, and for the 15mm historical gamers their stand will have literally thousands of 15mm figures again painted and unpainted.
Andy at Ainsty Castings will be at the show both playing in the Saga event and also exhibiting the full Ainstry range, as well as Gripping Beast Saga, Footsore Miniatures and the North Star ranges as well.
Dave Lanchester will have 100's of Osprey books on sale, all priced from just £5.00 GBP and some at 5 for £20.00 GBP
Donnington/Ancients & Modern are continuing their relentless release schedule for their new ranges, with a host of New Era medieval figures having their first Britcon outing together with baggage tents and figures to support the Armies of Islam range, and a Zoroastrian Fire Temple for those of you who either have, or are thinking about getting a Sassanid army in 15mm (which is probably like, all of you really…).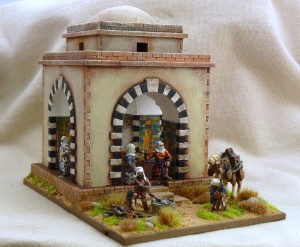 They now also stock "mousemat" battle mats in a range of designs as well as the FoG v3 and MeG rulesets.
Magister Militum will have a number of new releases, with their very comprehensive 10mm Fantasy range fully on show, as well as some brand new 10mm Biblical armies hitting the shelves for the first time this year
All Rolled Up have their normal range of dice bags and gaming accessories, which this year includes a special BHGS Dice Tray which is only on sale at the Britcon show.
They have also kindly provided a set of trays for prizes in our competitions
There are details and links to all of our traders websites on the BHGS website Britcon Trade Show Page link
Britcon also has a well stocked Bring & Buy – Britcon is great for a Bring and Buy, as many of the players bring loads of stuff secure in the knowledge that they will definitely be there to the end of the weekend giving maximum time for you to see and buy their stuff when you visit.
You are also welcome to add your own items to the B&B – you can even complete your Bring & Buy entry form in advance – download it here link to save time and see if you can cover the costs of your weekend's shopping by clearing out some long unused figures and models!

** SPECIAL NOTICES **
We have 5 very different demo games this year, including the worldwide launch of a new set of WW2 rules from Si Hall and Mark "Micromark Lists" Bevis, which will be on display on a table in front of the bar area. For full details of all the demos see our website bhgs.org.uk

Entry is free, and the show is open from 10-5 on Saturday
and 10-3 on Sunday.
If you are in the North West, we'd love to see you next weekend!