THESE IMAGES ARE VERY LARGE. RIGHT-CLICK ON THE IMAGES, COPY AND PASTE THE URL/ADDRESS OF THE PHOTOS, THEN CLICK ON THE IMAGES TO ENLARGE THEM.
Officer of the 7th French Hussars, painted by Le Chevalier Féréol Bonnemaison. Oil on canvas signed and dated 1814.
-----------------------------------------
Lieutenant Jean-Baptiste César Paulée of the 6th French Hussars, painted by Guillaume Descamps in 1813. Works of Descamps can be viewed today in Versailles, Chateau Malmaison, Museum of Fine Arts in Lille, etc.
Jean-Baptiste César Paulée Junior began his military service on 19th April 1811 as a Sous-Lieutenant in the 6th Regiment of Hussars. He made the entire Russian campaign of 1812 in the ranks of the 6th French Hussars. He was promoted to Lieutenant on 12 January, 1813. On 21 April of 1813, in Germany, Paulée was appointed aide-de-camp of General comte Guiilleminot. On 19 November 1813, he was awarded with the cross of Chevalier of the Légion d'Honneur, with simultaneous promotion to Captain (still being adjutant of General Guilleminot). In early 1814, he served in the garrison of the Fortress of Mainz (then on French territory; the fortress capitulated on 4 May, 1814). The exact date of his retreat from military service remains unknown.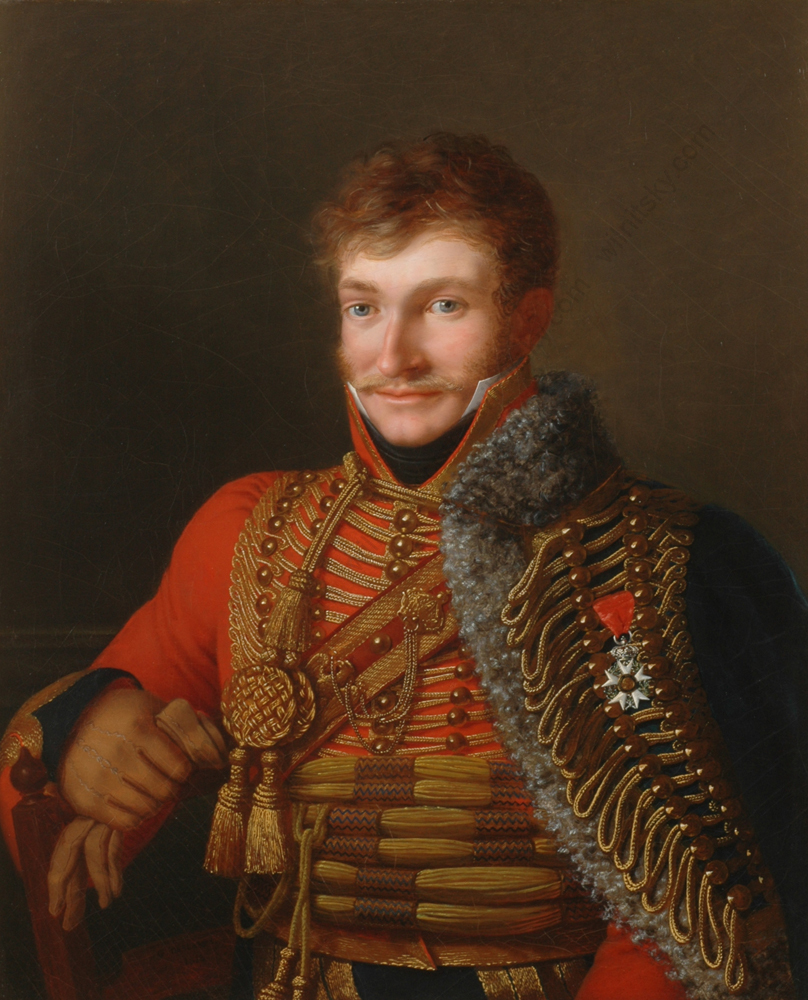 ------------------------------------------
A bonus for you guys… Self-portrait of the famous French military painter Édouard Détaille. Signed and dated 1908.
In this late self-portrait Détaille paints himself extravagantly moustachioed, puffing on an exotic calabash pipe, and wearing the uniform of a Red Lancer of Napoleon I's French Imperial Guard. This painting was acquired from the artist's studio by the Prince and Princess of Wales, in June of 1908.