By far (it's not even close!) the single MOST valuable book I have ever read on the Battle of Gettysburg is "Lee's Real Plan at Gettysburg" by Troy D. Harman.
You MUST own this book. MUST. Forget all the mainstream historians that have rehashed Pickett's Charge and tried to bring something "new" to the perspective when they repeatedly fail at it. There are a lot of authors and researchers who have been excellent at breaking down and tracking the movements of every unit and distilling every action and side-action. And yet they still ignore and miss the fundamental contradictions that exist in the classic narrative overall.
Harding was a park guide at Gettysburg and wrote this book based on the actual papers and after-battle reports of the generals themselves.
This book is like a lightning bolt that shoots right through the myth and blows it up into tiny bits.
Like many great events in history, Pickett's Charge has fallen victim to many myths that have become entrenched as "established fact".
Even the Gburg National Park museum has it wrong. All the NPS maps have it wrong. Myth is difficult to bring down, sometimes impossible. Historians and writers will cling to myth fiercely because emotionally it's too difficult to accept a less dramatic narrative.
Of the most critical importance in understanding Pickett's Charge is one simple thing:
It was NOT, NOT, NOT an "attack on the Union center after two days of flank attacks failed". Single biggest myth of the entire battle.
ALL THREE DAYS of Gettysburg Lee's plan remained unchanged, as he himself worded it. For all three days Lee's plan was simple: to take Cemetery Hill by the concentration of his army, and make the Union position impossible to hold.
The July 2nd attack was NOT a flank attack attempt around the Round Tops. They were attacked inadvertently because Hood was deflected off to the right from their intended path with McClaws, which was to "attack up the Emmittsburg Road" (again Lee's words). If Hood and McClaws were to attack up the Emmittsburg Road, look at a map and look at the road. IT is a straight edge right to Cemetery Hill.
Hood and McClaws on July 2 and Pickett on July 3 had the exact same goal. To attack up the Emmittsburg road. The only difference was that Pickett started out further north than the July 2 attacks did. But same exact principle. Roll up the Union line towards Cemetery Hill.
In fact, the attacks of July 2 and July 3 were IDENTICAL in design, the only other difference were the troops used.
On July 3, Pickett's division was actually deployed at a nearly 45-degree angle to Cemetery Ridge, they were NOT deployed facing straight at the Union line. Why? Because their goal was NOT to "take the Union Center" on the ridge which would have been useless. They were aiming at Cemetery Hill. The wall, the famous angle, the trees, all that now-enshrined nonsense was nothing more than a point where they were supposed to PASS THROUGH on their way to Cemetery Hill as they rolled up the union line northward.
Pickett's charge had nothing to do with taking Cemetery Ridge whatsoever. It was actually an attack that was in the shape of a giant semi-circle, going south to north with Pickett, Pettigrew, and finally Trimble, all with orders to close around and capture Cemetery Hill.
Once you look at Harding's book and you see this clearly, it's like a revelation.
All those damn arrows that park maps have of the confederates marching straight eastward are wrong! YES, Pickett ended up going eastward because he got pushed and crowded in from the left and right and from fire on all sides. But his division was trying to go northward and strike the ridge at an angle to roll up Hancock northward.
The critical thing in Harding's book is that he separates out what actually ended up happening in Pickett's charge vs. what the actual ORDERS and INTENT of the charge was.
The park service in the 1870s began the myth of the Union center and the infamous "copse of trees" and the "high water mark". It had a fence put around it and park officials pushed the narrative of that spot being the goal of the confederate charge, which it never was.
Finally, a problem which somehow gets overlooked even by prominent historians, astonishingly, is the copse of trees itself. That damn copse of trees is my historical nightmare, it's the worst myth of all!
Why? Because at the time of the battle, that copse of trees would have been saplings about six or eight feet tall, and there were only about a half dozen trees! The trees there are full gown NOW – but it's 2017! In 1863 they weren't even trees yet. Lee had ordered the attacking formations to focus on what he called the only appreciable masse of trees that could be visible to all the attacker on a wide front.
Now how on EARTH could a small cluster of six-foot tall saplings on a flat ridge have been visible enough for three attacking divisions, with the smoke and haze, how could it have been the famous "guiding point" for 15,000 men focusing on one point?
NO. They were NOT focusing on the "clump of trees" on Cemetery Ridge as is so ridiculously shown in the movie where Tom Berenger again perpetuates the damn myth about those freaking trees.
There is only ONE cluster of trees that existed at the time of the battle that could have served as a focal point visible and big enough for the entire attacking force.
And take one guess what it was? It was ZEIGLER'S GROVE. THAT is the true "clump of trees"! Why? Because the grove consisted of numerous fully-grown trees and they were on an ELEVATION. Everybody could see it from the confederate lines. Pickett was aiming for Zeigler's Grove from the south, and Pettigrew and Trimble were aiming for Ziegler's Grove from the west. Simple as that.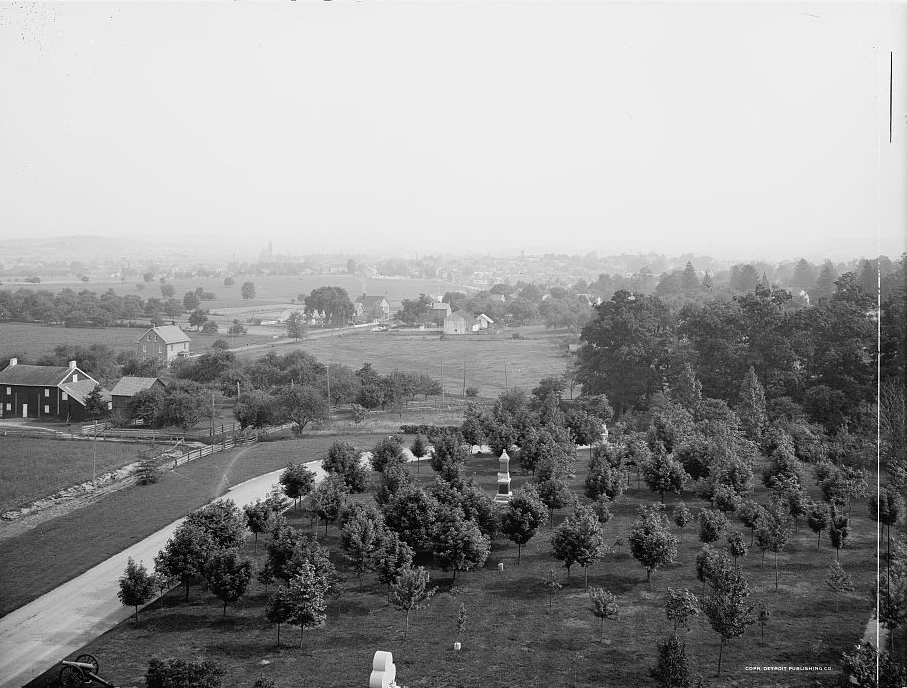 link
…and when you look at this photo, compare it to the "copse of trees" and figure out which one made more sense for an attacking force to see above the smoke and fog of battle, something for everyone to aim for!… it's obvious, and painfully so.
People visit Gettysburg and are often surprised as how far north the charge seems to extend, since all the focus and attention is given to The Angle. And with good reason. It's because Pickett was actually the southern-most part of the semi-circle.
For three days of Gettysburg Lee had stretched, exterior lines. Attacks around the flanks made no sense because they could not be supported and because it stretched the army even further apart. The ONLY attack that made sense at Gettysburg was an attack of CONCENTRATION, where you could simultaneously break the Union line at a point where it would be impossible to remain in place, and where you could at the same time bring your forces CLOSER TOGETHER. Taking Cemetery Hill would accomplish both of those things in one blow.
Lee was not stupid. He was not some impetuous gambler that recklessly threw his troops around.
I am so tired of the myths surrounding Gettysburg. I am so tired of hearing that Lee's "blood was up", and that he "thought his men were invincible", and that he "tried the flanks for two days and then in desperation tried the center on the third day".
All nonsense. All BS. Lee didn't do anything desperate at Gettysburg. He simply tried to coordinate for three days in a row a concentration of his forces that could drive the enemy from the position.
Lee's battle plans on July 3rd were the same as the previous two days: take Cemetery Hill by squeezing it from all sides. No flanks on two days and desperate center attack on the 3rd. Nope. Pure and simple.

Seriously, it is amazing how fiercely students of the Civil War and even historians resist this truth, and they do it with great energy. I believe it's because the myth tells a more compelling story and makes for better drama than the truth does.