I had hoped to have these ready by now, but I'm afraid that I need to push them into production with some help from you folks. It has been a very lean year in sales, and sparse other work, and my bills are starting to pile up (as I'm sure most of you are also experiencing in this economy.)
These Sing-On ~2" long escort ships have been added into the catalog for folks to pre-order (in both 1:3788 AND 1:3125 scales), with the understanding that I should have them in production and shipping in less than a month (with luck!) These pre-order prices may be lower than their final costs, and you can add to your pre-orders later to combine P&H when they are finally ready.
K-15 Shadow scout $5.00 USD
K-16 Wraith Scout $5.00 USD
K-26A Grimm Escort Corvette (standard) $6.00 USD
K-26B Grimm Escort Corvette (advanced) $6.00 USD
K-27A Reaper Escort Corvette (standard) $6.00 USD
K-27B Reaper Escort Corvette (advanced) $6.00 USD
K28A Scythe Frigate (standard) $6.50 USD
K28B Scythe Frigate (advanced) $6.50 USD
K29A Thanatos Light Destroyer (standard) $7.50 USD
K29B Thanatos Destroyer (advanced) $7.50 USD
(The Thanatos and Cerberus are similar, except for the top nacelle is different, by mixing and matching parts.)
Recently, I have struggled long weeks to get the "Orwell" drawn up, as well as her sister ships, ready to print and I have finally got it ready to show. There may be additional details added before production, along with smoothing of the various curves that my old software refused to add. The fleet will be named after other great SF authors, like "Bradbury", "Heinlein", "Asimov", and others. There will be single, double, and triple ringed versions, and the lengths will likely range from 3" to 5". I also plan to make the variant Battle-Cruiser seen in one episode, as well as the various "Krill"-like ships.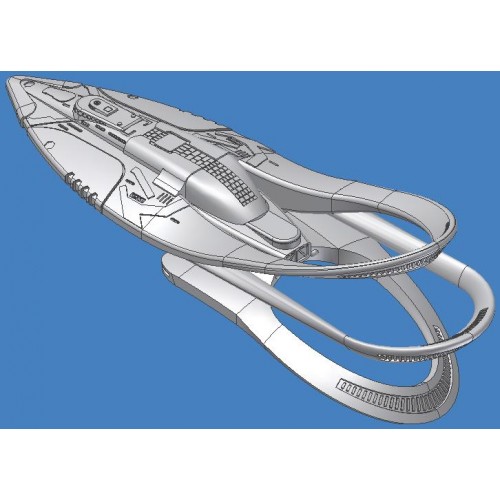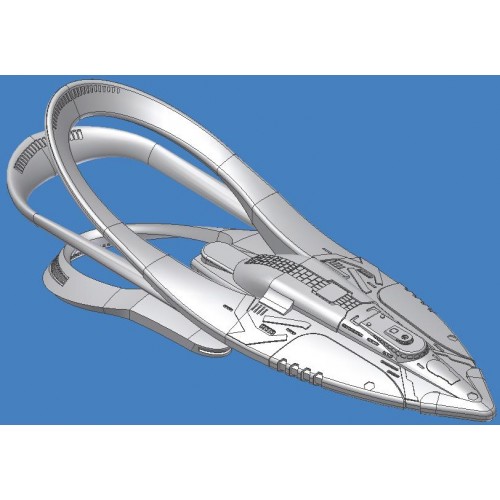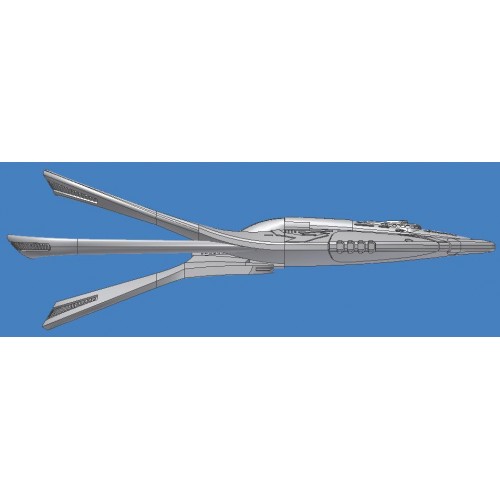 "Asimov" Single Ring Science explorer $8.50 USD
"Bradbury" Double Ring Medium Destroyer $9.50 USD
"Orwell" Triple Ring Deep Space Light Cruiser $10.50 USD
The "Heinlein" Heavy Battle-Cruiser $14.50 USD
Hopefully this will get everyone as excited as I am to see these produced, but I also have some items in my Etsy store for Orville fans! I am making 2" painted resin department badges and also going to produce painted Epaulet rank sets for folks to wear or use in Cos-play their costumes.