Prolific artist,especially in the sixties:
Very fluid style. He had the ability to convey mass and movement with a few strokes, as seen in the little sketches he often provided inside the magazines,and on the title pages of a lot of the Ace paperbacks.
Speaking of which, I think I first became aware of him as a distinct artist when I was given a copy of the first Ace edition of "The Dragon Masters":
A really cool,"jazzy" cover. Kind of appropriate,as Vance played jazz cornet.
BTW, Gaughan did the covers for the very first paperback editions of The Lord of the Rings -- the infamous "pirate" editions: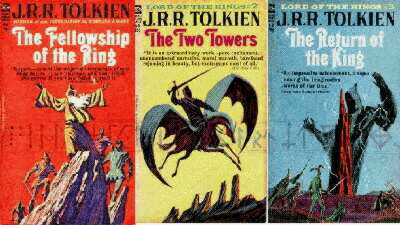 Even though Tolkien encouraged the boycott of the Ace printings, he preferred Gaughan's artwork to that used for the Ballantines,which he famously detested.